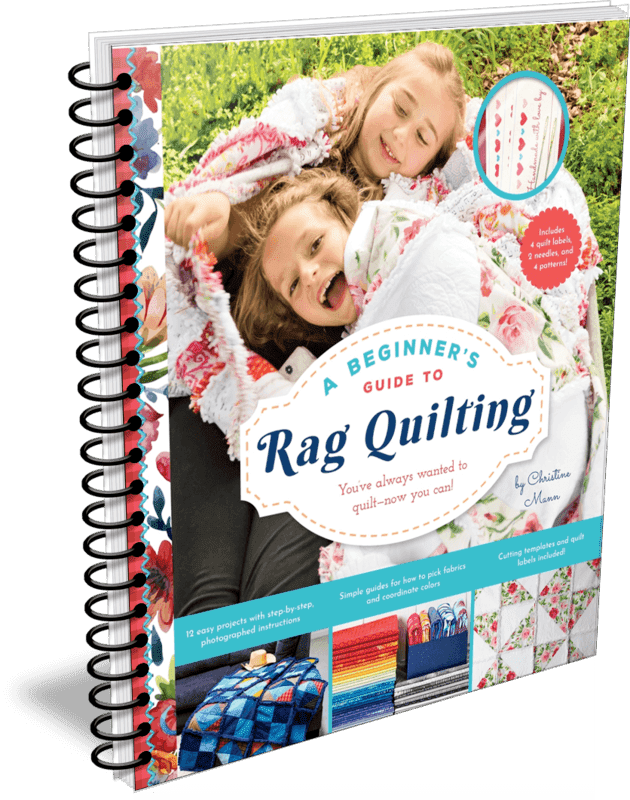 Learn how to make rag quilts like Grandma never dreamed of!
The complete guide to one of quilting's most popular and accessible styles includes everything you need to know to make your first rag quilts.
12 beautiful rag quilt patterns easy enough for complete beginners
Complete guide to basic techniques
Lie-flat spiral binding so you can read the book at your sewing machine or cutting table
Lots of BONUS extras: 4 quilt labels, 2 bonus pillow patterns, and 2 quilting needles to help you get started.
By best-selling author Christine Mann.
#ragquiltingbooks #raggededgequilt #ragquiltpatternbook #ragquiltsbooks
Order Now!
About the Book
Rag quilting is addictive… and easy enough that even complete beginners will love it
A Beginner's Guide to Rag Quilting is just what you need to get started in the cozy, thrifty, and addictive art of rag quilting.
Here's what you will find inside:
Step-by-step guide to the basics of rag quilting: the tools you will need, choosing fabrics, cutting, sewing, quilting, adding easy appliqué, and finishing a rag quilt, with lots of photos and helpful tips to make everything easy.
Guide to the differences between rag quilting and standard quilting.
12 fun and easy rag quilting patterns for beginners, each one with complete photo instructions.
The book's lie-flat spiral binding makes it easy to use right at your cutting table or sewing machine.
A Beginner's Guide to Rag Quilting is book #2 in the Quilting for Beginners series of books by best-selling author and long-time quilter, Christine Mann. Christine shows you exactly what to do, with lots of photos, shortcuts, and simple techniques that make your first rag quilts easy and fun. Join the thousands of beginning quilters who have made their first rag quilts with help from Christine.
Endorsements
I bought this book because I wanted to make a rag quilt. I had a general idea how the process should work, but decided it would be best to get REAL instructions BEFORE I started my project. One of the best decisions I've made!!! Who knew you could make rag quilts out is something besides plain squares!!! This is a great book for beginning quilters,..... or people like me who have a good idea of how the process should work....but need a few pointers. My favorite part was learning an easy way to make the edges of the quilt look extra full.
– Jacque
I am a beginner at quilting and I was somewhat confused about how to do the border on a rag quilt. This book explained not just one way to do borders but 3 alternate ways. I was very pleased with this book and would recommend it to other people just getting started on their own quilting journey.
– Lady L.
This is an excellent book. The writing is clear, easy to understand. The pictures of all the beautiful quilts made me want to try making a rag quilt right away. I highly recommend this book for beginners such as myself, I love sewing, but panic when I see patterns. Quilting is different, and the rag quilting is a little forgiving if you make a mistake.
– Sandra B.
Other Books in "Quilting for Beginners"
Dear readers, some of the links on this site are affiliate links. This means that if you buy something by clicking on the link, we will get a small commission at no added cost to you. Thanks for your support.