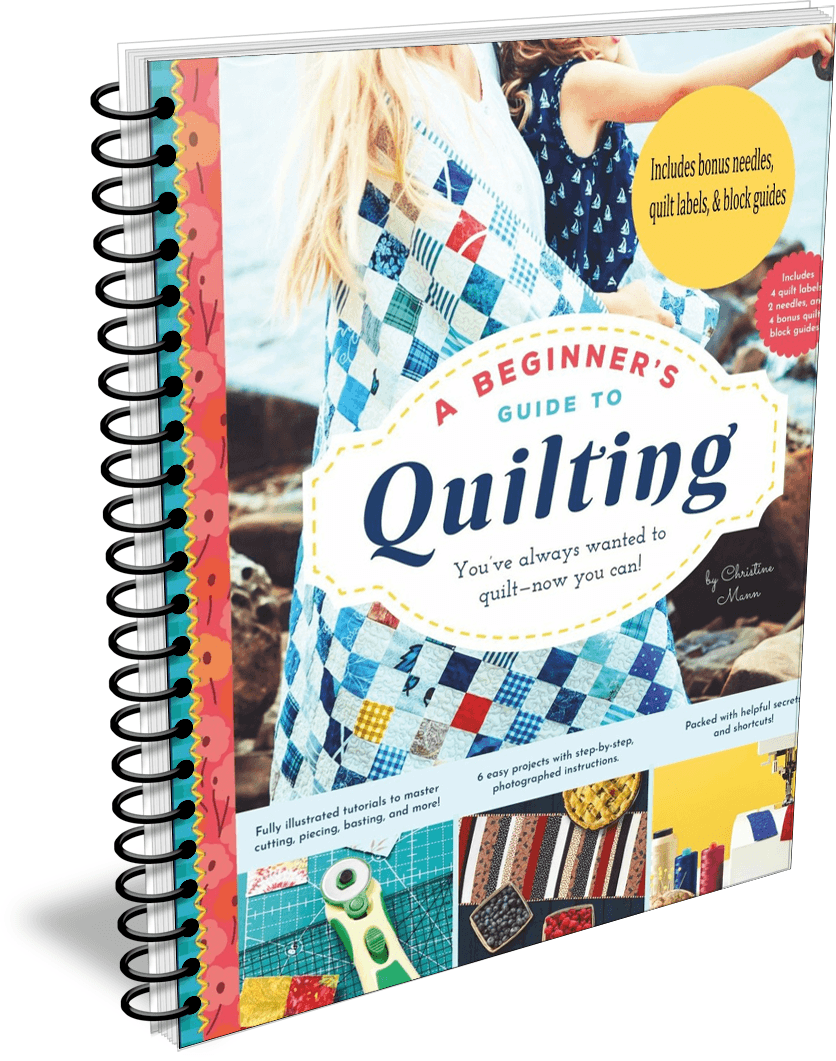 LEARN TO QUILT THE FUN AND EASY WAY
Grab this easy, best-selling guide for new quilters and start quilting today.
Everything you need to know is right here:
Five fun and beautiful quilt patterns
Complete step-by-step instructions on how to make a quilt
Lots of bonus extras: four fabric quilt labels, four quilt block patterns and tutorials, and two quilting needles. Best-selling author Christine Mann takes you step by step through everything you need to know to make your first quilt. Choose one of the five simple quilt patterns and just follow along. You'll be quilting in no time... and loving it! Amaze your friends and family members with your beautiful new creations.
Order Now!
About the Book
Everything you need to know to make your first quilts
Have you always wanted to try quilting? A Beginner's Guide to Quilting helps you get started the fun and easy way. Here's what's inside:
Overview of the tools and supplies you need
Choosing batting, fabrics and colors
Cutting your fabric
Piecing, especially sewing that all-important 1/4″ quilter's seam
Layering and basting your quilt
Machine or hand quilting
Binding the quilt
But that's not all! The book also includes complete patterns and step-by-step tutorials for making five easy but beautiful quilts:
A quilt-as-you-go table runner you can make in just a few hours — so easy to make that you will want to make one for every season or special occasion. Includes a bonus pattern for four matching placemats.
A beautiful but simple Rail Fence lap quilt.
A Double-Four-Patch baby quilt that makes you look like a quilting expert, but is really easy to make.
Stack of coins quilt — a colorful take on a traditional favorite.
Checkerboard strips quilt — a great way to show off your favorite large-scale prints.
Five Fun and Easy Quilt Patterns with Photo Tutorials
Click on any of the photos to see a slide show.
Endorsements
ABSOLUTE BEST BEGINNER'S QUILTING BOOK. EASY TO UNDERSTAND AND A PLEASURE TO FOLLOW. A Beginner's Guide to Quilting by Christine Mann is just what I needed to jumpstart my interest in fabric art. It is clearly-written in a super-friendly voice. The pictures exactly illustrate the directions and make them easy to follow. On top of that, it is so beautifully laid out and colorful that it's a pleasure to leaf through and daydream about my next project (and next and next, as there are a six(!) projects in this one book. This is the best guide on this subject, in my opinion. Ms. Mann really knows her stuff. I have already bought two more to give as holiday gifts and I will buy her next book whenever it comes out.
– Amazon Customer
USING THIS FOR EVERYTHING. I'm new to quilting and I just jumped in on the intermediate level and made quite a few errors. Got in over my head and then took a few back steps and bought this book. It forced me to take my time and smell the roses. Now I appreciate the nuances of quilting and very easily mastered the skills with instruction from this book. I should have gotten this book before I got anything else. Now its my instruction manual for everything quilting. Great buy. The free sewing labels in the front are a great addition.
– Addie
Other Books in "Quilting for Beginners"
Dear readers, some of the links on this site are affiliate links. This means that if you buy something by clicking on the link, we will get a small commission at no added cost to you. Thanks for your support.