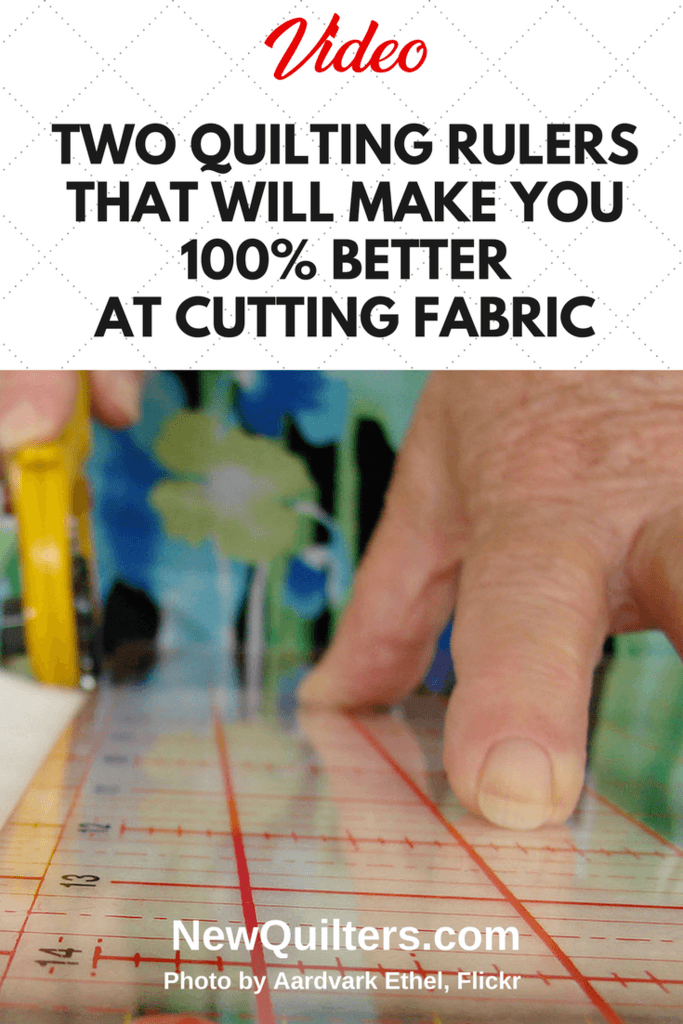 Trying to cut fabric strips and squares so they turn out straight and square — and failing a good part of the time — is a huge frustration for many new quilters. (More experienced ones, too!)
If you have trouble keeping your ruler from sliding out of alignment while you cut, or your rotary cutter veers off course, or your cuts end up too narrow or too wide, there are two cutting rulers that can really help. Both rulers have preset slots in them that keep your cuts straight and true.
The first one is the Creative Grids Stripology Ruler.
The second one is the June Tailor Shape Cut Pro.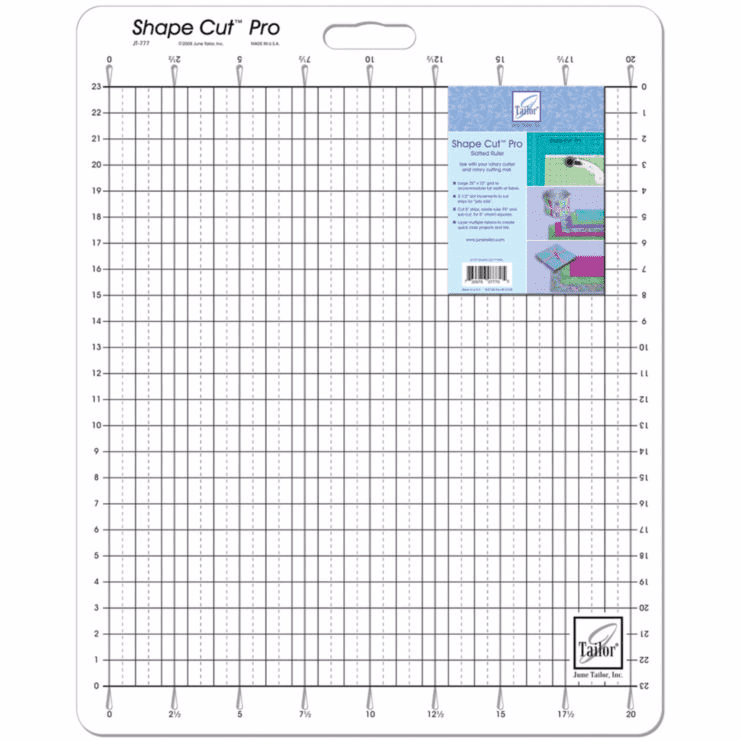 We use both rulers in our quilting room. They both work in the same basic way: you lay your fabric on your cutting mat and align the ruler on top, then put your rotary cutter blade in the measured slots in the ruler to cut strips or squares, quickly and precisely. You can use either of these rulers to cut your own jelly roll strip sets, five-inch charm packs, ten-inch layer cake packs, and other shapes.
The slots in the rulers guide your rotary cutter and make your cuts turn out perfectly. The rulers also make cutting much faster because you don't have to reposition your ruler after each cut. Neither one is cheap (think $50+U.S.), but the only faster and more accurate way to cut is to use a die-cutting machine like the Accuquilt, which costs hundreds of dollars.
Key features:
Size. 22″ x 15″.
Distance between slots: 1/2″
More durable and flexible plastic
No-slip surface on back side
The Stripology ruler is so narrow that it can be challenging to fit a folded width of fabric inside the cutting area.
Watch the video below to see exactly how to use the Stripology ruler.
Key features:
Size.

20″ x 23″,

much larger than the Stripology ruler, and large enough that you can cut pretty large pieces of fabric without folding them. (The Shape Cut line of rulers also includes smaller versions., but we prefer the large one.)
Distance between slots: 2-1/2″.
Material. The plastic in the Shape Cut Pro is flimsier than the Stripology ruler. In fact, our ruler bent and cracked into two pieces on the bottom edge, which has been an annoyance. We used washi tape to tape the broken section together and still use it that way. The Shape Cut Pro is also more slippery than the Stripology ruler, although that didn't make our cutting inaccurate.
Watch the video below to see how to use the Shape Cut Pro. We apologize for the poor video quality, but this is the official June Tailor video, and the best only one we could find.
Featured photo by Aardvark Ethel, Flickr.
Note to our readers: The links in this post are affiliate links. If you buy anything by clicking on one of the links, we receive a small commission (at no cost to you.)