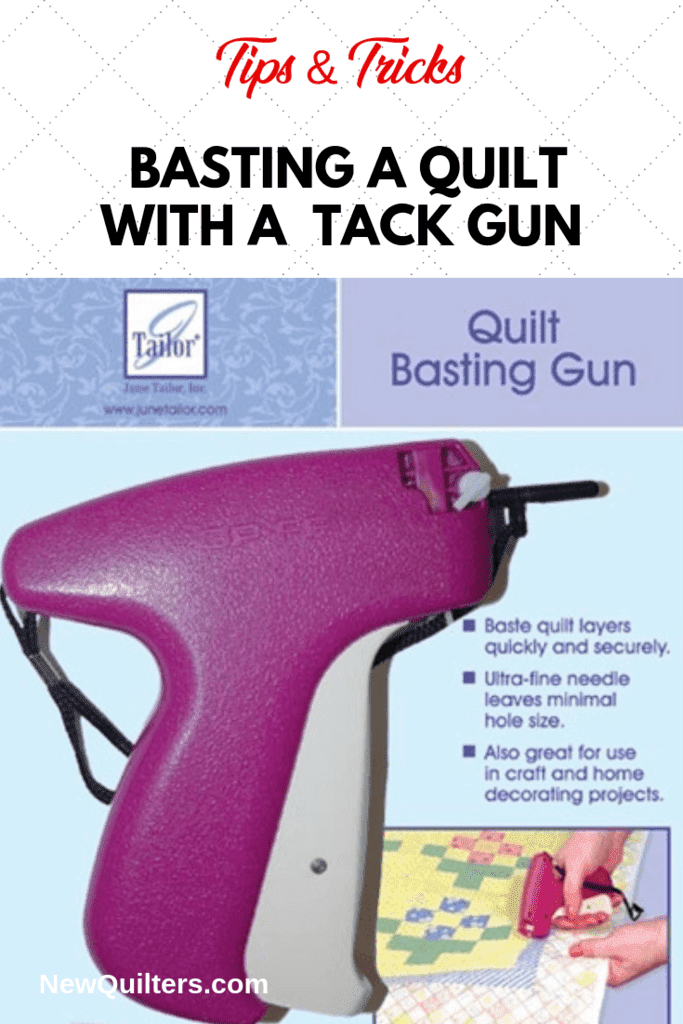 Basting with a quilter's tack gun involves loading a rack of plastic tacks into the gun, poking the needle on the gun's nose through the fabric layers, and pulling the trigger to shoot the tack through the quilt sandwich. The two brands I've come across are the Dritz Quilter's Basting Gun, which I have tried, and the Avery Dennison Micro Stitch and Collins Quilter's Basting Gun, which I haven't tried.
Tack basting is slower and takes more work than fusible batting or basting spray, but it is still faster than pin basting or basting by hand sewing. Basting with tacks doesn't rely on the chemicals that many quilters want to avoid. But tack basting is definitely not for everyone.

Using the tack gun is an acquired skill. Some quilters — like me — never get the hang of it. If you don't position the gun just right against the quilt sandwich, you can either make a hole in the fabric, or fail to pierce through all three layers. Some quilters also complain that the tacks get sewed into their quilting. Finally, the tacks must be removed either during or after quilting, an extra step that isn't necessary with fusible batting or spray basting. The tacks can be snipped off with scissors or removed with a special tack remover.
Is tack basting for you? It wasn't for me. I'm glad I tried it, though, so I could make an educated comparison to the other four ways of basting a quilt.