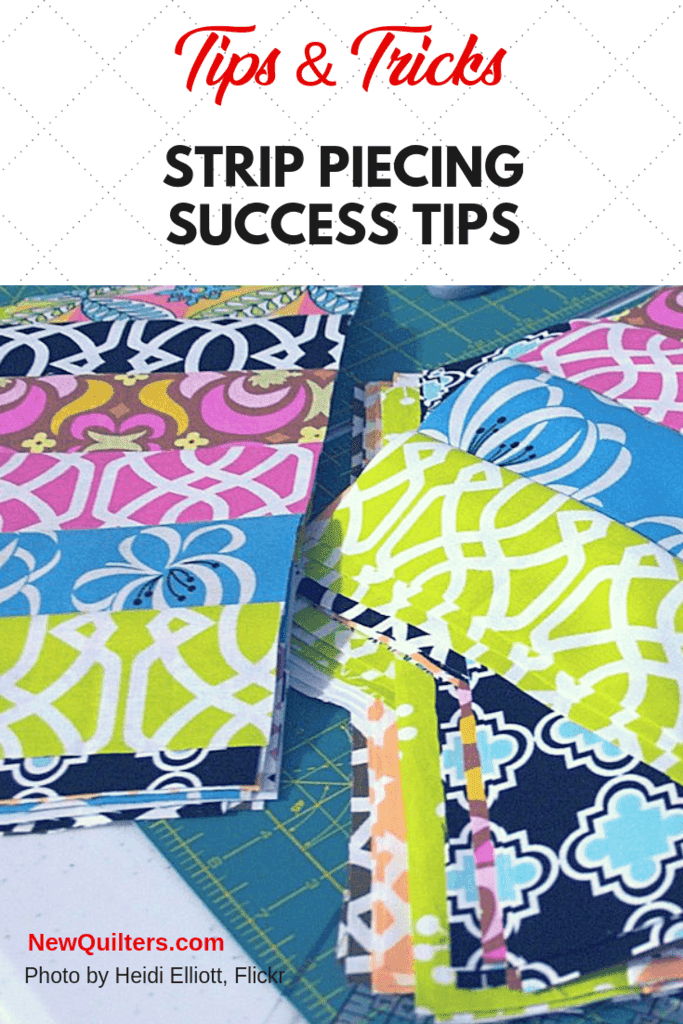 Like most things in quilting, strip piecing works a lot better if you use a few tips worked out by experienced quilters. Here are nine ways to make your strip piecing go smoothly and quickly.
Starch your fabric. Stiff, starched fabric makes cutting and sewing much easier. Use enough starch to make your fabric as stiff as a piece of paper.
Keep your strips short. As fabric strips get longer, they are more likely to twist in one direction or another when you sew them.
Use a quarter-inch seam guide for piecing accuracy. Learn how to sew a scant 1/4″ seam.
Start sewing on a small scrap of fabric, then chain stitch from the scrap onto your strips. This helps avoid those ugly thread nests that can develop on the back of your fabric when you start sewing.
Use a stiletto or a bamboo skewer to guide the strips under the needle. This helps keep your seams nice and straight, especially as you get to the end of a strip.
Reverse sewing directions as you add strips to your strip set. When you join two strips by sewing in one direction, sew in the other direction when you add the next strip. This helps keep your strip set from getting the bends as you add more strips.
When you cut strips into smaller units, put the strips face down on the cutting mat for cutting. They will lie still and not slip under the ruler as you cut.
Press seam allowances to help your units nest together. When you're working with units that will be joined together into larger units, it doesn't always make sense to press your seams toward the darker fabric. Instead, think about how the segments you cut from the strips will be joined. Press seam allowances in the direction that will help lock the seams together when you assemble the segments. Sometimes this means pressing the seam toward the lighter fabric. Here are two blocks with their seam allowances pressed in opposite directions so the seams nest together:And here is a quilt top, seen from the back, with the seam allowances on each row pressed in the opposite direction from the rows before and after them so the seam allowances would nest when the rows were sewed together. The red arrows show which direction the seams were pressed.
Keep your strips and units organized in sewing order. Arrange them in piles, like this:

Or hang your strips on a pants hanger, with the ones you will sew first located closest to you. That way you can just pick up your strips and sew.