Wondering exactly what size to make your next quilt? Both beds and people come in all sizes and of course, they need different size quilts.
The chart below gives quilt and mattress dimensions for bed quilts of all sizes, from crib to California King. Keep reading after the chart to see other factors you should consider when you plan a bed quilt's size.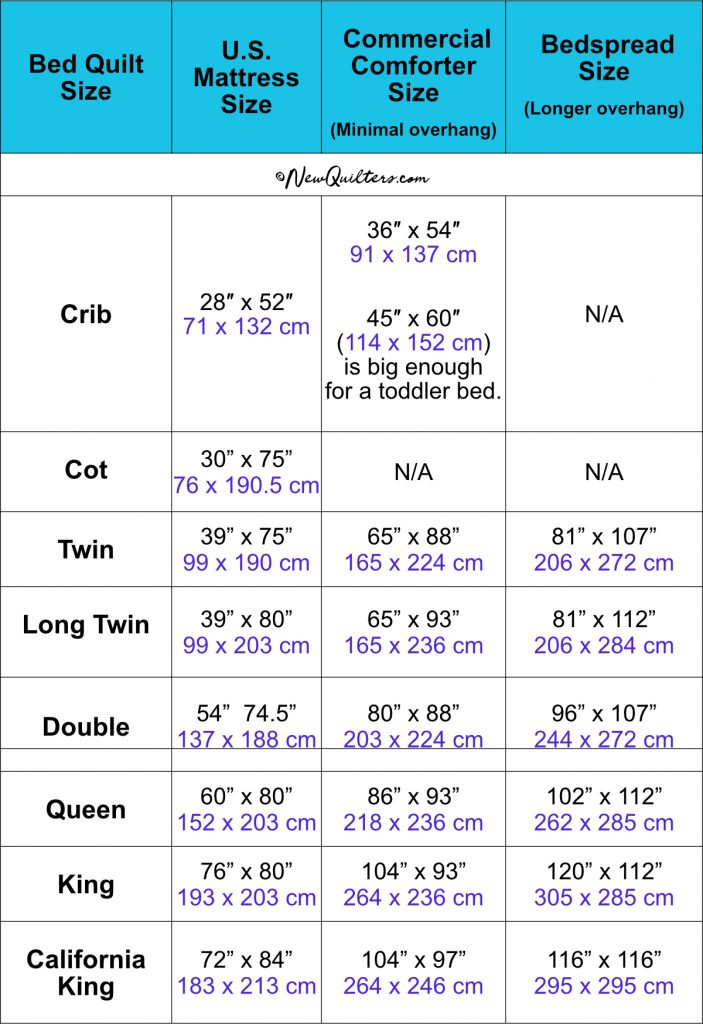 Other Size Factors to Consider

for

Bed Quilts
Making a bed quilt the proper size involves a number of factors:
Mattress size. If you can, measure the actual mattress the quilt will go on. If you can't do that, use the mattress size chart above to estimate the proper quilt size.
Mattress thickness. Will the quilt hang down over the edge of the mattress or lie entirely on the mattress top?If it hangs down over the edge, it's important to know how thick the mattress is. Use these dimensions to estimate the amount of overhang your quilt will need:
Standard: 7″ – 9″ (18 – 23 cm)
Deep: 10″ – 15″ (25 – 38 cm)
Extra Deep: 16″ – 22″ (41 – 56 cm)
Mattress pad thickness. Many beds these days are topped with foam pads to make them softer. If there's a pad on the bed you're making the quilt for, use these dimensions to estimate the added depth:
Standard: 7″ – 14.5″ (18 – 36)
Deep: 15″ – 22″ (38 – 56)
Box spring. If the quilt also needs to cover a box spring, add extra inches for the added overhang.
Pillows.If you want the quilt to fold up over the bed pillows, you will need to add extra inches to the quilt's length. If you can, measure exactly how deep the pillows are. The most accurate way to estimate how much extra length you need is to make up the bed with a bedspread covering the pillows, then use a tape measure to measure from the tuck where the bedspread is folded underneath the pillows, up and over to the back of the pillows. Add this measurement to the quilt's length. If you can't measure, add 18″ to the length for pillow coverage.
Quilt design. If your quilt features a central medallion or a central pattern, you may need to adjust your measurements to keep the center pattern from hanging down over the edge of the bed or getting hidden by the pillows. Often you can solve this problem by adding borders around the central design.
Density of quilting. How heavily will you quilt this top? The tighter your quilting is, the more your stitches shrink the quilt top. Allow up to 5% room in both width and length for shrinkage. Making the outer borders slightly deeper is a great way to do this.