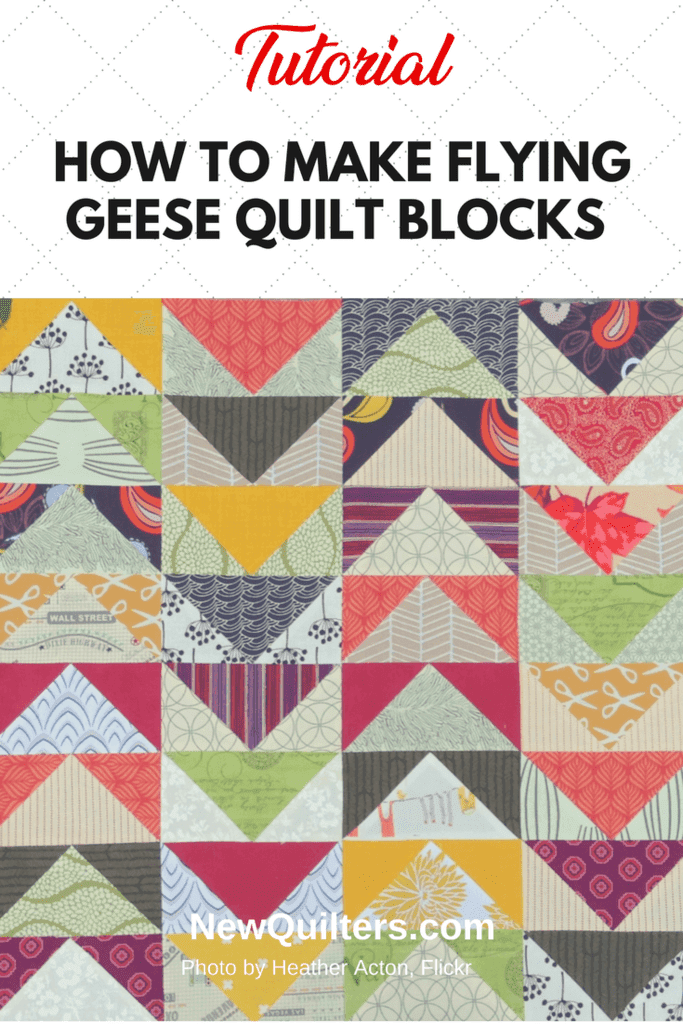 There are at least four ways to make Flying Geese Quilt Blocks. This post gives you step by step instructions for one of them: making the block from one rectangle and two contrasting squares.
How to Sew a Flying Geese Quilt Block from Squares and Rectangles
You will need a rectangle for the "goose" and two smaller squares to make the "sky."

The standard block width is two times the height. Here are the cutting dimensions for blocks of several sizes:
2" x 4" finished block: cut one 2½" x 4½" rectangle and two contrasting 2½" squares.
3" x 6" finished block: cut one 3½" x 6½" rectangle and two contrasting 3½" squares.
4" x 8" finished block: cut one 4½" x 8½" rectangle and two contrasting 4½" squares.
If you'd like to make a block of a different size, just cut the rectangle 1/2″ wider and 1/2″ taller than the finished block dimensions. Cut both the squares the same size as the block height.
Once you've cut your fabrics, here's what to do:
(Optional) Use a pencil or thin marking pen to draw a line diagonally across the reverse side of each square, from corner to corner. Being a lazy time-conscious quilter, I sometimes skip this step.
Lay one of the squares on top of the rectangle with right sides together. Align the square's edges with one corner of the rectangle.
Sew diagonally across the square from corner to corner.
Trim off the corner, leaving a ¼" seam allowance.
Lay the second square on the other side of the rectangle, right sides together.
Stitch, trim and press the second square exactly as you did the first one. The finished block should look like this:Don't worry if the tip of the triangle doesn't touch the top of the block. That's the way it's supposed to be. The block needs to have a ¼" seam allowance above the top point of the triangle so the point will touch the top of the finished seam when you sew the block into your quilt. Learn more about sewing a perfect ¼" seam.
The block is now ready to be sewed into a quilt or a larger flying geese quilt block.