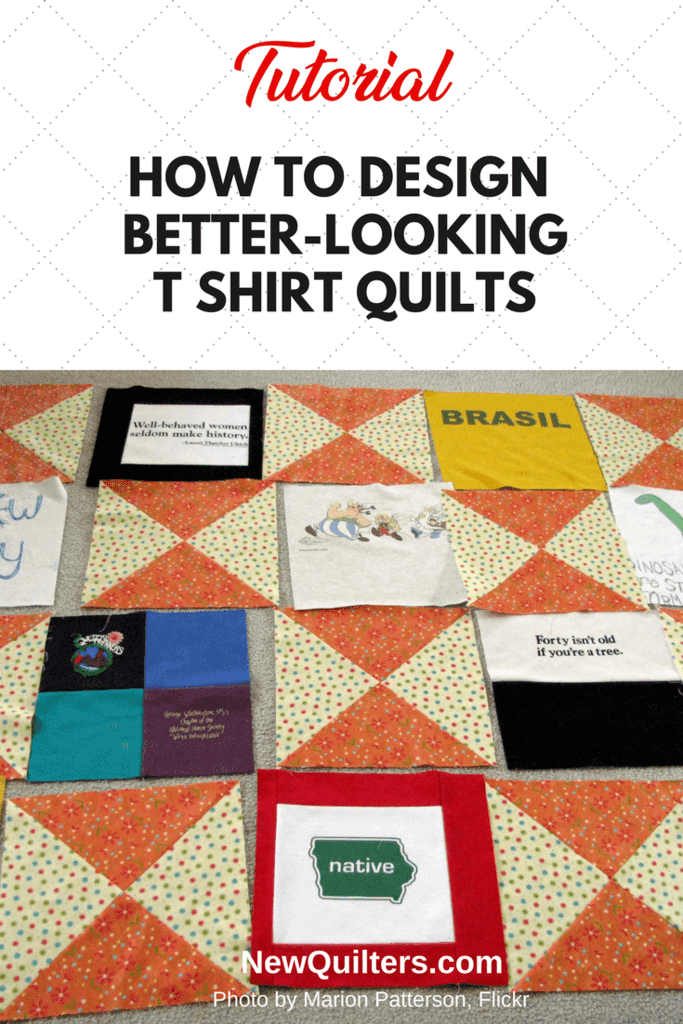 I love t-shirts, but I've never been a big fan of t-shirt quilts. That's because the typical t-shirt quilt pattern looks like this–worthy, but dull.

It's easy to see why so many t-shirt quilters go with a basic grid design. It helps unify a group of images that don't necessarily have a lot in common. In the square grid pattern, all the t-shirts are cut into identical squares that typically measure 12" to 14" ( 30cm to 36 cm). The squares are usually joined together with sashing strips. Sometimes people add cornerstones to the sashing, which looks a bit more sophisticated. But it's still the same old grid.
Here's a somewhat more complex grid layout. This one makes it easier to combine small images and photos with larger t-shirts. The subdivided grid has a bit more style than the basic grid, but it's still pretty plain.
Taking Your T-Shirt Quilt Beyond the Grid
How can you take the next step and make your quilt more interesting to work on, and more interesting to look at once it's done? Here are a number of approaches to try.
Alternate t-shirt blocks with quilt blocks. This option works especially well if the theme of the quilt block relates to the theme of the t-shirts in the quilt. For instance, a quilt made with shirts from the Chicago Bears could include bear claw quilt blocks in the Bears' team colors of orange and brown. Even if the alternating quilt block is something as simple as a quarter-square triangle block or even a solid square of a coordinating fabric, it helps bring the quilt design to life. Here's a quilt in progress that alternates t-shirt blocks with quarter-square triangle blocks.
Frame the t-shirts in squares of quilt fabric. The t-shirt frame block is a variation on the traditional Courthouse Steps log cabin quilt block. The quilt below uses a variety of frame colors to give the quilt much more pizzazz than the usual one-colored sashing grid.

Make more interesting sashing strips. This quilt's sashing is made of pieced strips that give the quilt a cheerful look and add some zest to some pretty plain-looking t-shirts.

Here's one with pieced checkerboard sashing.

This one uses a stairstep arrangement of fsquares to add interest to the layout.
Photo by Lucy Portsmouth, Flickr.com
Even if New York Beauty blocks like Roberta's are beyond your piecing abilities, think about how you might frame a collection of t-shirts with your favorite quilt blocks.
I made a crazy t-shirt quilt recently that turned a pile of my brother-in-law's old t-shirts into crazy quilt blocks.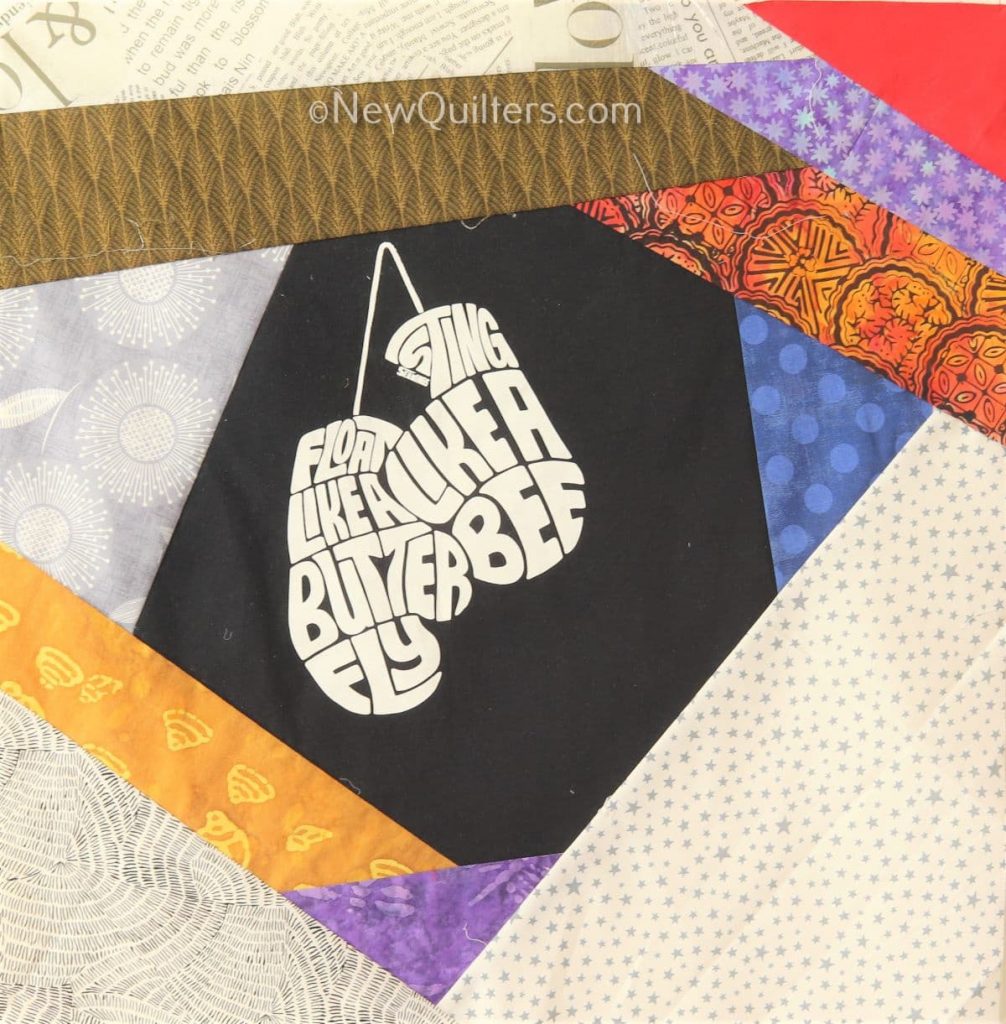 This makes for a more interesting quilt and is also a great way to use up scraps. See the whole quilt here.