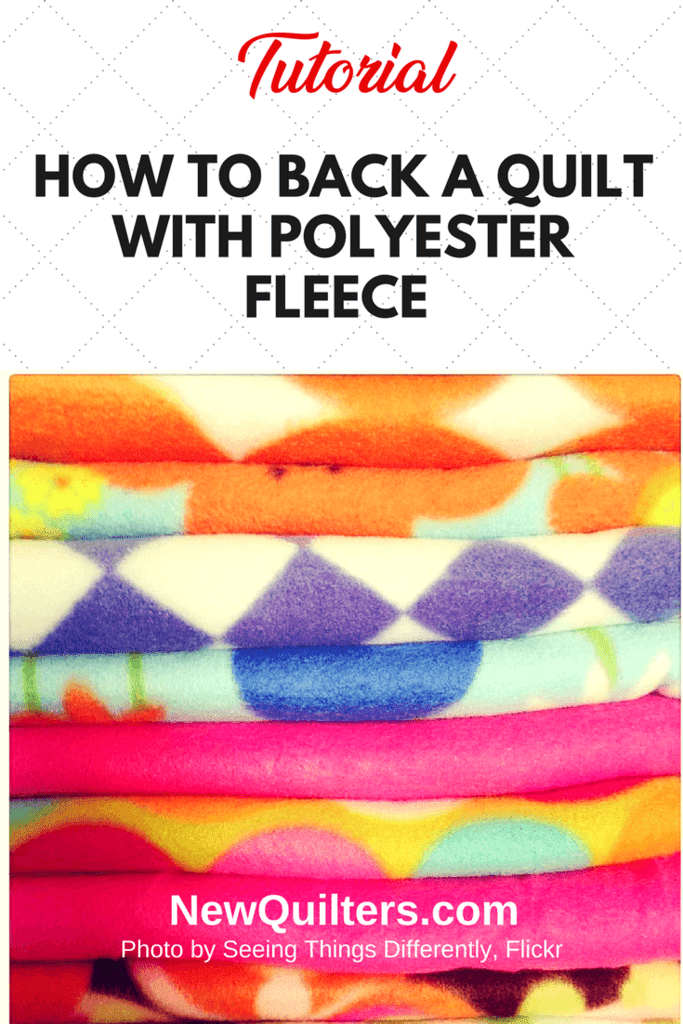 If you live in a climate where the weather gets cold, you can't beat polyester fleece as a quilt backing. Fleece is soft, light, warm, and washes and dries well.
Where I live in Northern California, the nights are chilly almost all year round, so I back almost all my quilts with polar fleece fabric instead of the traditional batting and backing layers. There's nothing that chases away the cold of chilly evenings like a quilt backed with fleece. In fact, I find cotton or bamboo batting a little thin and insubstantial–not quite snuggly enough for true comfort.
Fleece — a Less Expensive Choice
Quilting with fleece can save you some money because it allows you to make a two-layer quilt instead of the traditional three-layer one. The fleece layer replaces both the batting (wadding) and backing layers. Fleece also comes in wider widths than the standard quilter's cotton most often used for backings, so it's often possible to back your quilt without having to piece the fleece backing to make it wider. (You can also avoid having to piece your backing fabric by choosing the increasingly-popular 108″-wide quilter's cotton fabrics designed for backings, though.) The variety of fleece patterns and colors available is practically limitless.
Here's a rag quilt I made last year that is backed with solid white fleece: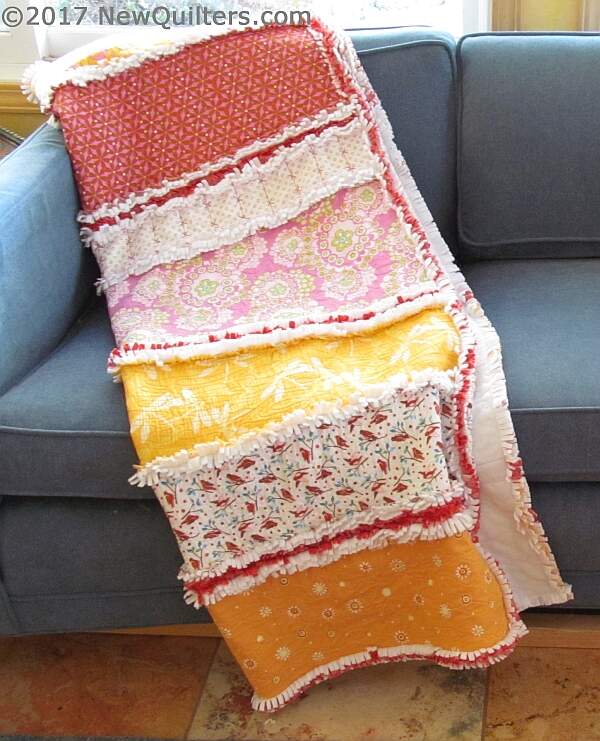 And a baby quilt backed with blue fleece in a starburst pattern: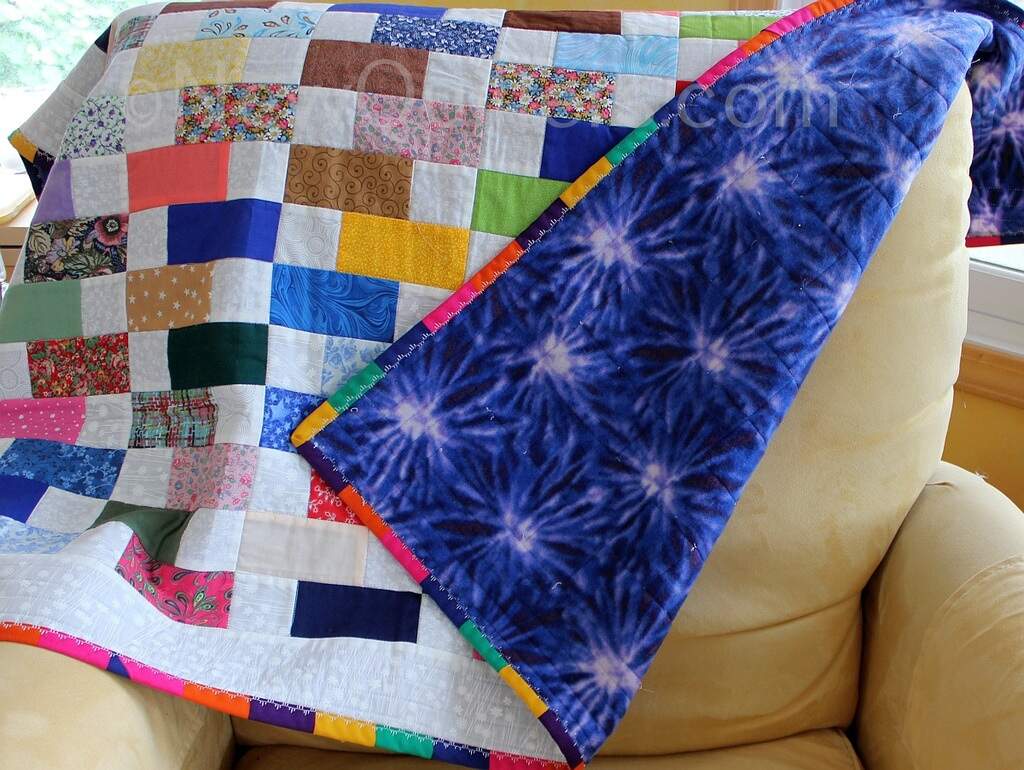 And a Chinese Coins quilt backed with polyester fleece in a chrysanthemum print: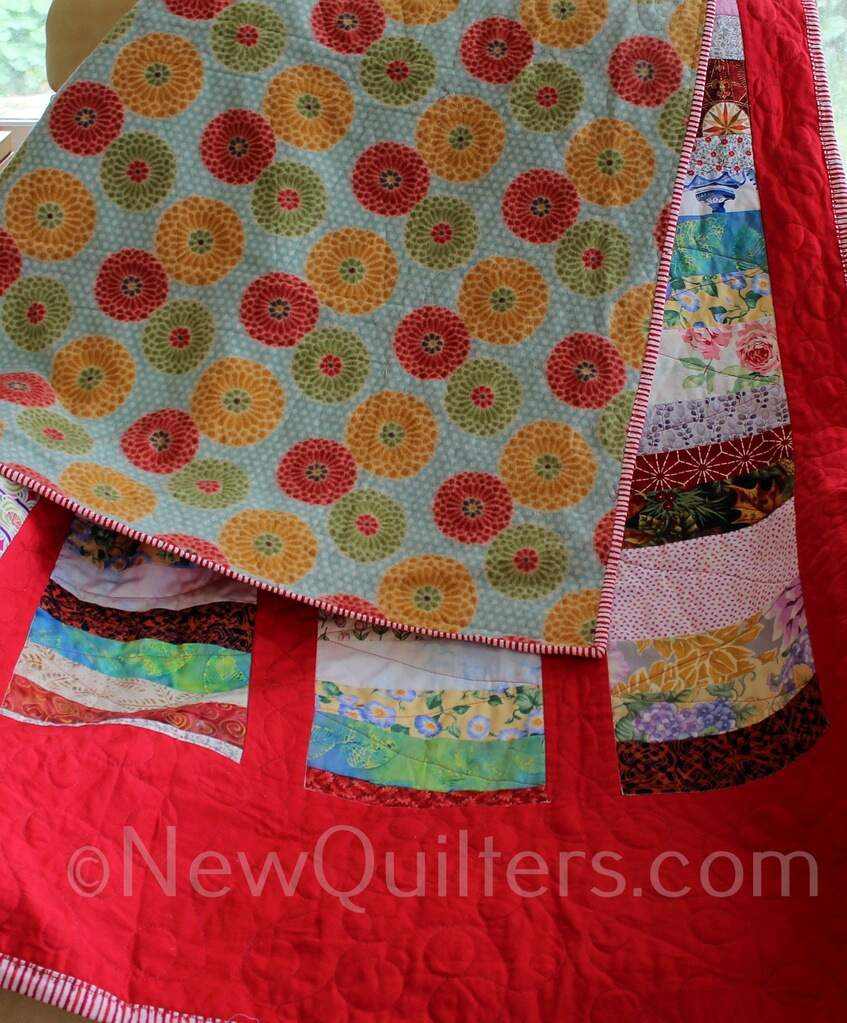 Five More Advantages of Fleece
Comfort is even more important than cost to me when I make quilts. Fleece backings have some advantages there as well. Because most fleece fabric is made from polyester, it is (1) warm, even when wet, (2) water-resistant, (3) doesn't fray at the edges when cut, (4) doesn't shrink when washed, and (5) comes in a huge variety of different finishes, colors and prints. If you want to make a quilt that involves a commercial character like Winnie the Pooh or Dora the Explorer, you can probably find a fleece print that features the character you want.
Fleece is durable enough to wash over and over, which makes it perfect for a baby or child's quilt.
Choosing the Perfect Weight for Quilting
Fleece comes in three weights:
100 weight, also called light weight or micro fleece.
200 weight, also called medium weight or blanket weight.
300 weight, also called heavy weight, which is used for cold-climate outerwear.
I like to use 200 weight fleece for my quilts. 100 weight micro fleece is extremely stretchy, so much so that it is hard to avoid wrinkling when you quilt with it, and 300 weight fleece is quite thick and bulky. Sometimes my sewing machine struggles to sew through it.
Does Quality Count?
I've quilted with cheap fleece (the kind you can get at big-box fabric stores), and I've quilted with the real deal, Polartec fleece made by Malden Mills, which you will probably have to buy online. And I am here to tell you that the Polartec fleece is definitely better. It holds up better when you wash it. It doesn't pill or start to look worn after a few months. It's just better.
However, I've sometimes had trouble finding real Polartec, so I mostly use big-box fleece these days. Update: I am happy to report that the quality of what's available there is much better than it was a few years ago. You can now get anti-pill fleece in midweight and extra-plus styles. You can also find 100% recycled fleece and even cotton or wool fleece designed for making sweatshirts. I still recommend Polartec if you can get it.
Dealing with Stretchiness
The biggest challenge in quilting with fleece is its tendency to stretch as you work with it. Here's how to get the best results:
Set your machine to a longer stitch of 7-9 stitches per inch (3-3.5 mm).
Use a walking foot.
Choose the right needle: 70/10 or 75/11 for micro fleece, 80/12 or 90/14 for medium weight, and 100/16 for heavy weight. Use a universal, ballpoint or stretch needle.
Other Handling Factors
Don't bleach or use fabric softener or dryer sheets when you wash fleece.
Never iron fleece with the iron set above the polyester setting – it will melt.
I have found that fleece is a bit harder to free-motion quilt than a quilt backed with regular quilter's cotton. It drags more on the bed of your sewing machine. You can still do free-motion quilting on a fleece-backed quilt, but I have found that it's easier when you use motifs that are fairly large and free-form, like a loose stipple or free-form leaves. Save your small, detailed quilting motifs for cotton-backed quilts.
Blog reader Betty C pointed out that the colors on the backing fleece can ghost through the fabric on the quilt top. This is true, especially if your top includes white or pale fabrics. I try to take advantage of the show-through by using a fleece print that harmonizes with the colors on the front. Another fun design challenge!
Step-by-Step Instructions for Backing a Quilt with Fleece
Find the right side of the fleece. Often it isn't easy to tell which is the right side and which is the wrong side. Here's a tip: fleece curls to the right side on its lengthwise grain (parallel to the selvages), and to the wrong side on its crosswise grain (perpendicular to the selvages). Use a piece of tape to mark the side you want to have showing.
If the fleece isn't wide enough to back the whole quilt, piece it to make it at least 2 inches (5 cm) larger than the quilt top on all sides.
Baste the two quilt layers together. I used to pin baste, but I've converted to spray basting because it is so much faster and easier. (Although basting spray does have a nasty smell, and overspray can make your work surface sticky.)
Prepare for basting by putting the fleece right side down on a large flat surface like a bed, dining table, or clean floor.
Lay the quilt top right side up on top of the fleece, then smooth away any wrinkles. Baste with your favorite method.
Stitch in the ditch to secure the quilt layers together, working from the center out. Sew with the fleece side down, against your sewing machine's feed dogs. This helps keep the fleece's bulk and stretch under control as you sew.
Add free-motion quilting as desired, then square up the quilt and bind it as you normally would.
If you are bothered by jammed threads or uneven stitches, you may want to try putting a shim under your presser foot. Fold a piece of lightweight cardboard or heavyweight fabric like denim or twill until it is as thick as the layers of fabric in your quilt. With the quilt layers under the left side of the presser foot, put the shim under the right side. This can help the presser foot stay balanced.
Save Those Fleece Scraps
If you're the kind of quilter who hates to throw away scraps, you can piece together smaller pieces of fleece to make them large enough to use for your backing. This picture shows the back of a rag quilt I made to keep in the back of my car. (I'll be the first to admit that it's not the best-looking backing in the world, but since the main one using it was the dog, I thought it was good enough for its target audience.) This backing was entirely made from scraps left over from other quilts. Thrifty!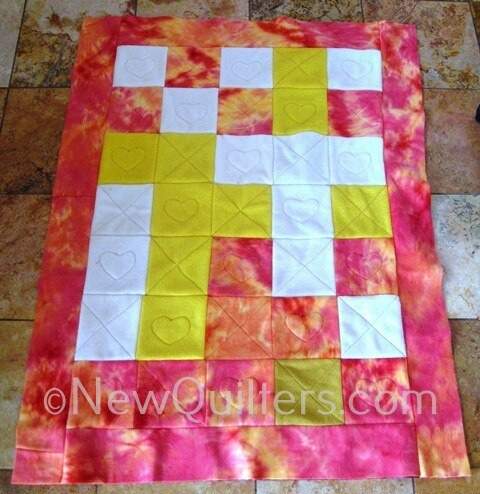 Post originally published Nov. 18, 2011. Revised and updated April 25, 2017. Featured photo by See Things Differently, Flickr.com.