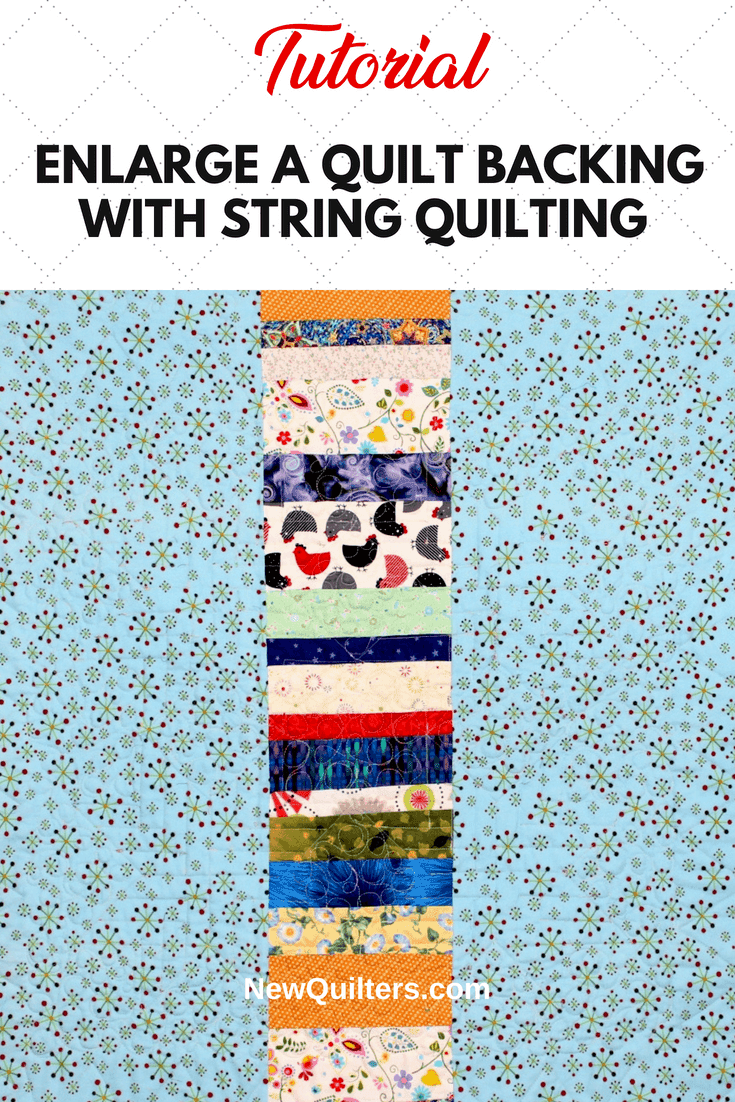 Do you ever have a piece of fabric you'd love to use for a quilt backing, but it isn't quite big enough to cover the whole area of the quilt? That's the problem I ran into with this little baby quilt (38″ x 38″). I had a large scrap piece of flannel that would be perfect as a backing, EXCEPT that it was a little too small.
Here's one easy way to solve this problem — insert a string-quilted strip that makes the backing big enough to fit the quilt.
Here's how to make a string-quilted section like the one shown in the photo above:
Cut a strip of lightweight fabric to use as the foundation fabric for your scrap strips. The foundation strip for this quilt was a piece of muslin 8″ wide and 40″ long. You don't have to use a foundation, but I find it makes it easy to keep the strips lying flat and to help me choose the right size strips.
Sew scrap fabric strips to the foundation fabric, starting in the middle and working out to both ends. I tried to choose scraps that harmonized with the colors of the quilt top. See our post on string quilting for step-by-step instructions.
Fold the backing fabric at the point where you want to add the string section and press to mark the fold. The fold doesn't have to be in the center — it can be wherever you'd like to place the string section.
With the backing fabric still folded, use a ruler and rotary cutter to cut the fabric in half just a hair away from the pressed line. Keep your cut as close to the fold as possible.
Sew the string strip between the two pieces of backing, using a quarter-inch seam.
After that, it's just a matter of basting, quilting, and binding. Here's a view of the finished quilt from the front: