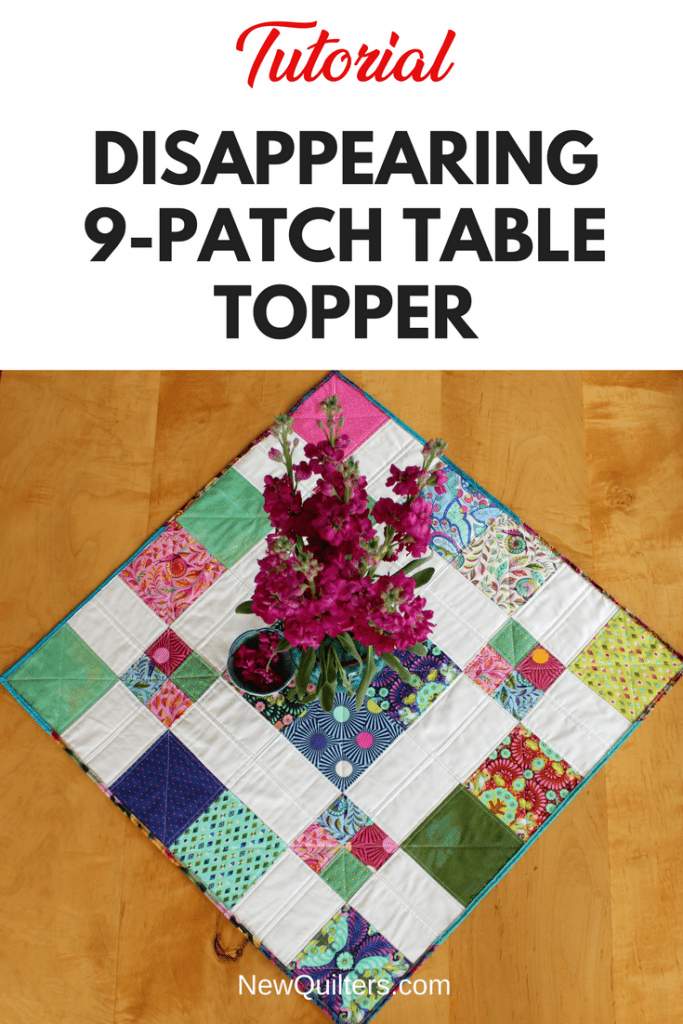 26″ Square Table Topper
This pretty little quilt makes a great table topper or small wall quilt for any celebration. You can use fabrics that work with any holiday: Christmas, Hanukkah, Easter, Valentine's Day, Independence Day, Halloween — or just choose any fabrics that appeal to you. Here's a little gallery of table toppers I've made for different seasons:
Step by Step Instructions
Start with 36 five-inch fabric charm squares:
16 white squares. I buy solid white charm squares 100 at a time on eBay and use them for all kinds of quilt projects.
20 colored squares. Most of the squares I used for this table topper came from a Kaffe Fassett charm pack, supplemented with a few others I had lying around. I find the finished quilt is livelier if you get your squares from more than one charm pack.
Arrange the squares into four nine-patch quilt blocks. Each block should have colored squares in the outside corners and center, like this: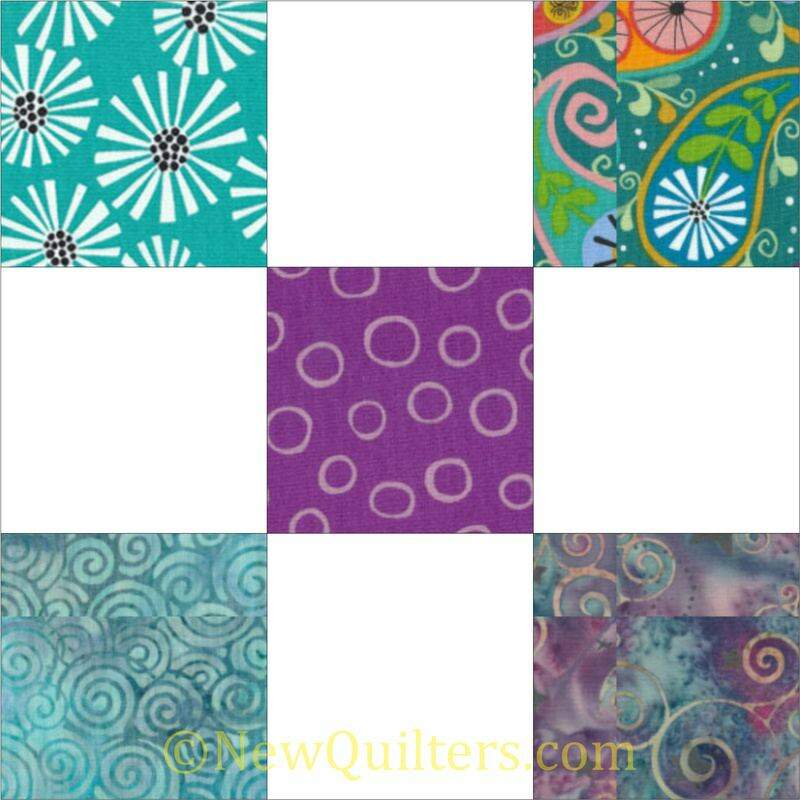 Here are the four blocks I made for this table topper: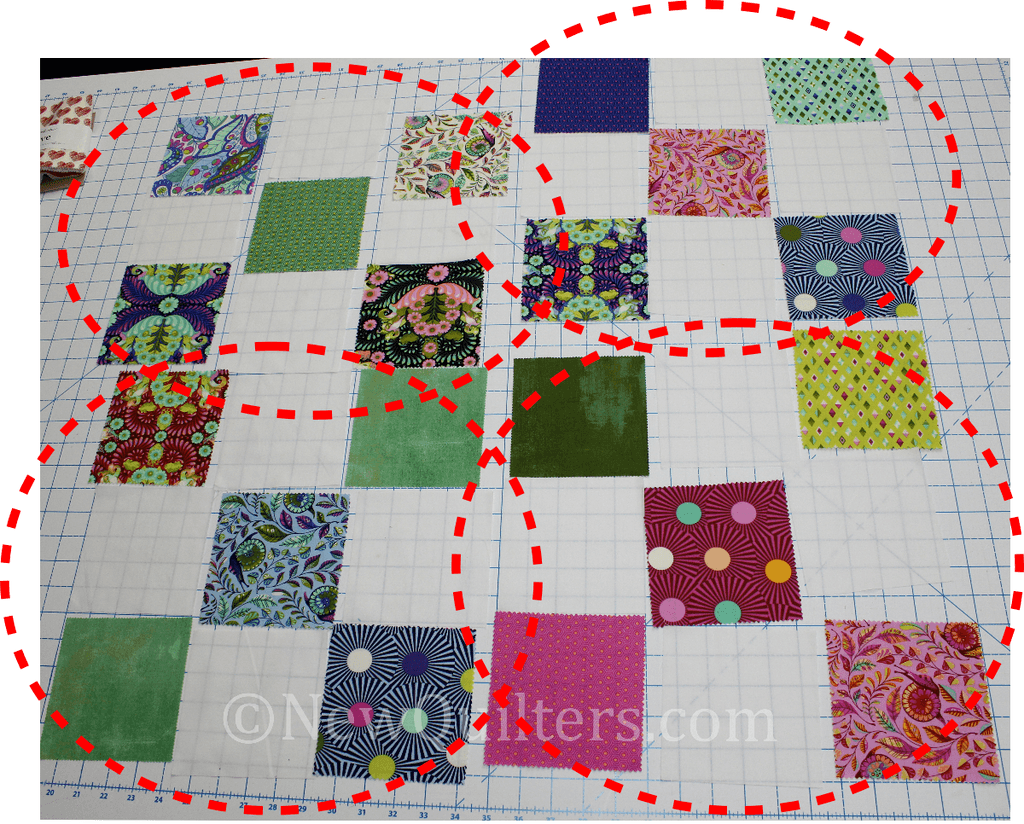 Pay special attention to the center squares. They will be sliced up into smaller squares and may get turned around in different directions, so it's good to choose a simple print that looks good from any angle. You might even want to use the same fabric for all the center squares.
Once you have your squares arranged in a way you like, sew the nine-patch blocks together. I sew mine one row at a time, working from left to right.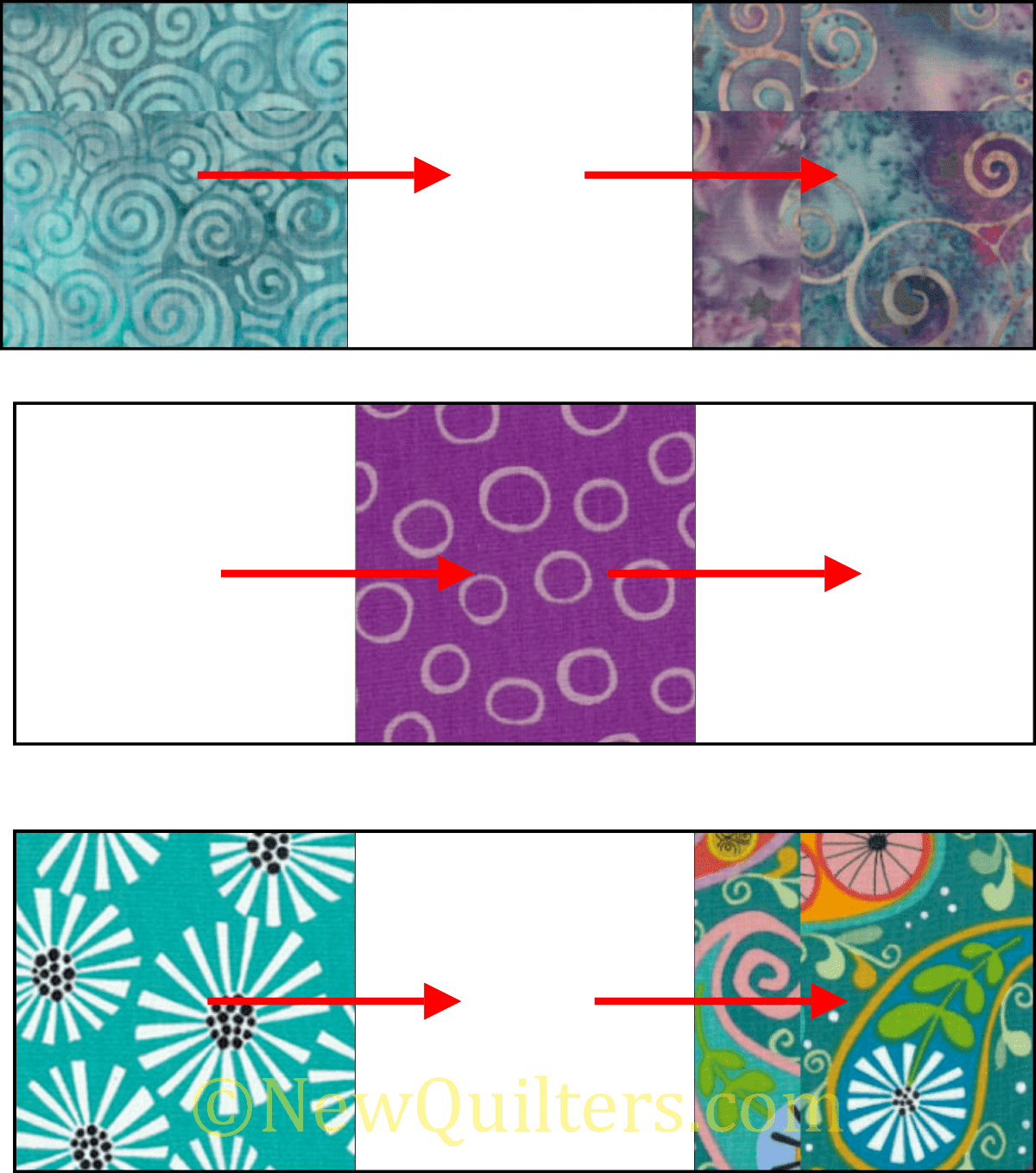 Here's an action shot of the third square being added to one of the rows in the block: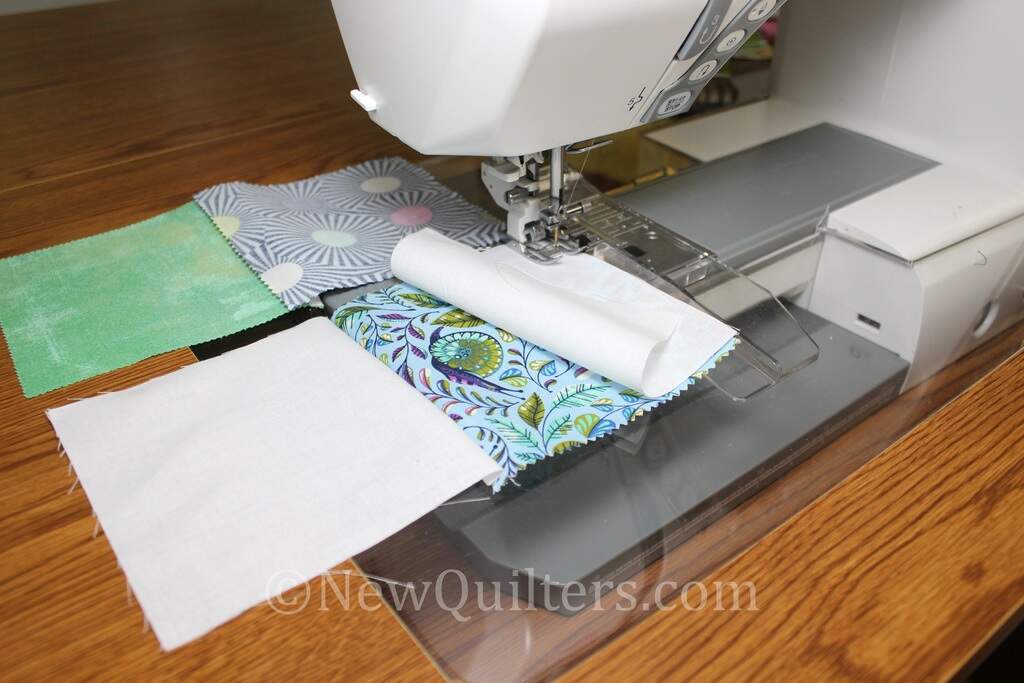 Once all the squares in each row are sewed together, press the seam allowances in each row in opposite directions. This will make it easier to match the corners of the squares when you sew the rows together.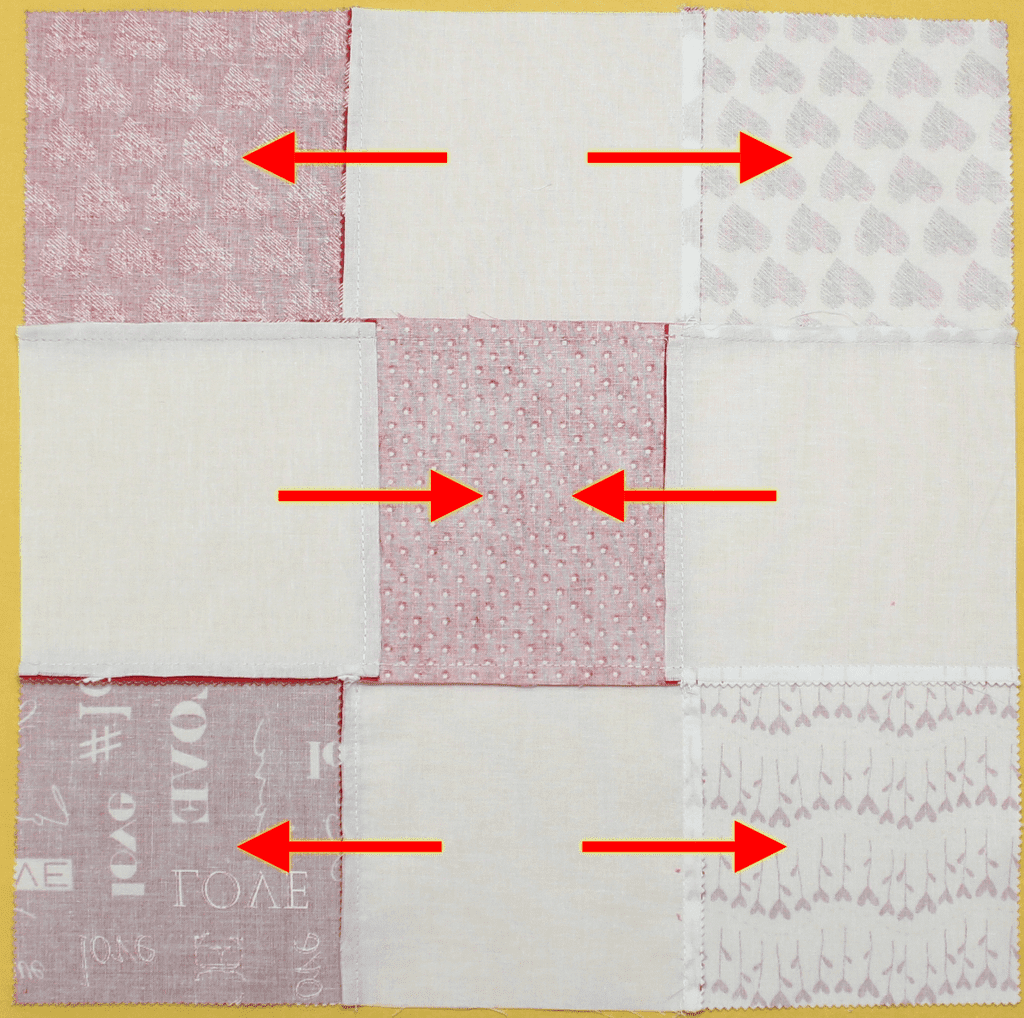 Sew the three rows together. I usually work from top to bottom.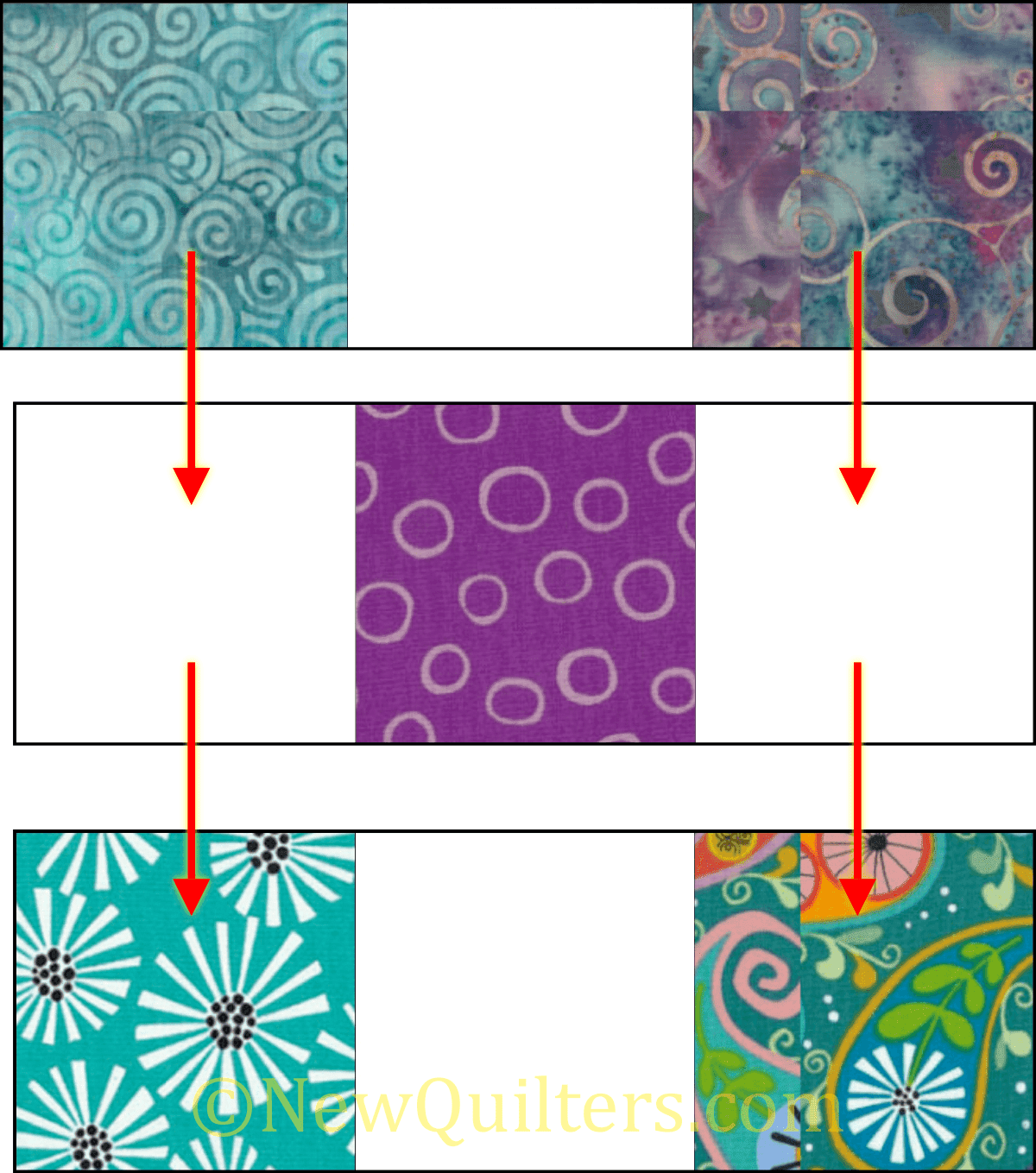 Pin at each seam intersection to make sure the corners of the squares in each row match up with the corners in the next row.
When you have all four blocks stitched and pressed, lay them out in a square on your cutting table: two blocks in the top row, and two in the bottom row. Use your ruler and rotary to cut each block in half both vertically and horizontally. Here's how my blocks looked after I cut them: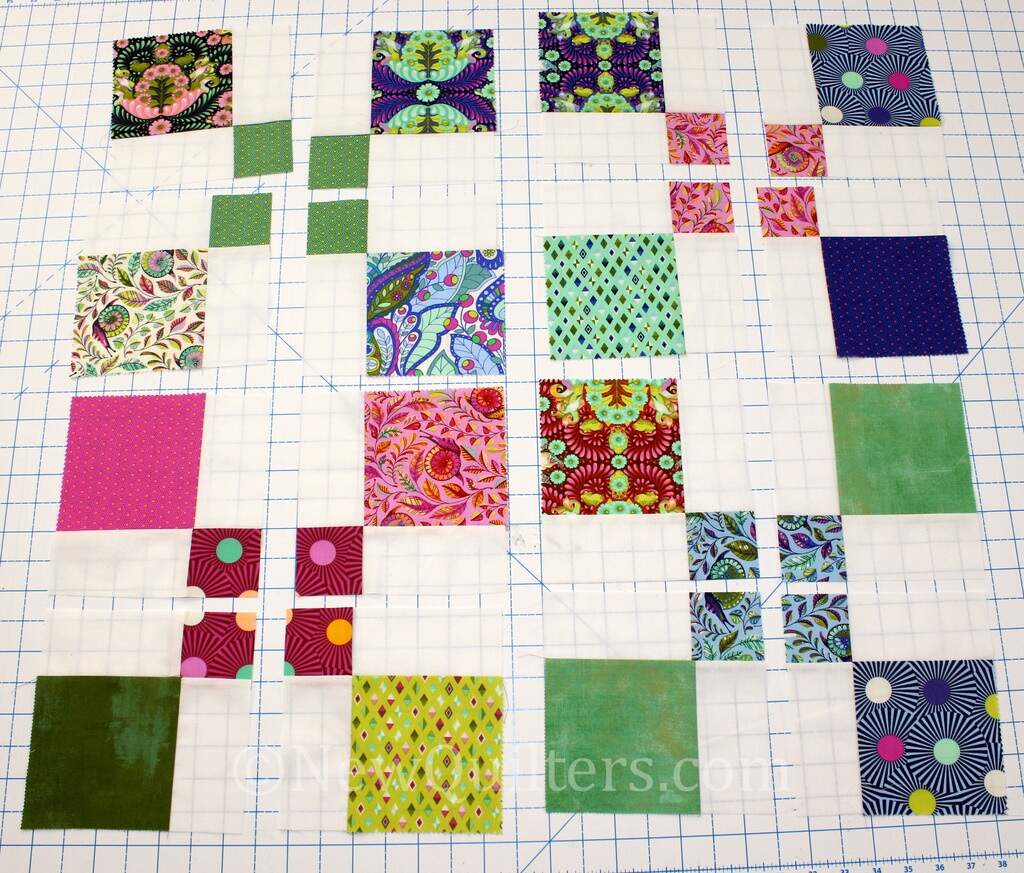 Now comes the challenging part: rearranging your cut-up blocks into a cool new pattern. (I actually have my husband do this part because he's much better at seeing spatial relationships than I am.) Here's how the blocks looked after he rearranged them: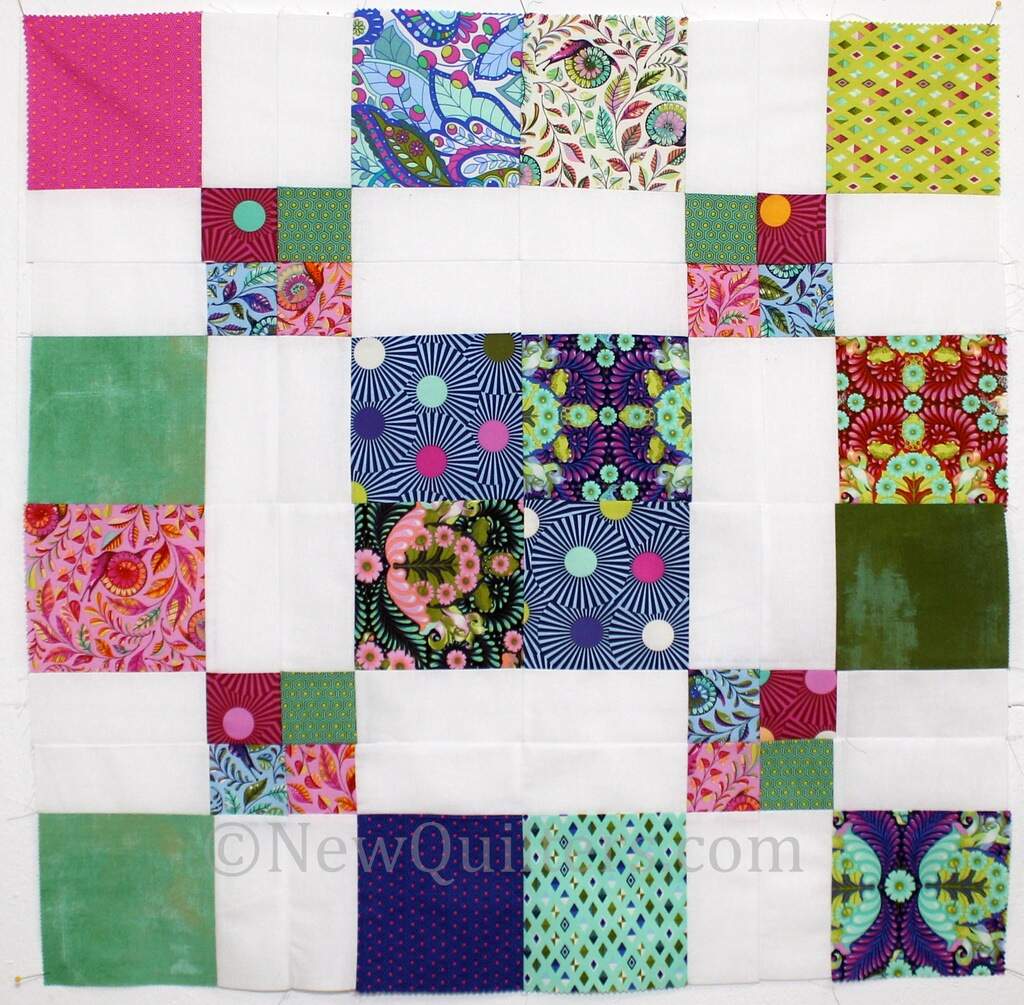 You can arrange yours like mine, or you can arrange them however you like. It's like putting together a puzzle. I recommend taking some time and leaving your arrangement overnight before taking a last look at it. You may be surprised at what you notice after you've stepped away for a few hours.
After you arrange the blocks in a way you like, sew the cut blocks together again. Getting your corners to match perfectly will be harder this time around, because the seams of your turned-all-directions blocks will not all nest perfectly. Use pins to make everything match as well as you can, then just learn to love it if the points aren't perfect. That's my motto!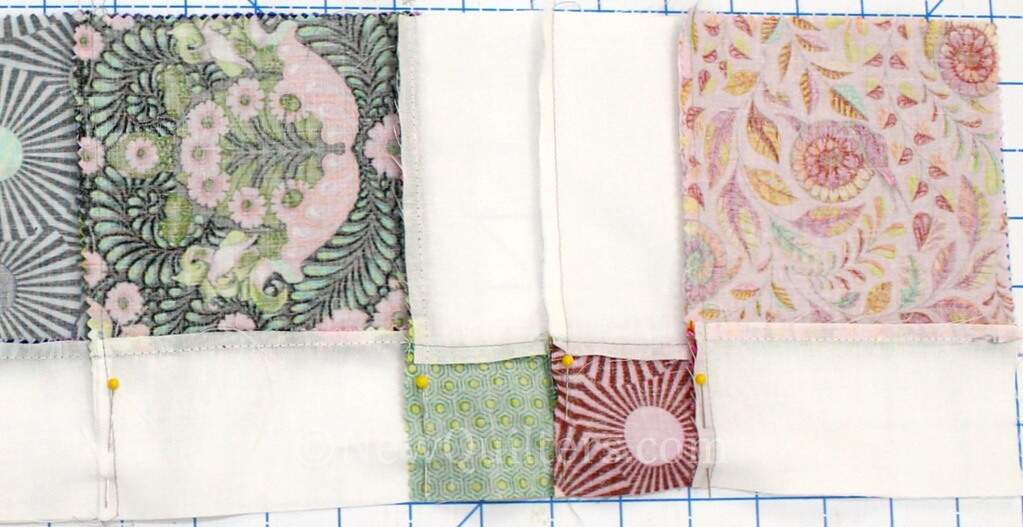 Layer the top with backing fabric and batting, then baste with basting spray or safety pins:

Quilt the layers. I did all straight-line quilting on this piece.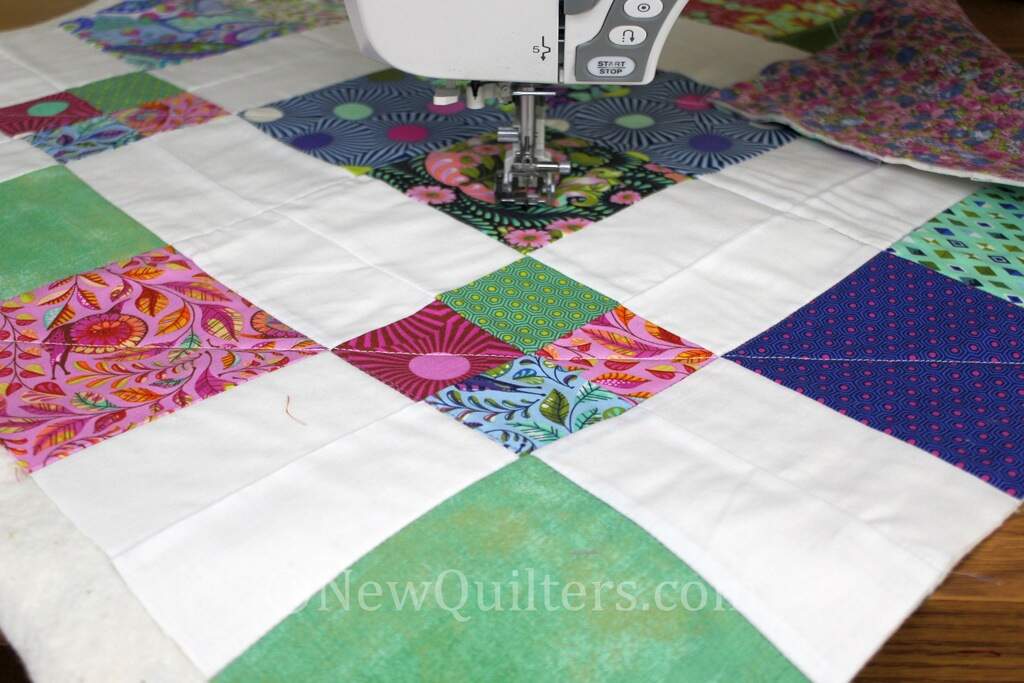 First, I sewed diagonal lines all over the quilt: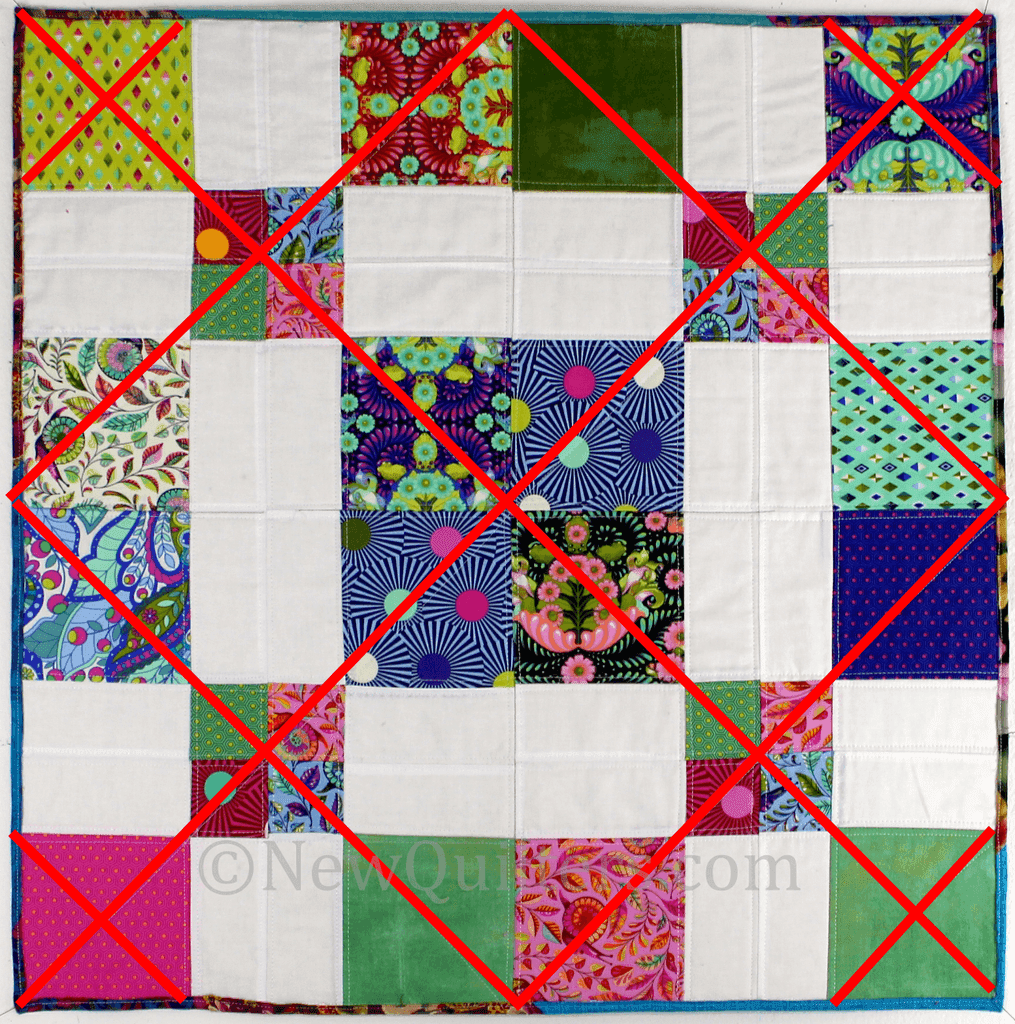 I also bracketed the horizontal and vertical seams with straight-line stitching that looks more or less like the stitching on this Christmas table runner (but forgot to take a good photo of it).
To bracket a seam, just place one side of your presser foot along the seam line and set your needle position at a pleasing distance from the seam. I used a quarter-inch distance on this quilt. Then sew along the seam line, using the presser foot edge as a guide. Turn the quilt around to sew in the other direction.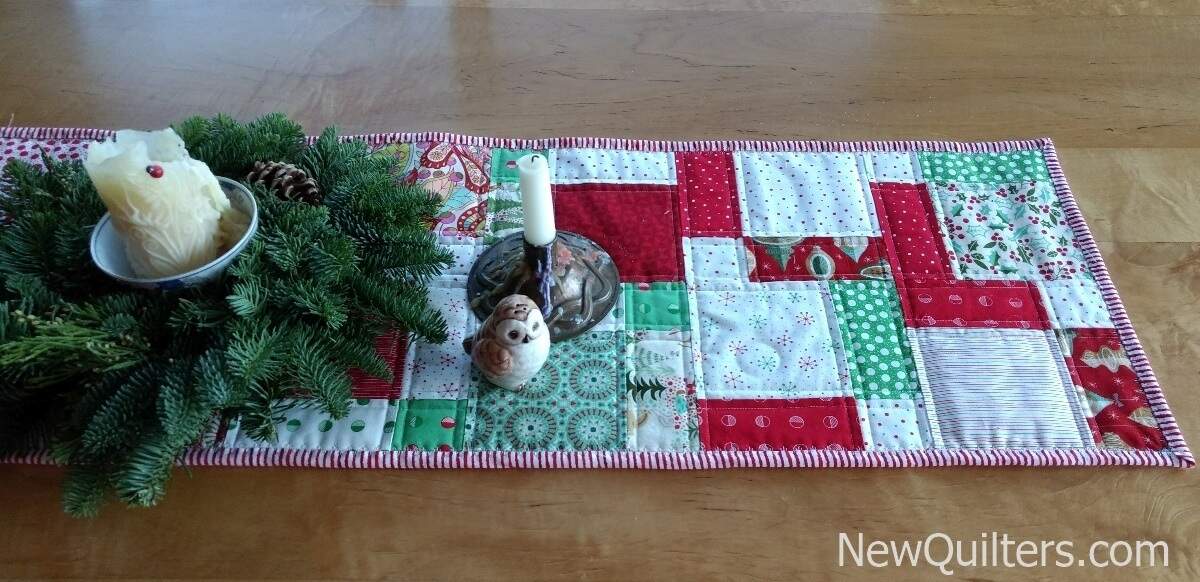 After binding, the table topper looked like this: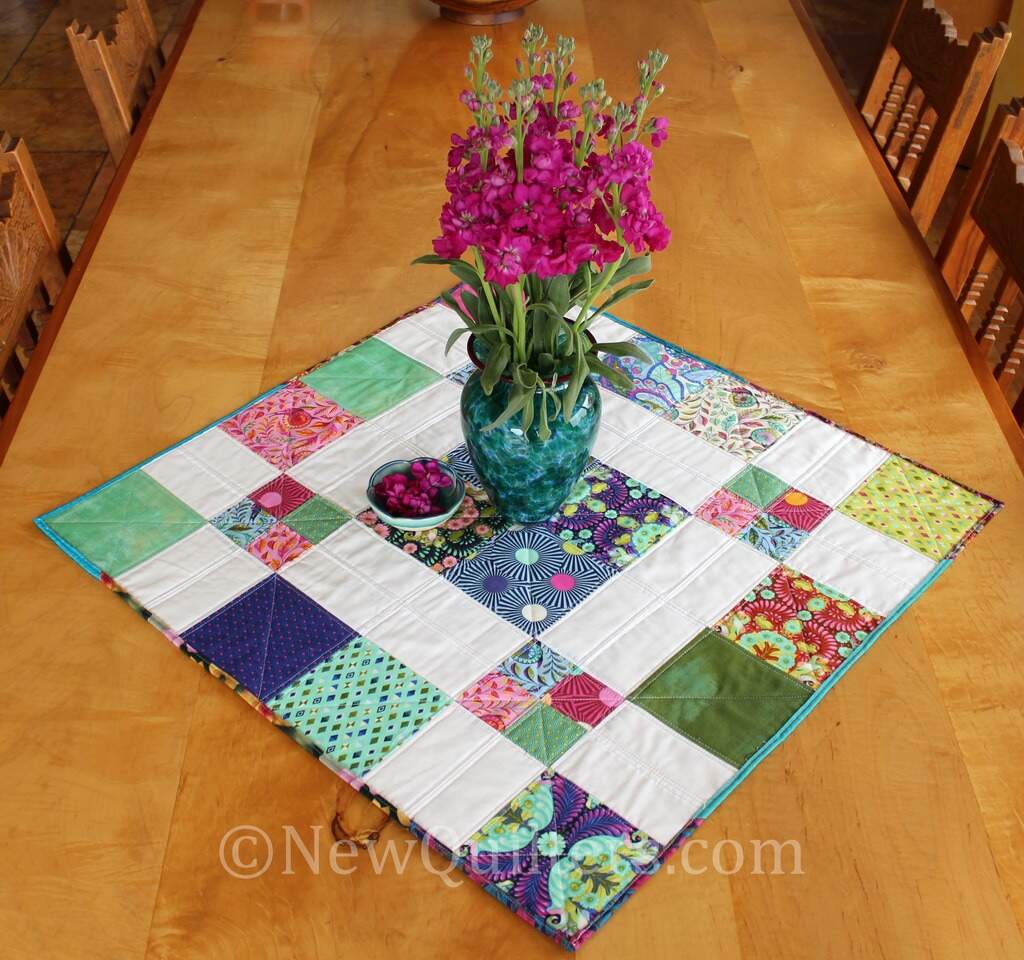 All in all, it took most of a day to complete this project. I'm currently making another one using some Valentine's red and white fabrics I got from my friend Ruthmary. Update: here's the finished Valentine's table topper.

Yet another update: Here's a version I made in modern winter colors.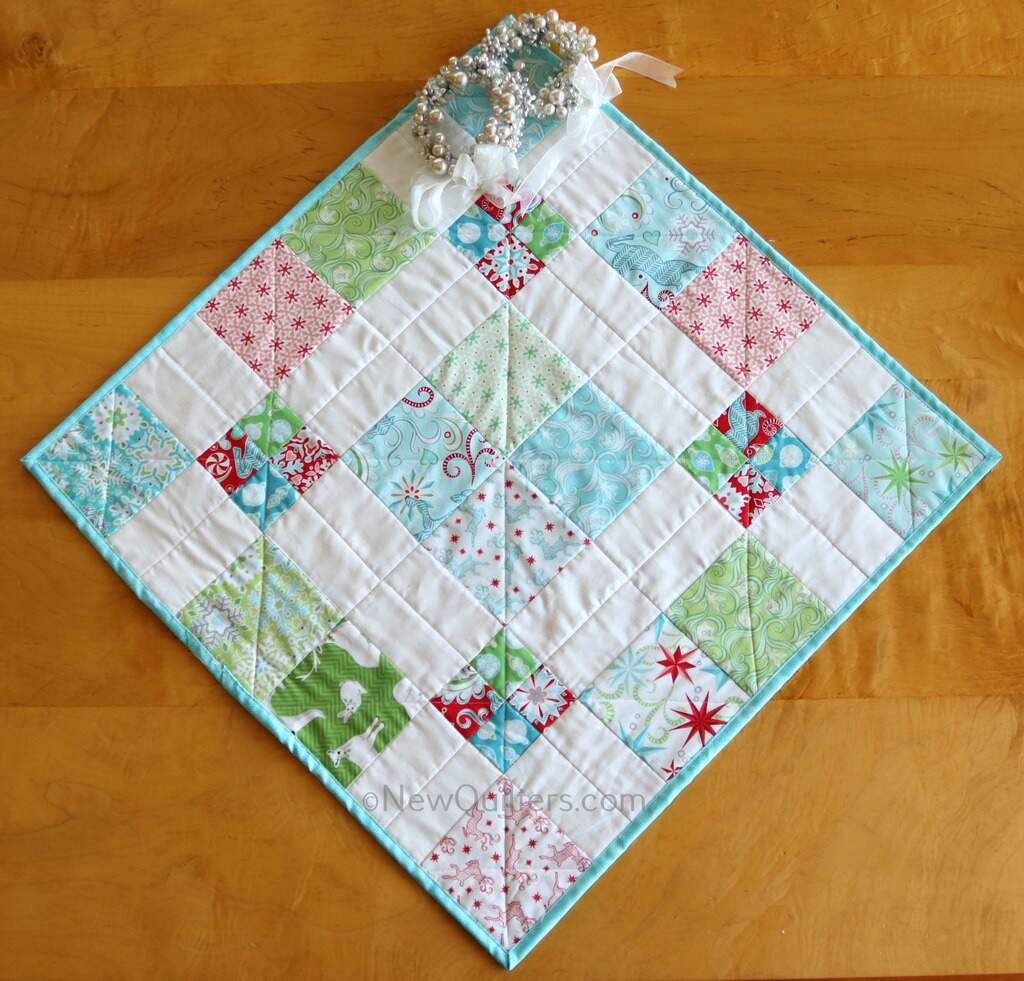 If you make this quilt, please leave a photo in the comments. I'd love to see how yours turns out!