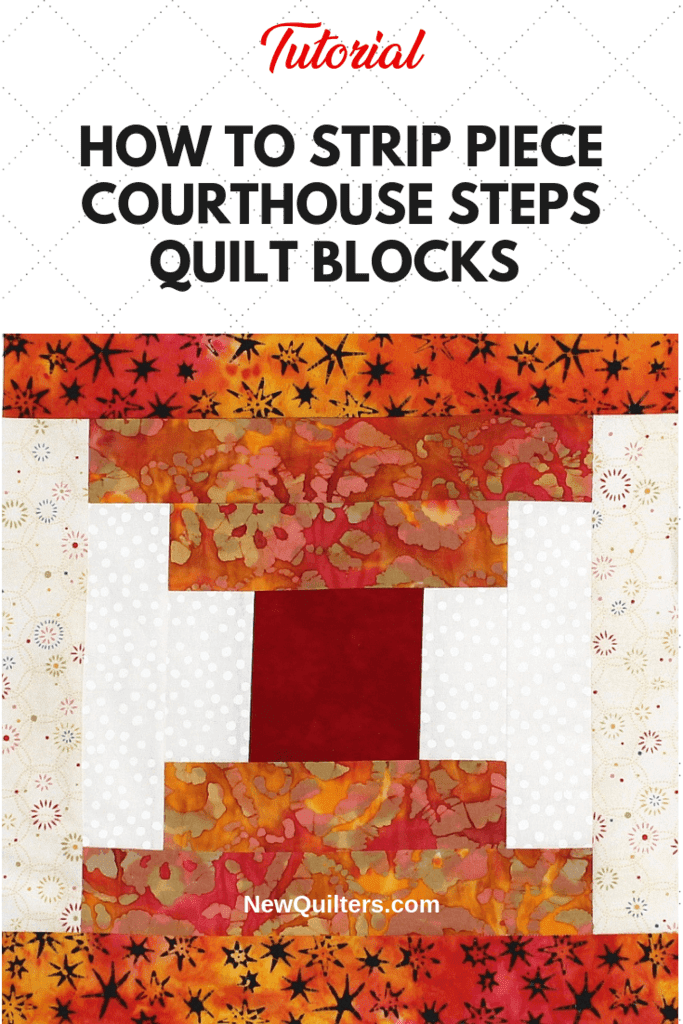 The Courthouse Steps block is a variation on the traditional Log Cabin quilt block. Like other Log Cabin blocks, Courthouse Steps is made from light and dark quilting fabrics arranged in a step formation around a central "hearth" square. The arrangement of the logs in two sets of graduated light and dark "steps" gives the block its name.
This post shows you how to strip piece nine 12½" Courthouse Steps blocks. Learn more about the basics of strip piecing.
Cut the Fabric Strips
Start by cutting the following fabric strips:
One 4½"-wide strip of red fabric for the center hearth square.
Six 2½"-wide strips of light fabric. I used a white print.
Ten 2½"-wide strips of darker fabric. I used a golden brown leaf print.
Stack the strips into three piles for sewing.
Piecing the Strips
Lay a strip of the red and the light fabric with right sides together. Sew the strips together along their long edges, using a scant 1/4″ seam. Learn more about sewing perfect 1/4″ seams.
On the opposite side of the red fabric, lay a second strip of light fabric, right sides together. Sew along the long edges. Press the seams toward the outer strips. The strip set should now look like this:
Square up the end of each strip set, then sub-cut the strip set into 4½" sections. The cut sections should look like this:
Lay a strip of the darker step fabric right side up. I do this right at the sewing machine. Lay one of the sub-cut units on top of the strip, right side down. Sew the strip and sub-unit together along the long edge of the strip. Feed the next unit under the feed dogs as soon as the first one is completely stitched. You can put them quite close together, as the photo shows:Continue chain piecing until all the units are stitched to the dark strip, then cut the sections apart with a rotary cutter. Press the seams toward the dark fabric.
Turn the pressed strip set around and sew the other side of the unit to a second strip of dark fabric. Chain piece, press, and trim the units the same way you did in the previous step. When you are done, your units should now look like this:
Continue adding two light strips on opposite sides of the block, followed by two dark strips on opposite sides, until the block has two light "steps" and two "steps" radiating out from the center square.
The finished blocks should look like this:

You can keep adding strips to make the blocks larger, or stop and sew them together into a quilt top.