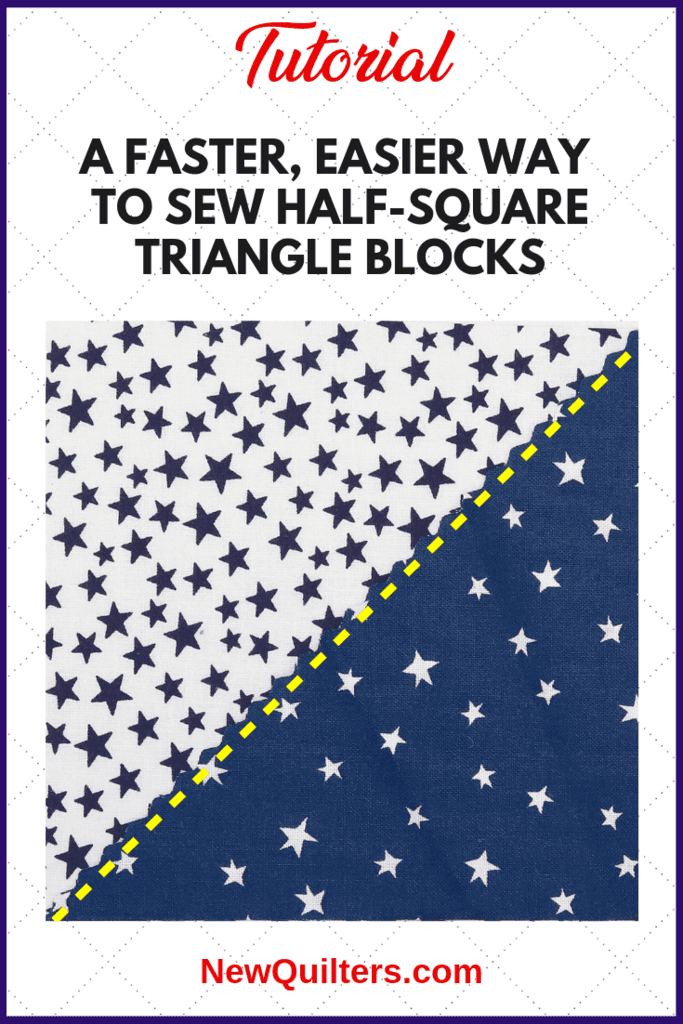 I have made a lot of half-square triangle blocks in my life as a quilter. If you've spent much time quilting, you probably have too, and you'll understand why it's so exciting to come across a technique that promises to speed up the process of making them.
Triangle Blocks from Raw-Edged Appliqué
I found this technique in the book Prairie Life Quilting, by Lynne Boster Hagmeier of Kansas Trouble Quilters. She calls it Layered Patchwork, but I'd call it simple raw-edged appliqué.
Here's how simple it is: you cut a fabric square into two triangles, then sew each triangle onto a base square. That's it. No careful marking, pressing, or trimming needed.
I had to try this out, so I picked an easy pattern I'd been wanting to make for some time: this table runner. I've seen it on Pinterest in a dozen different color schemes. As you can see, I made mine in red, white, and blue fabrics for American Independence Day.


Tools and Supplies
The only special tool I used to make the blocks was a pinking blade on my rotary cutter. A pinking blade cuts a wavy line in your fabric that imitates the zigzag cut made by pinking shears. A pinked edge frays less than a straight-cut edge, or so I've been told. I wanted to test out this theory when I made the triangle blocks for this quilt.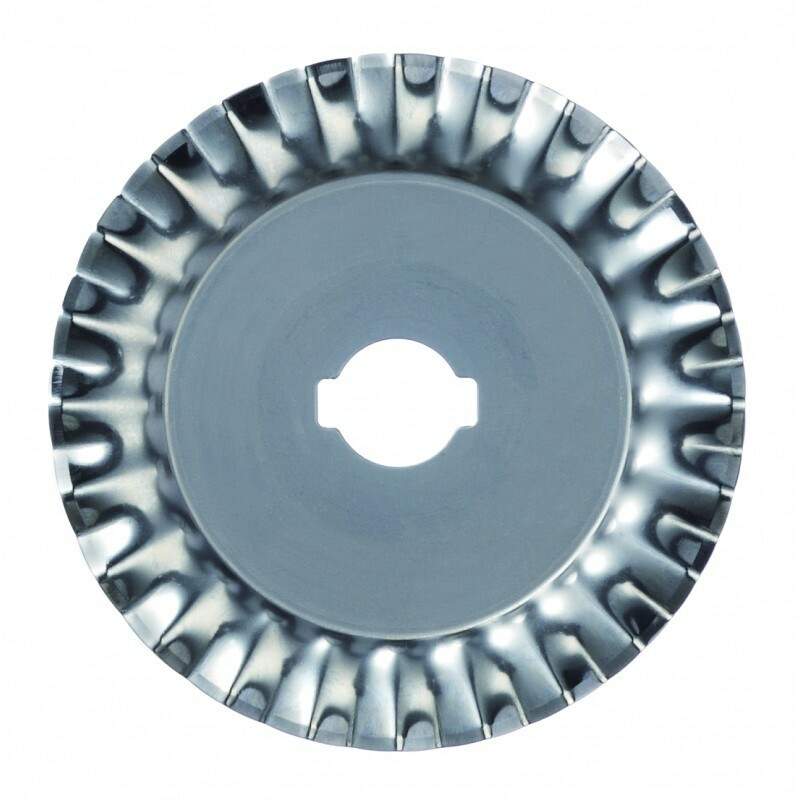 Step-by-Step Instructions
Start with two equal-sized squares, one lighter and one darker. I used 5″ squares for this project, but you can use squares of any size.
Cut the darker square diagonally in half to make two right triangles.
(Optional) On the wrong side of the dark triangle, dot the three points of the triangle with glue. I didn't do this, and the layers stayed in place just fine while I sewed them. I would baste if I made larger blocks, though.
Lay a light square on your work surface, right side up.
Put the dark triangle on the light square, with the right side of triangle facing up and glue side facing down. Align the corners and edges. If you don't like the position of the pieces, gently lift the triangle and reposition it.
Using thread that blends in with the dark fabric as closely as possible, top stitch along the diagonal edge of dark square, using a 1/8″ seam allowance. The precise measurement of your seam allowance isn't important, but try to get as close as you can to the edge of the fabric while still keeping your stitches entirely on the dark fabric.
(Optional). If you want to, you can reduce the thickness of the block by lifting up the dark section and trimming away the background fabric. Make your cut about 1/4″ away from the seam line, to avoid cutting your stitching. This is a strictly optional step, though. I didn't cut away the background fabric when I made my test table runner and had no trouble with the thickness of the layers. That's it! You have made a half-square triangle block. No marking, no pressing, no trimming. This method does use more fabric than the one I've been using (requiring 1-1/2 squares of fabric per finished triangle block, instead of 1 square per block). In light of the mounds of fabric in my sewing room, I can live with that.
Chain Piecing Helps
The only challenging moments I had making the blocks for this table runner came when I fed the top corner of a block under the presser foot of my sewing machine. I found that it was all too easy for the top point of the triangle to get caught up and mangled in the feed dogs. The solution to this problem was to chain piece a whole set of blocks, feeding them under the presser foot one right after another, without cutting the thread or lifting the presser foot between blocks. When I did that, I had no more trouble with the corners.
Color Considerations
Use the the lighter fabric as the background square in the block. Why? Because if you use the darker fabric in the background, it is likely to show through the lighter fabric and change its appearance in a way you may not like.
Washing and Fraying
I washed and dried my Fourth of July table runner to see how the edges of the raw-edge appliqué would hold up, and was pleased with the results. The pinked edges of the triangles frayed in a soft and unobtrusive way. There were no loose threads or ragged-looking sections. All in all, I thought the finished quilt looked — well, finished.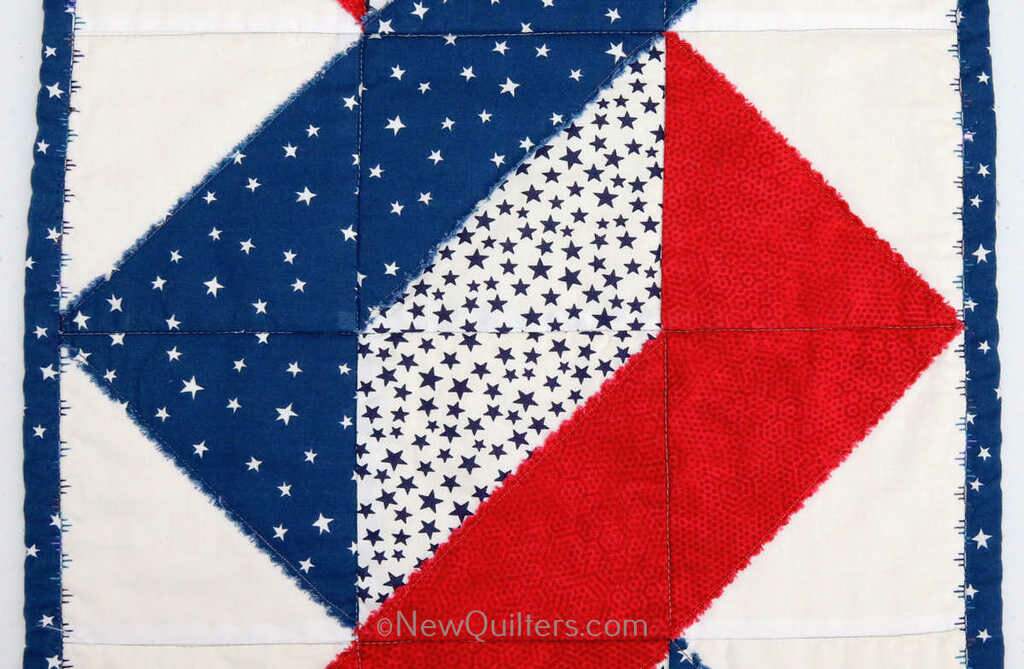 Other Ways to Make Half-Square Triangle Blocks