Your name (and the name of the person who quilted it, if you had it quilted by someone else).
Date.
Your city, state, and country.
Optional Items to Include
Phone number, street address, and/or email address for yourself or recipient. If the quilt gets lost, these specifics could help you get it back.
Recipient's name and a suitable inscription. See a list of gift quilt sayings for all occasions that will fit perfectly on a quilt label. This label went on a thank-you quilt given to people who helped the quilt maker's lost dog: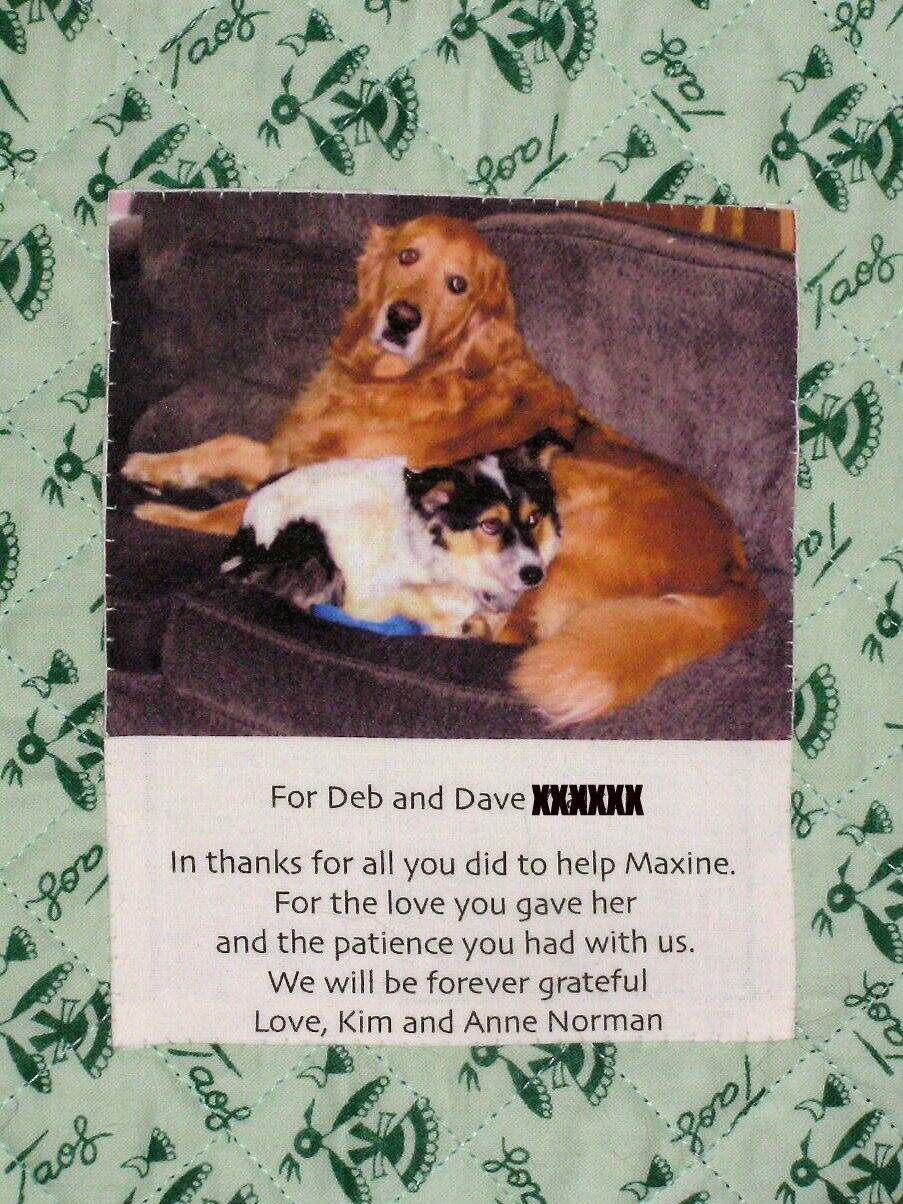 The story of this quilt. You can tell how and why you made it, names of the quilt blocks or pattern you used, and any adventures you had getting it finished. We love the way Gay Lynn Hastings used this label to show how proud she was of making her very first quilt: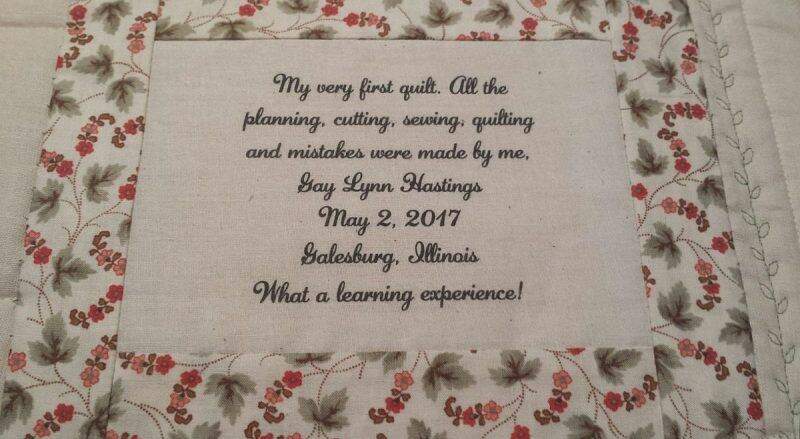 Washing and care instructions. This is vital if the quilt needs any kind of special handling. Here's an example by normanack: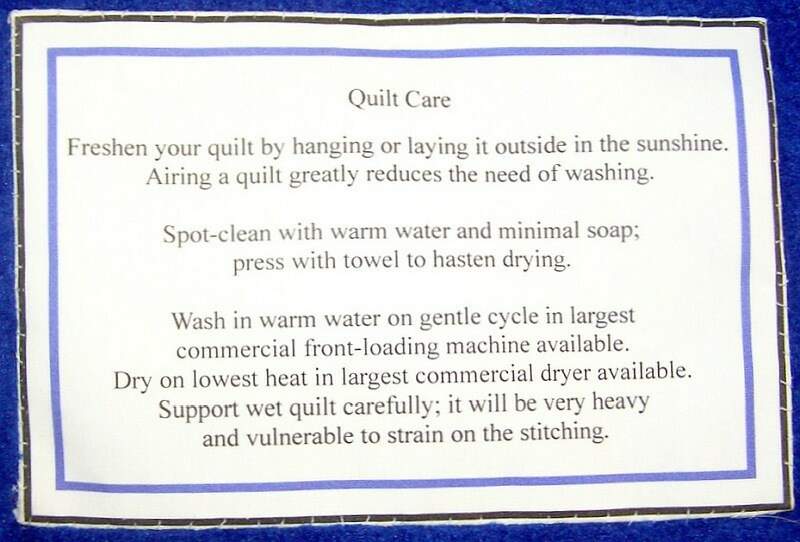 Six Ways to Make a Quilt Label
There are lots of different ways to label a quilt. Here are some of the most popular:
Hand write it with permanent ink. Write directly onto a rectangular piece of fabric or even on the quilt backing with a fine-tipped, permanent marker. If you write on the backing, test first to make sure it doesn't bleed. Sharpie or Pigma pens are both widely used. Here's one in colored inks, photographed by Melissa Gutierrez: And another in black and white:
Embroider by hand or machine. I discovered that you can buy all kinds of custom-made quilt labels on Etsy. Here's one that was machine embroidered with the name of the quilt guild that made the quilt. Or you can embroider your own. Here's a very beautiful set of hand-embroidered labels:
Use a computer and ink jet or all-in-one printer. You can design a custom quilt label using any computer graphics program, including any photos, special fonts, or any graphic elements you'd like, then print the label on a pretreated printable fabric sheet. You can find printable sheets at any quilt shop or large craft store. Many brands are available, such as Miracle Fabric Sheets, Vintage Workshop, and Color-Plus Pre-Cut Fabric Sheets. It's also possible to make your own printable fabric sheets and print the label on them.
Put the label on an extra block left over from the front of the quilt. Here's a mini-block label that coordinates with the quilt's fabric: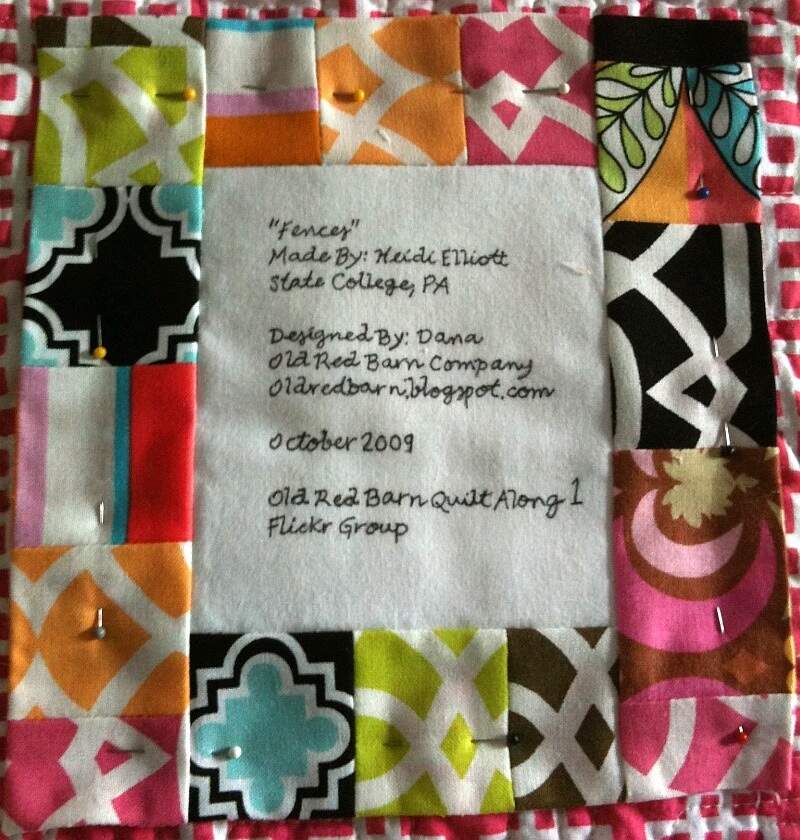 Use a vintage linen doily or handkerchief. Write the quilt details on the fabric with a permanent fabric marker. Here are two we really like, by Heather Acton: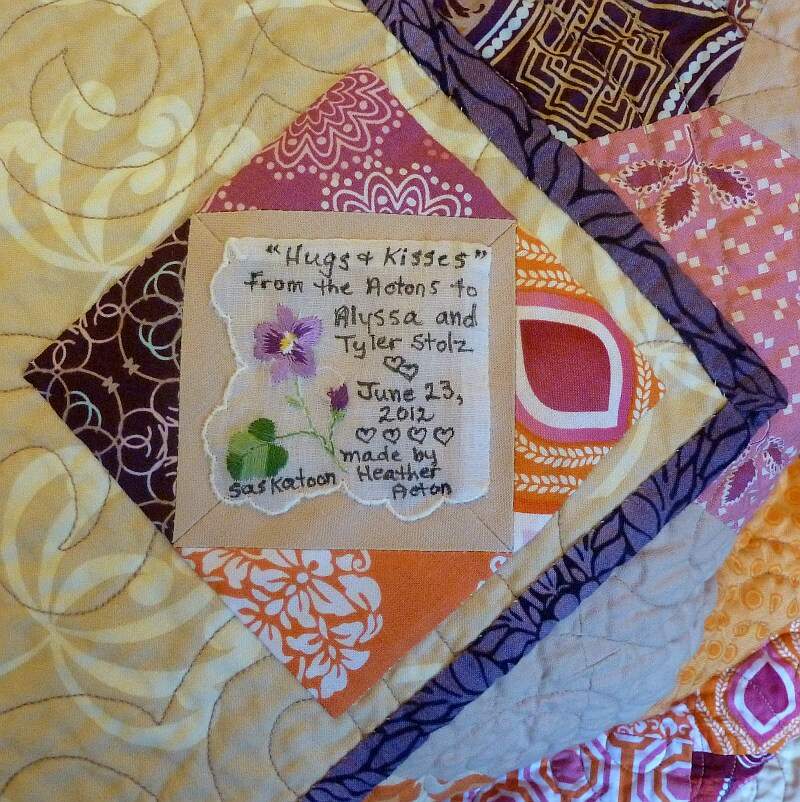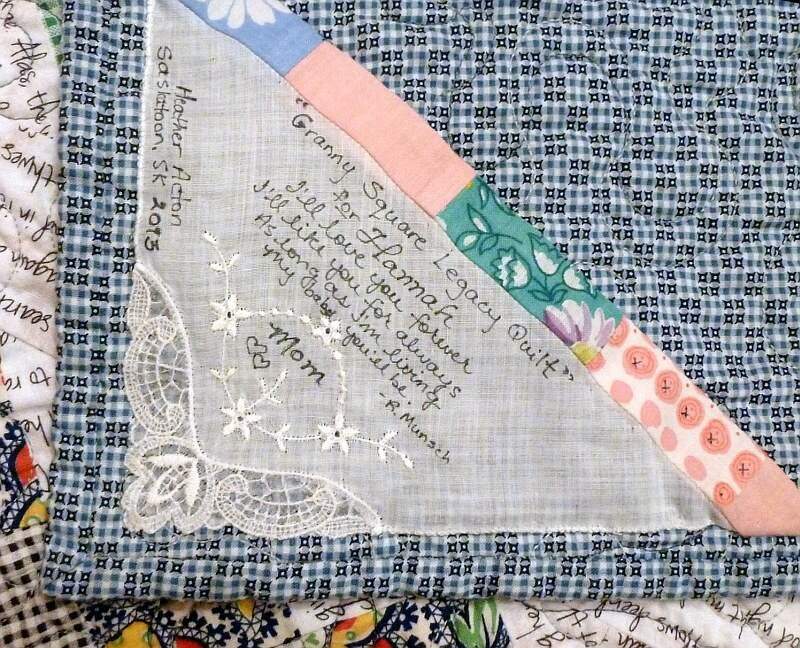 How to Sew the Label to the Quilt
Most of the labels I see are stitched to the quilt backing by hand, like this adorable baby quilt label photographed by Moose Mama on Flickr: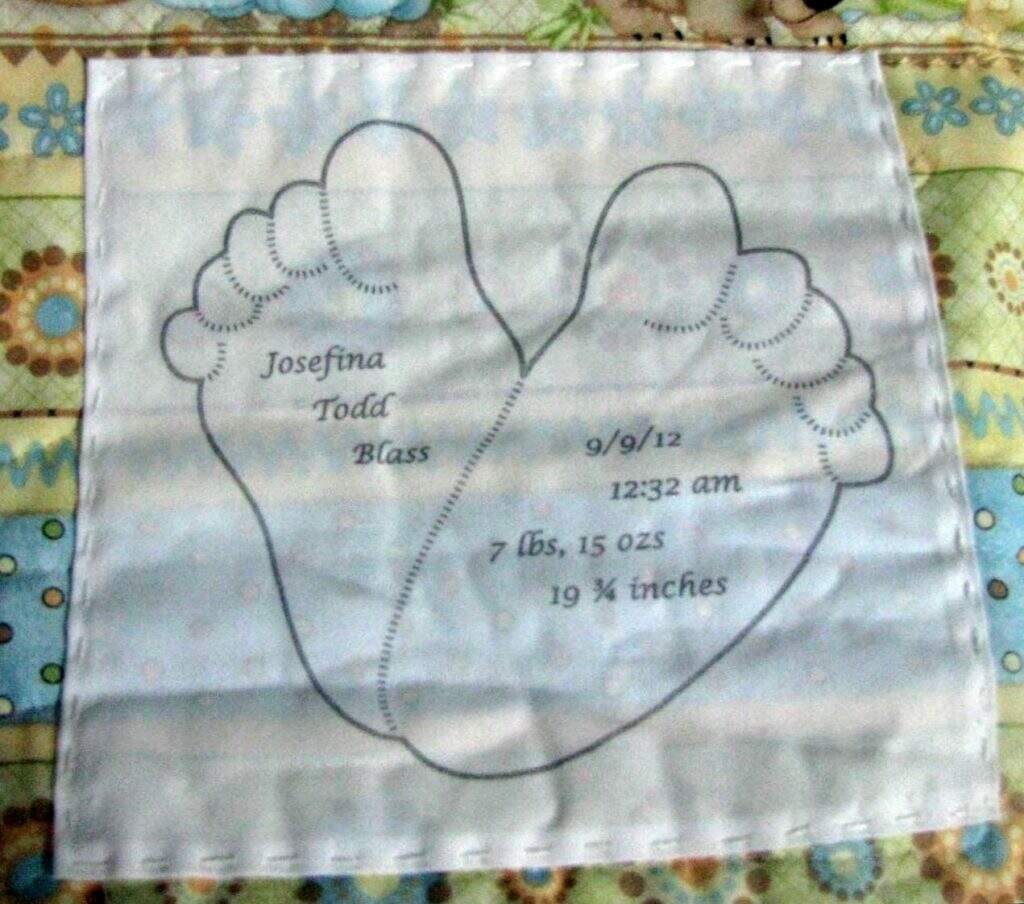 You'll want to place your label somewhere that it won't show if the quilt is hung up on a wall or laid out on a bed. Many quilters like to put it on the bottom right corner of the quilt's back side. To discourage a potential thief from removing the label, sew it firmly to the backing fabric before you assemble the quilt, then you can hand- or machine-quilt right through the label.
Another suggestion I've read (but haven't yet seen in real life) is to make a triangle by folding a fabric square in half. Write the label information on the triangle, then bind the triangle right into the corner of the quilt, the way you would to make a quilt hanging triangle. You may still want to whip stitch the angle of the triangle so the label doesn't catch on anything as the quilt gets used.