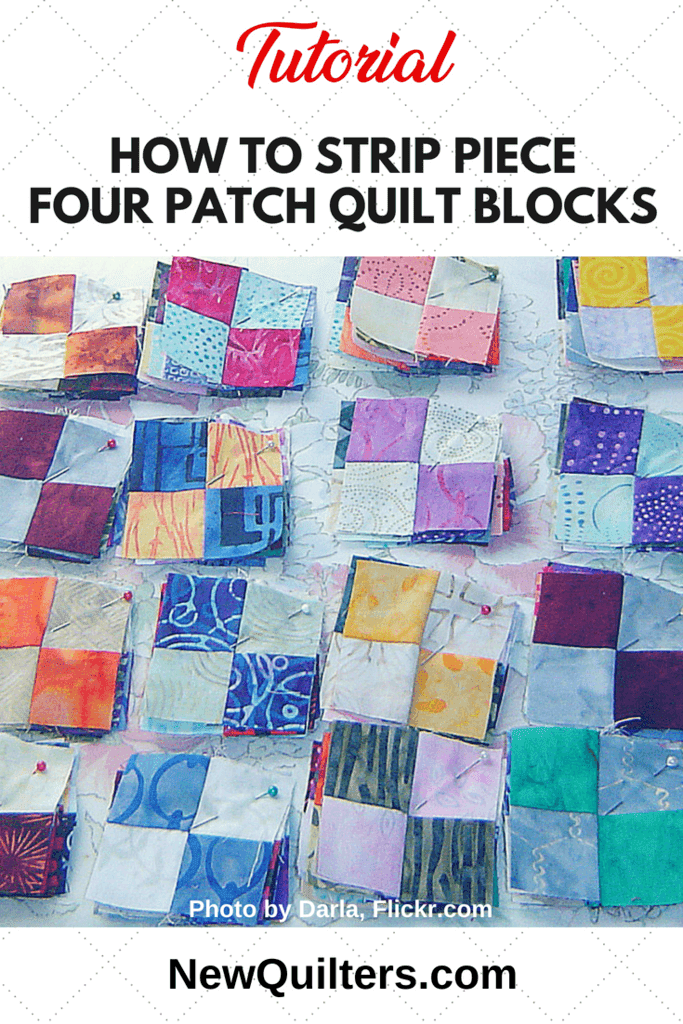 When you want to make a lot of four-patch quilt blocks from the same two fabrics, strip piecing is the way to go. It's fast, it's accurate, and it's easy. It's also a good way to make use of a precut jelly roll of 2-1/2″ strips. Here's an illustrated guide to strip piecing a set of four-patch blocks.
You'll need a set of four fabric strips cut from the two fabrics you want to use to make the blocks. One set of strips should be darker, and the other one lighter, to give the finished block its distinctive checkerboard look.
Step by Step Instructions
Start with two light strips and two dark strips.
Lay the light and dark strips with right sides together, like this:
Sew the paired strips together along their long sides, using a scant ¼" seam allowance. I usually mark the 1/4″ mark on my sewing machine with blue painter's tape. This really increases the accuracy of my piecing. Try it!
Press the seam to the side with the darker fabric. Pressing to the darker side keeps the seam allowance from showing through the quilt top when you're finished.
Lay the two sets of strips with right sides together and opposite fabrics together, nesting the seams together as tightly as you can.
Use a rotary cutter and a cutting ruler to cross-cut the strips into units the same width as the fabric strips you started with. If your original strips were 2½", for example, cut the strips into 2½" units. If you look at the units from the side, you should see that the center seams are "nested" or locked together, with the seam allowances pointing away from each other.
Sew the two units together alone one of the long sides. You may want to use a bamboo skewer or a stiletto to keep the seam allowance from getting folded the wrong way under your machine's feed dogs.
Press the center seam to one side.
Square up the block, and there you have it — a finished four-patch quilt block. Well done!