Update: This Giveaway is Now Closed! Thanks to Everyone Who Entered
The winners are Diana A., Theresa H., and Lidia F.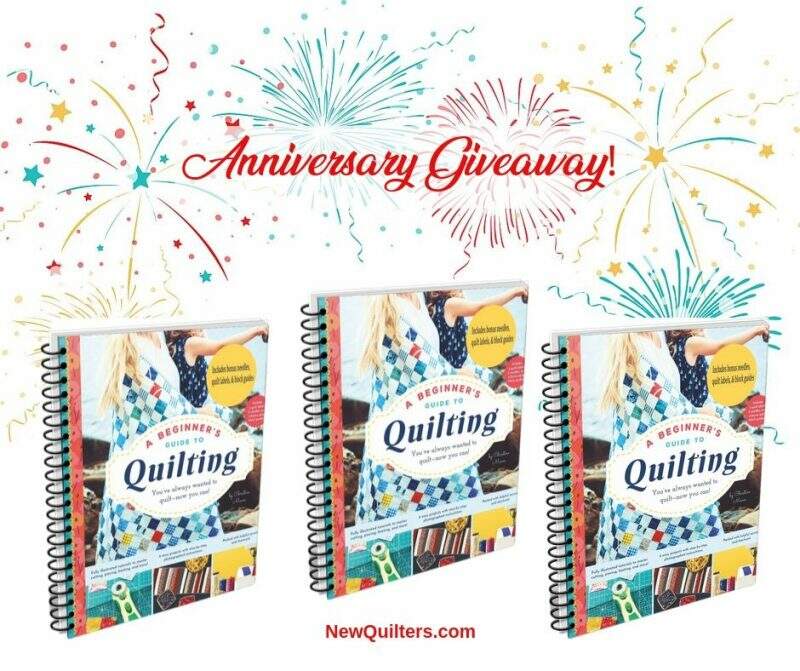 A Beginner's Guide to Quilting was published one year ago — where does the time go? I'm celebrating this big bookaversary by giving away three signed copies of the guide ($24.95 value) to three New Quilters readers.
Would you or someone you know like to learn all about how to make quilts the fun and easy way, for free? Here's your chance!
How to Enter the Giveaway
To enter your name, just scroll down to the bottom of the post and leave a comment. Three winners will be chosen at random from all the comments received by Thursday, October 24.
Note for first-time commenters: Don't worry if you don't see your comment right away. All new comments go into my automatic spam filter first to make sure they come from a genuine human. That's the sad reality of today's Internet, I'm afraid. But rest assured, since you are a person, your comment WILL get approved and your name WILL be entered in the giveaway.
The book is 128 pages packed with everything you need to know to start quilting: 5 beautifully easy quilt patterns, start-to-finish tutorials on every step of making a quilt, tons of gorgeous photos, and bonus extras: lie-flat spiral binding, quilt block tutorials, four ready-to-use fabric quilt labels, and even a package of sewing needles to get you started!