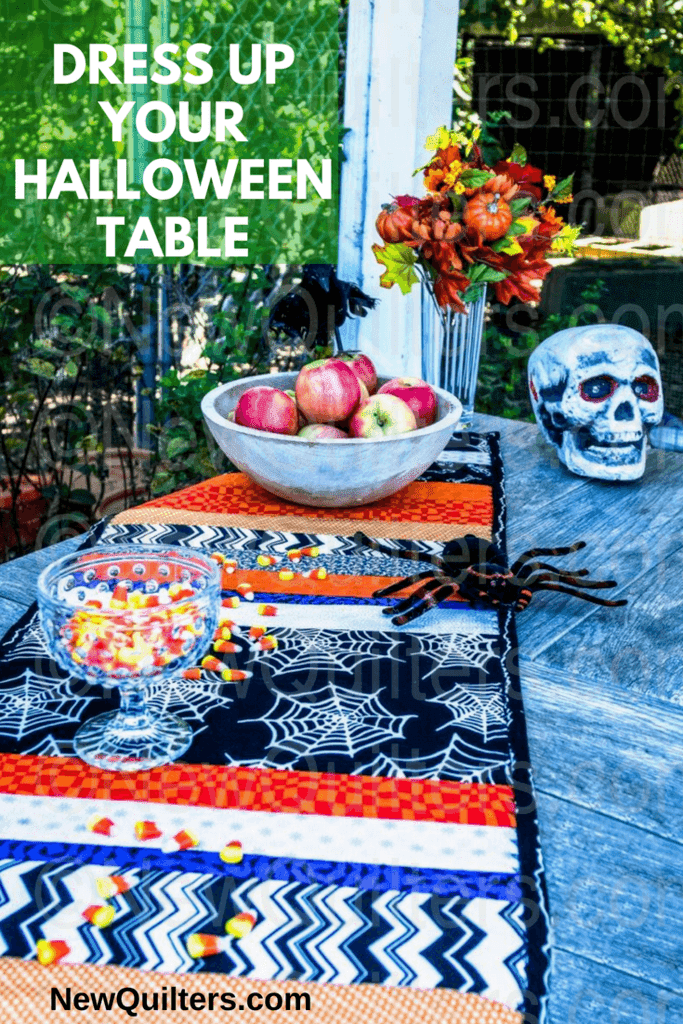 It's never too soon to start sewing quilts for Halloween! I say that with an exclamation point because I love decorating for seasonal holidays. Making quilts for Halloween is especially fun for me, because I love pumpkins and harvest time and the whole autumn feeling of shorter days and chillier nights and winter on the way. (Apologies to anyone reading this from the southern hemisphere.)
This 15″ x 54″ Halloween table runner came from the tutorial in my beginner's quilt book. It took about three hours to make, with interruptions to play with the dog and feed our rabbits and our lone chicken, Lucky.


But back to the quilt. The key to making a simple quilt pattern look seasonal is, of course, choosing the right fabric. Halloween's colors of orange and black and, increasingly, purple, make this easy to do. I used ten different fabrics in this table runner. Most of them were from individual fat quarters I bought on sale at the local big box fabric store. You don't have to use that many fabrics to make a quilt that looks good.
The centerpiece of my runner was this creepy spiderweb batik, which says Halloween as clearly as you possibly could.

These skeletons couldn't be mistaken for anything other than a Halloween (or Day of the Dead) motif, either. I picked the grey fabric because the pattern looked a bit like crosses in a graveyard, but I don't think that's what it was intended to be. Maybe an architect's T square for making measurements?


Of course, this wouldn't be a Halloween quilt without a good dose of orange. I looked for fat quarters with an off-kilter pattern like the op-art squares. The spirals in the top fabric are actually roses, but they look a bit like spiderwebs too, don't you think?
Don't be afraid to combine several different shades of orange.

And finally, a touch of purple. This purple fabric has a Halloween spiderweb pattern, but I only wanted a hint of purple, so I cut thin strips that don't show the whole design.

A lot of new quilters say that deciding what colors to use is the most stressful part of quilting for them. One way to build your color confidence is to start with a small project like this one and use it to experiment with combinations of colors and patterns that stretch your boundaries. Loosen up and have some fun with it.
If you decide to make a Halloween quilt, I'd love to see photos!