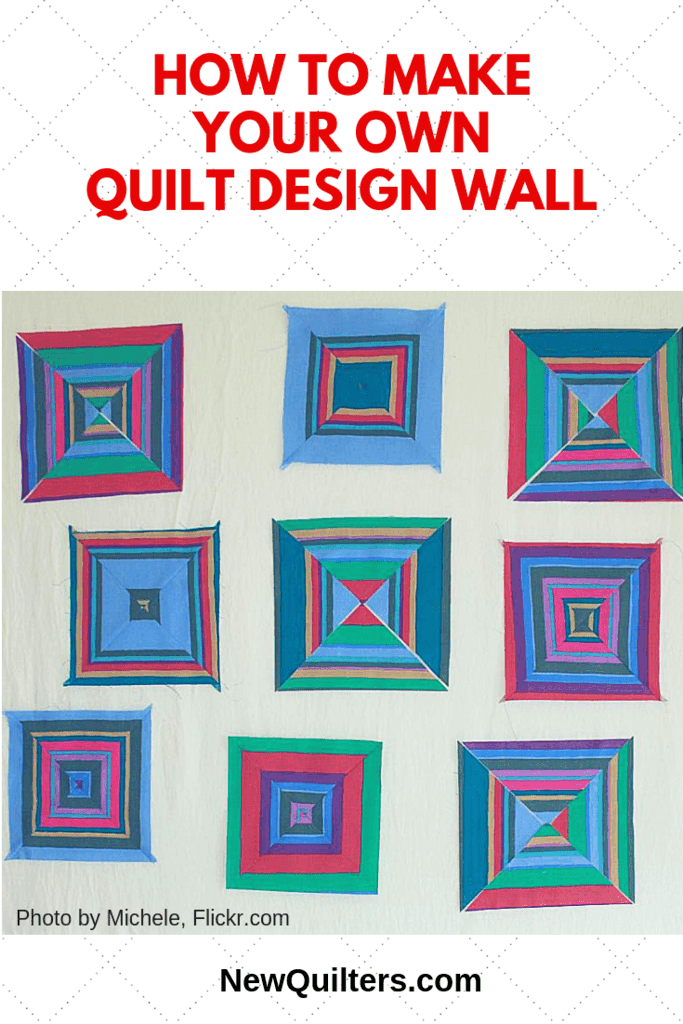 How can you be sure the quilt you're planning will look good before you go to all the work of cutting out the fabric and sewing the quilt together? A quilt design wall gives you a way to test your fabric choices and see exactly how your quilt will look before you assemble it. You can use it to test your fabric selections for individual blocks, or to test the layout for a whole quilt:
You can spend a lot of money to buy a quilt design wall, or you can make one yourself. Here's a list of nine different ways to make a design wall from materials that cost only a few dollars or nothing at all.
What to Look for in a Quilt Design Wall
A neutral color like white, beige, or light grey, so you can see your fabric colors without distortion. See how well the fabric colors stand out against this design wall: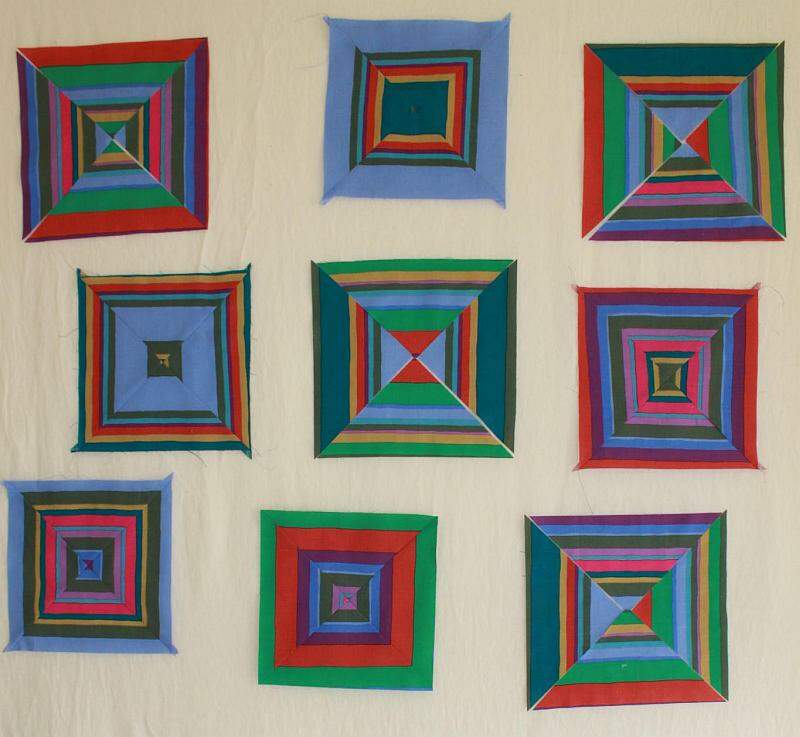 Clingy surface that holds your fabric pieces in place until you decide to move them. The best design walls don't need pins, tape, or tacks to hold the fabric.
A built-in grid to help align your patches and blocks precisely. This is optional, but can be helpful for piecing.
If you're going to travel with your quilt while you work on it, your design wall should be easy to fold up and carry with you. If the wall is permanently installed in your work room, choose a location where you can stand back a few feet to look at your fabrics or quilt blocks. Being able to step back at least six to eight feet is ideal, but of course, not every quilting room has that kind of space.
Nine Ways to Make Your Own Quilt Design Wall
Portable Design Walls
These design walls are great because you can lay out your blocks, then roll them up with the blocks in place and take everything with you.
Flannel fabric. You can find these very cheaply at a thrift store, or buy some flannel yardage on sale at a fabric store.
Vinyl tablecloth. Get one with soft white cottony backing that will cling to your fabric pieces.
Quilt batting. Use a thin cotton or bamboo batting in a neutral color.
Acrylic or wool felt fabric.
Grid-quilted design wall. You make this just like a regular quilt, with a layer of flannel on top and a layer of batting behind. To create the gridlines for placing your blocks, mark the fabric every two inches vertically and horizontally, then stitch along the grid lines to make a square grid that covers the design wall surface.
Large pull-down roller shade. Give the shade a clingy surface by covering it with flannel or batting. Unroll the shade when you want to lay out blocks, then roll it up with fabrics in place when you want to put the quilt away.
Permanent Design Walls
Here are three ways to make a permanent design wall to mount on your sewing room wall. One advantage of these permanent design walls is that you can pin things to them.
Building board. A thick, rigid fiber board available at building supply stores, building board is 4′ x 8′, white on one side, and 1/2″ thick. You can have the store cut the board down to a smaller size if needed. To make the design wall, wrap the board in fabric and tape the fabric to the back of the board with duct tape, then use screws to mount the board to your wall.
Foam insulation board. Stiff insulation is also available in 4′ x 8′ sheets of various thicknesses at building supply stores. Make a design wall the same way you would with building board.
Foam core presentation board. You can find this at local stationery stores or big box stores like Staples or Office Depot. Make a design wall the same way as with building board. For a larger design wall, tape or glue several pieces together, then wrap with fabric.