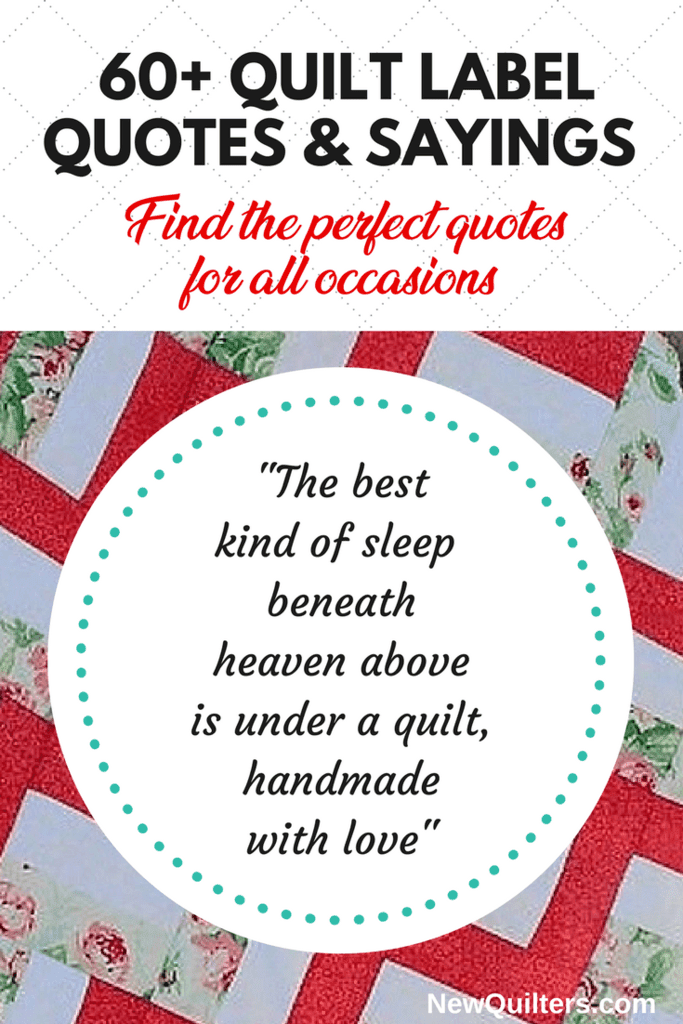 Here is a list of sayings and quotes to put on your quilt label to show the recipient how much care and creativity was lavished on this special, one-of-a-kind gift.
All-Purpose Quotes and Sayings
When you sleep under this quilt, you sleep under a blanket of love
From my hands… to your heart
The best kind of sleep beneath Heaven above/ Is under a quilt, handmade with love
May this quilt warm your body and comfort your soul
Memories stitched with love
When you use this quilt, remember me
I wish you health/I wish you wealth/ I wish you gold in store / I wish you Heaven after death/ What could I wish you more?
I count the stitches line by line/ And watch the thread record the time
Love and memories we impart/ To quilt the fabric of the heart
May you be free from cares and woes/ When under this quilt you seek repose
"Whatever things are true, just, pure, lovely/If there be any praise/ Think on these things." Philippians 4:8
Quilting… cheaper than therapy.
Quotes and Sayings about Friends
A good friend is like a warm quilt wrapped around the heart
A good friend, like an old quilt, is a treasure and a comfort
Good friends, like quilts, never lose their warmth
Our friendship (or our family) is a patchwork of love
Our friendship is sewn with love and measured by kindness
Friends are the flowers in the garden of life
Friendship, like a well-made quilt, stands the test of time
Our friendship is a tapestry/ Woven through the years/ With threads of joy and laughter/ Happiness and tears
Many faces, many smiles/ Remember me across the miles
It takes a long time to grow old friends.
(On a Christmas place mat, table runner, or mug rug): On Christmas day at half past three, brew yourself a cup of tea. I'll think of you, you think of me, as we sit beside our Christmas Tree
"A sweet friendship refreshes the soul." Proverbs 27:9
Husband or Wife / Anniversary Sayings
Love is the thread that binds us together
Like our (my) love, this quilt was made to last
Together is our favorite place to be. Thanks to blog reader Mary A.
Wedding Gift Quotes
May this union be blessed with love and happiness
Joined together in friendship, united forever in love!
New love in bloom now fills your life/ As you become husband and wife
Love, honor, and cherish
There is only one happiness in life, to love and be loved
"Love is patient and kind/ Love is not jealous or conceited or proud/ Love is not ill-mannered or selfish or irritable/ Love does not keep a record of wrongs/ Love is not happy with evil, but rejoices in the truth/ Love never fails." 1 Corinthians 13
"Take spring when it comes, and rejoice. / Take happiness when it comes, and rejoice. / Take love when it comes, and rejoice." Carl Ewald
"To love and be loved is to feel the sun from both sides." David Viscott
"Love does not consist in gazing at each other,/ but in looking outward together in the same direction." Antoine de Saint-Exupery
"Love is, above all, the gift of oneself." Jean Anouilh
"To love someone deeply gives you strength./ Being loved by someone deeply gives you courage." Lao Tzu
"Remember that happiness is a way of travel, not a destination." Roy Goodman
"There is no more lovely, friendly and charming relationship, communion or company than a good marriage." Martin Luther
"Two such as you with such a master speed/ cannot be parted nor be swept away from one another once you are agreed/ that life is only life forevermore/ together wing to wing and oar to oar." Robert Frost
"To keep your marriage brimming/ with love in the wedding cup/ Whenever you're wrong admit it./ Whenever you're right – shut up." Ogden Nash
"May all your days be wine and roses/ And the only thing to come/ Between your kisses/ Is your noses"
Baby Gift Quotes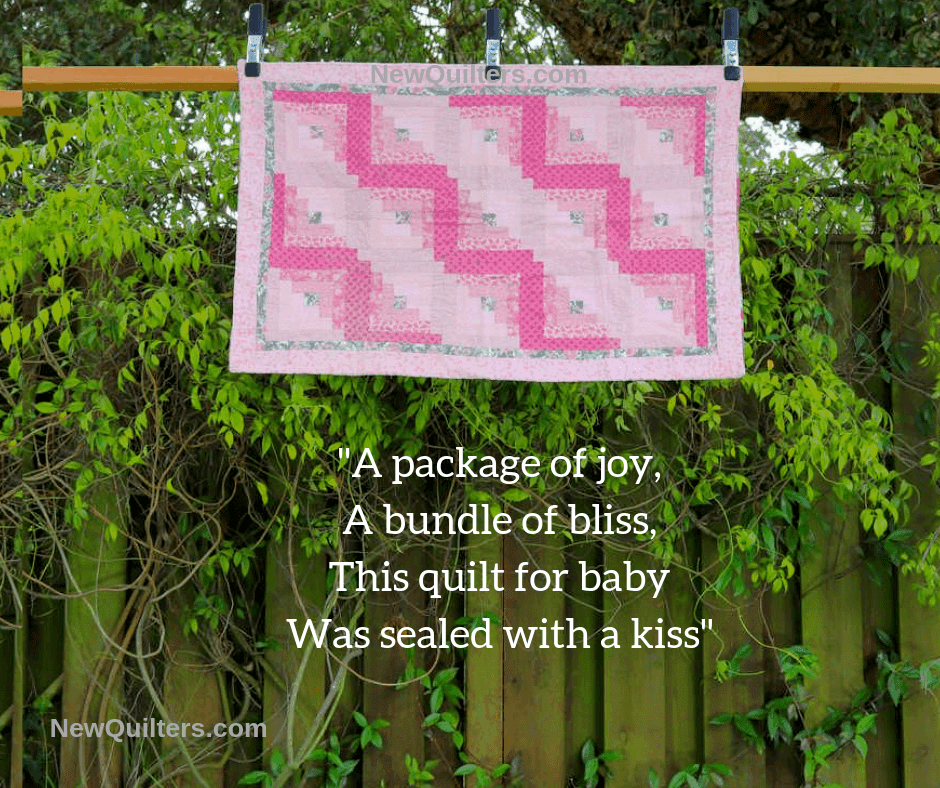 Sent from above/ Our sweet bundle of love
A package of joy, a bundle of bliss/ This quilt for baby was sealed with a kiss
Blessed are the children, for they shall inherit the quilts
First we had each other/ Then we had you / Now we have everything.
Five little angels around your bed/ One to the foot and one to the head./ One to sing and one to pray,/ And one to take your troubles away.
Read me a story/ Tuck me in tight/ Say a sweet prayer/ And kiss me goodnight.
Snips and snails/And puppy dog tails/ That's what little boys are made of.
Small wonders/ Bring special joys
Ten little fingers/ Ten little toes/ The sweetest of smiles/ And a cute little nose/ All these add up/ To a wonderful thing–/ A baby–/ The greatest gift/ Life can bring.
With a butterfly kiss/And a ladybug hug…/Sleep tight little one/Like a bug in a rug.
Quotes for Illness or Difficulties
"Be strong and of good courage." Joshua 1:9
"In the midst of winter, I finally learned that there was inside me an invincible summer." Albert Camus
"Promise me you'll always remember/ You're braver than you believe/ And stronger than you seem/ And smarter than you think." Christopher Robin, to Pooh. A.A. Milne
"Hope is the thing with feathers/ That perches in the soul/ And sings the tune without the words/ And never stops at all" Emily Dickinson
Memorial Quotes for Loved Ones Who Have Died
Source: Lorenzo Jenson III, 100 Heart-Wrenching & Powerful Quotes About Losing A Loved One
"The song is ended, but the melody lingers on…" Irving Berlin

"Those we love and lose are always connected by heartstrings into infinity." Terri Guillemets

"If tears could build a stairway/ And memories a lane/ I'd walk right up to Heaven/ And bring you home again." Unknown

"When someone you love becomes a memory, the memory becomes a treasure." Anonymous

"Death—the last sleep? No, it is the final awakening." Walter Scott

"Don't cry because it's over/ Smile because it happened." Dr. Seuss

"My feet will want to walk to where you are sleeping/but I shall go on living." Pablo Neruda

"May this quilt wrap you with never-ending love/ just as [your loved one] embraced you in [her/his] loving arms."
Using Poetry for Quilt Labels
If your quilt is large enough, you can print an entire poem on a printable fabric sheet and use the poem as the label. The quilt label shown below quotes the famous World War I poem "In Flanders Fields" in memory of a beloved father who died. Some of Shakespeare's sonnets are short enough to make beautiful quilt labels. You can find a wealth of beautiful poetry, much of it out of copyright, on the Poetry Foundation website.