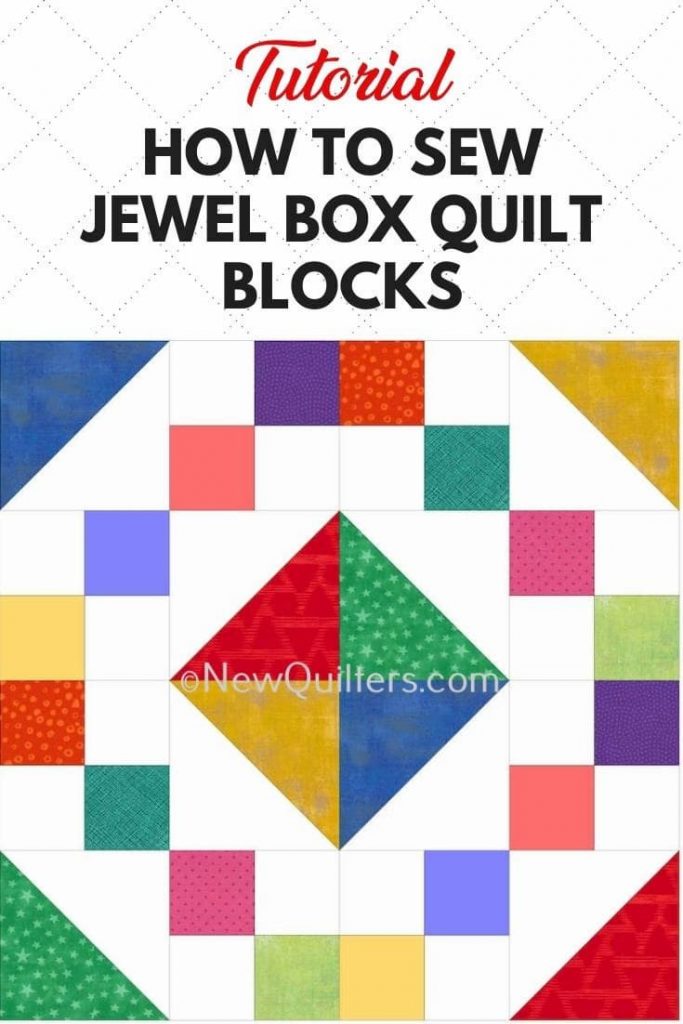 This easy traditional block is built by combining two even simpler blocks: half-square triangles and four-patch blocks.
The basic Jewel box block unit consists of two half-square triangles sewed together with two four-patch blocks and arranged like this:

You can see the four-patch blocks here:

And the triangle blocks here:

To make a complete Jewel box block, you'll need a set of four individual block units, arranged like this:

The exact meaning of the name Jewel Box is lost in obscurity, but I like to think that it refers to the beautiful diamond shape in the center of the block and the protective way the four-patch blocks circle around it.
While the Jewel Box quilts I see most commonly have light backgrounds, a dark background creates a dramatically different look.


Step-by-step Instructions
These instructions show you how to make a single Jewel Box block with a finished size of 10″ (unfinished size 10-1/2″.)
The finished size for a complete four-block Jewel Box set is 20″ x 20″ (unfinished size 20-1/2″ x 20-1/2″).
For each individual Jewel Box block, you will need:
* Two 5″ four-patch blocks (5-1/2″ unfinished)
* Two 5″ half-square triangle blocks (5-1/2″ unfinished)
Make the four-patch blocks from individual squares or fabric strips. Start with either:
* two white 3″ squares and two colored 3″ squares for each block

* Or two white 3″ strips and two colored 3″ strips to make several blocks at once. Learn how to strip piece four-patch blocks from strips.

Lay out the blocks as shown in this diagram:
Sew the top two blocks and the bottom two blocks into rows, using a scant 1/4″ seam, then press.

Sew the top and bottom rows together.


Make four of these Jewel box units to make a complete Jewel box block.