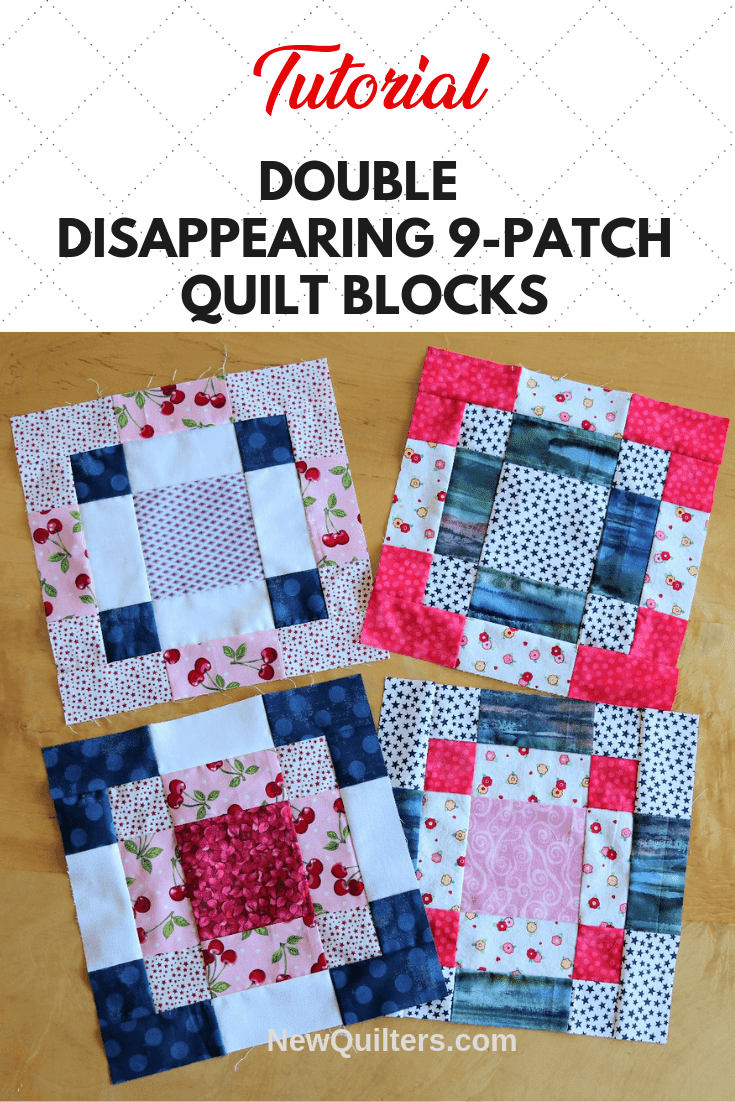 What does it take to turn a set of 5″ squares into these sophisticated disappearing nine-patch blocks? Some simple sewing, cutting, and resewing.
Fabric You Will Need
Eighteen assorted 5″ squares for each set of two blocks. You need to make two blocks at a time because you'll be swapping sections between the two blocks to create the finished blocks.

Step by Step Instructions
Lay out each set of squares into two nine-patch blocks in colors that coordinate with each other. Arrange one set of nine so it has darker squares at the outer corners (I call this a positive nine-patch), and one set so it has lighter colors at the corners (a negative nine-patch.) Here is one of my positive nine-patch blocks:
And here is the negative nine-patch block I paired with it (lighter fabric at the outer corners.)
Sew each set of squares together into a nine-patch block, using a scant 1/4″ seam.
Press the blocks.
Slice the outer rows of each block in half vertically, then cut the center section horizontally across the top and bottom. Measure 2-1/4″ from the center seams to make your cuts. Here's one of my cut-up blocks.
Now comes the fun part! — the big swap. Rearrange the blocks, putting all the outer slices of one block around the center of the other block, and vice versa. Here are the rearranged blocks that came from my original nine-patches.
Sew the cut sections back together. Take special care to align the points where the seams join. I find that pinning the joins before you sew really helps. You may also have to flip some of the seam allowances on the back sides of the blocks so the seams will nest properly.
The outer vertical sections will be longer than the section you're sewing them to. Align the seams together and don't worry about the extra fabric.
Press the blocks, square them up, and trim off the extra parts. Your blocks are complete!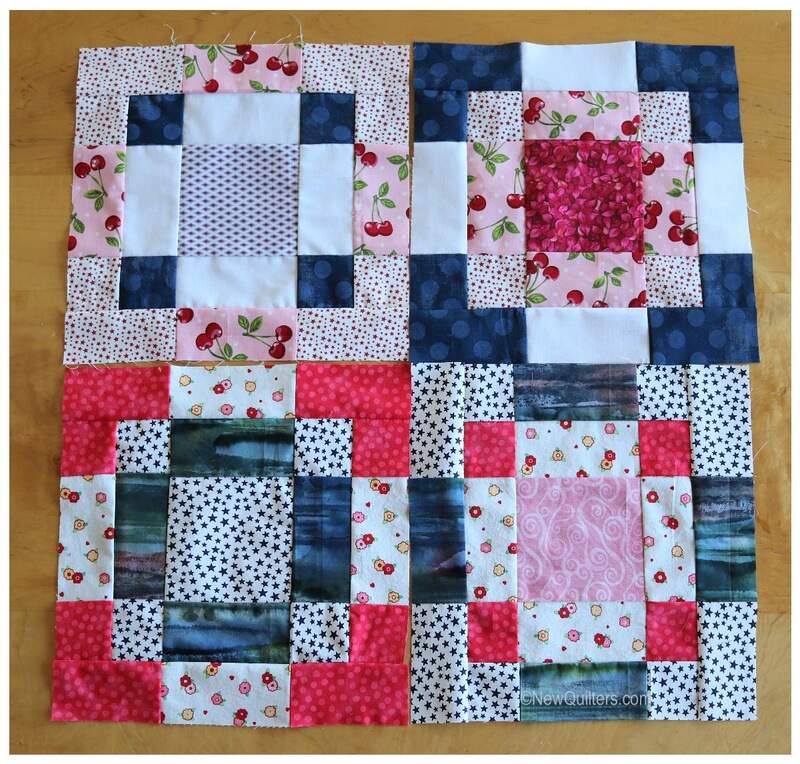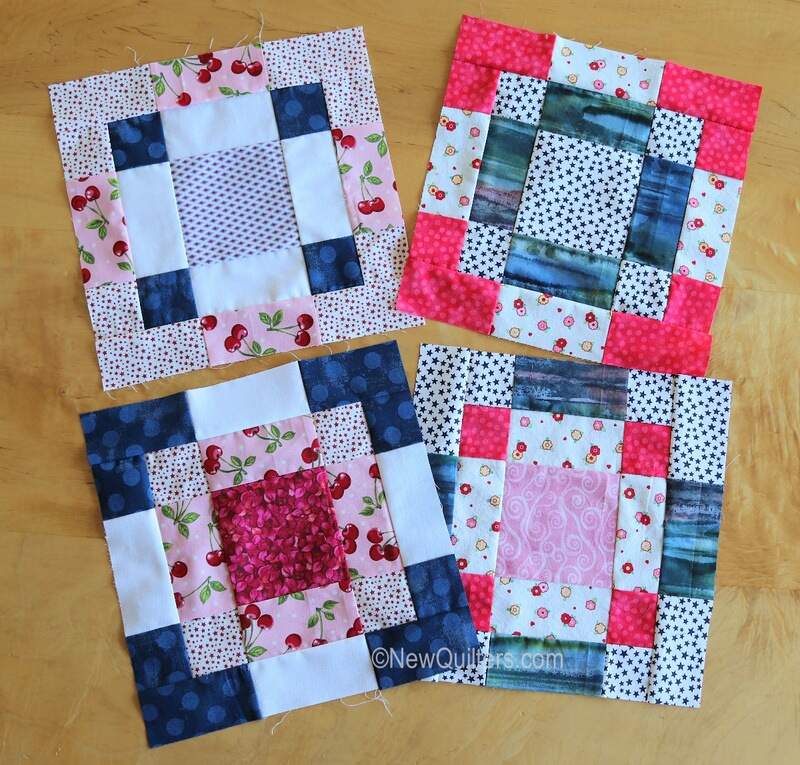 Here's another set of blocks I made for a Halloween table runner. I used a bolder set of prints for these: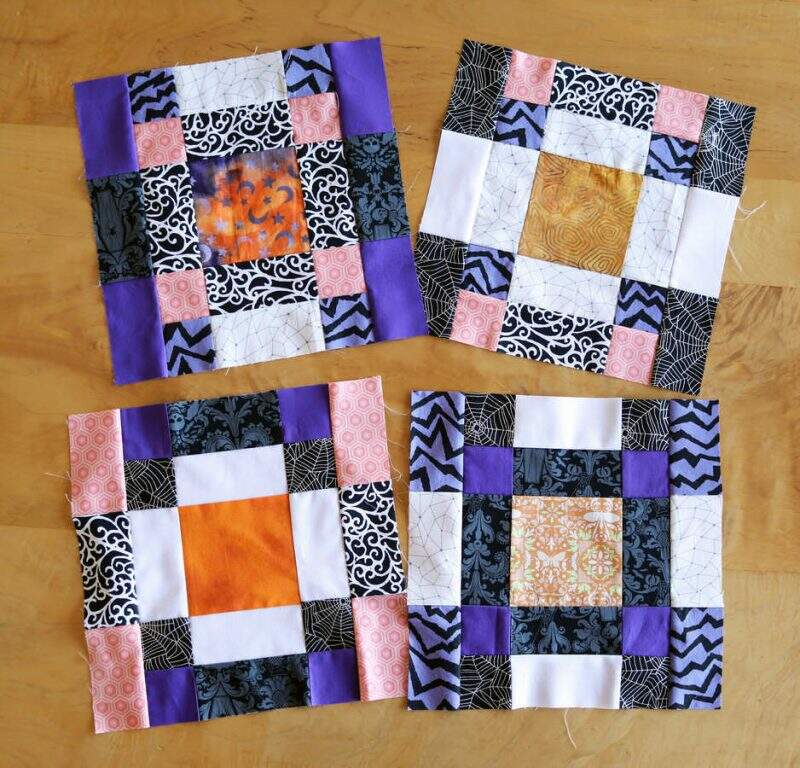 A set of four blocks I made into a square springtime table topper…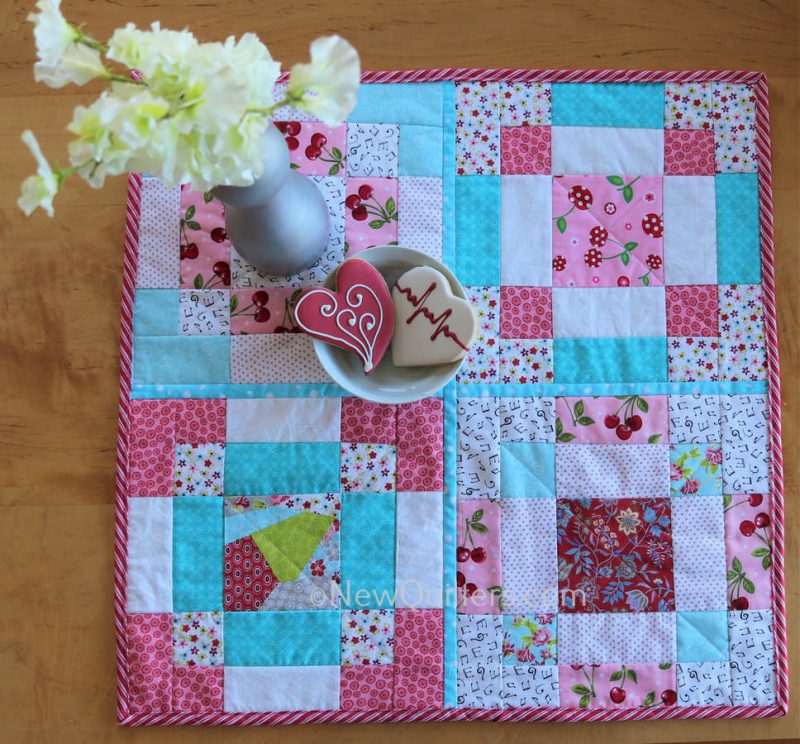 And another set that will become the long, thin Valentine's Day table runner shown below.