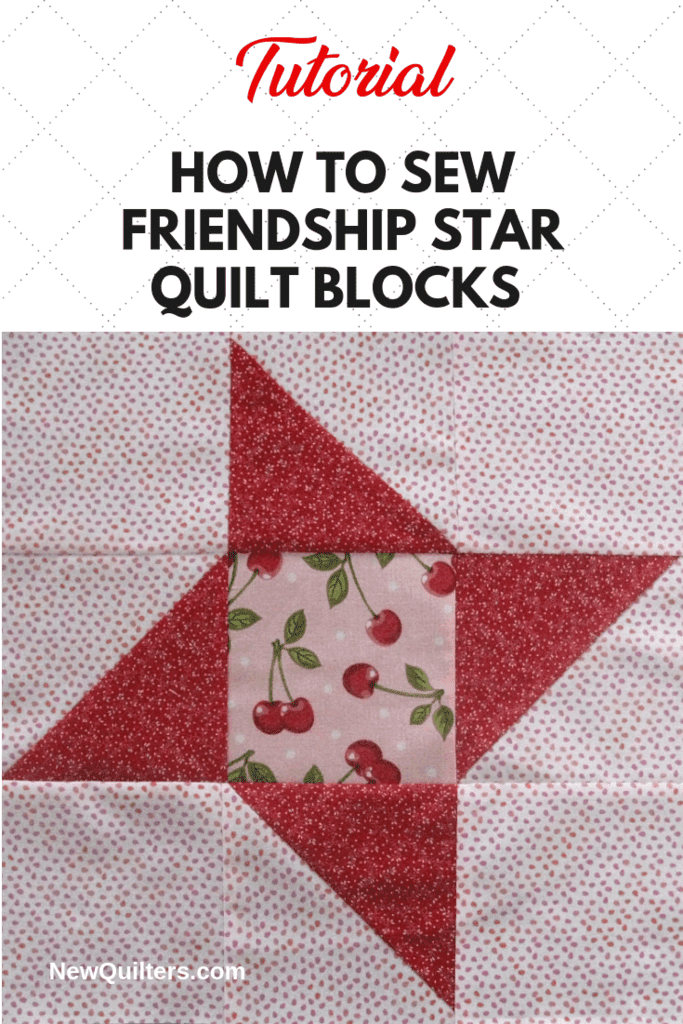 Every quilter should have a few star blocks in her bag of tricks. This week's easy quilt block, the Friendship Star, is one of the simplest star blocks you can make. I also like it best among the star blocks because of its charming pinwheel quality. The block is made by combining squares with half-square triangle blocks. Here's a little gallery of Friendship Stars:
Step by Step Instructions
The instructions in this post show you how to make a 12-1/2″ inch block (finished size 12″). You can make a smaller block by using smaller squares.
You need two fabrics to make a simple star block: one lighter and one darker. For each block, you will need to cut a number of fabric squares.
You will need two 5″ squares of each fabric to make the half-square triangle blocks for the star points. (If you are a very accurate cutter, you can cut these squares 4-7/8″, but I prefer to make the triangle blocks a bit larger and trim them to the perfect size.)
You will also need one 4-1/2″ square of the star fabric to be the center of the star, and four 4-1/2″ squares of the background fabric. (You can substitute a third fabric for the center square to make a three-color star block.)
Step-by-Step Instructions
Take the two sets of 5″ squares and use them to make four half-square triangle blocks. These will be the points of the star. Use a ruler to trim the triangle blocks to 4-1/2″, so they will be the same size as the fabric squares.
Lay out the squares and triangle blocks like this:
Sew each row of blocks together with a scant 1/4″ seam. I like to sew the rows from top to bottom. When you have joined the rows, the block should look like this:
Press the seam allowances in the finished rows in opposite directions, like this:
Sew the rows together. Nest the seams together and pin at the places where they meet to avoid shifting while you sew.
Press the block flat and square it up. You're done! You have made a Friendship Star.