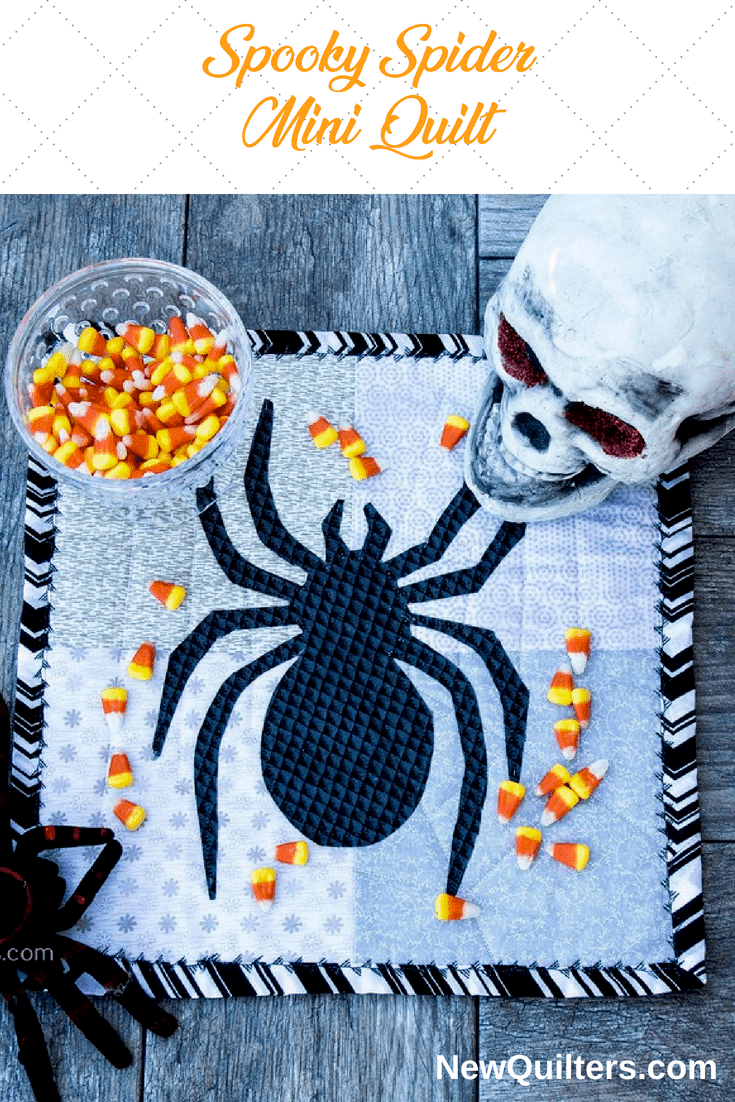 Do you like to make quilts to decorate your house for Halloween? I do! Sometimes, though, I don't have the time to make a large-scale project. This 14″ square wall quilt took about three hours to make from scraps I had in my sewing room. I'm grateful to The Seasoned Homemaker blog for the inspiration and spider applique pattern.
Here's how to make it:
Cut out four 7″ squares of four different pale gray fabrics, then piece the squares together into a larger square.
Print out the spider pattern from the link above.
Fuse a piece of spooky-looking black fabric that is a little larger than the spider pattern to a piece of double-sided fusible web.
Trace the spider onto the back side of the fused fabric, then cut out the spider with scissors or a rotary cutter.
Layer the background squares with a piece of batting and a piece of matching backing fabric. I used a little bit of basting spray to make sure they didn't shift during the following steps.
Machine-quilt the background layers in a freehand spiderweb pattern. (Machine quilting is easier if you don't have to try to stitch around the applique while you sew.)
Remove the paper backing from the spider, position it on the background fabric, then iron it down. I also stitched my spider down to the backing, but for a wall quilt like this, it isn't really necessary.
Use a ruler and rotary cutter to square up the quilt and trim away any excess batting and backing fabric.
If you want to hang the quilt on the wall, make a hanging sleeve and sew it to the back side of the quilt.
Bind the quilt as you would any other quilt. The binding for mine came from more scraps I had left over after making last year's Halloween table runner.

Want more Halloween quilt inspiration? Look here for Halloween quilts I've made or photographed in previous seasons.