Valentine Heart "Kisses and Hugs" Quilt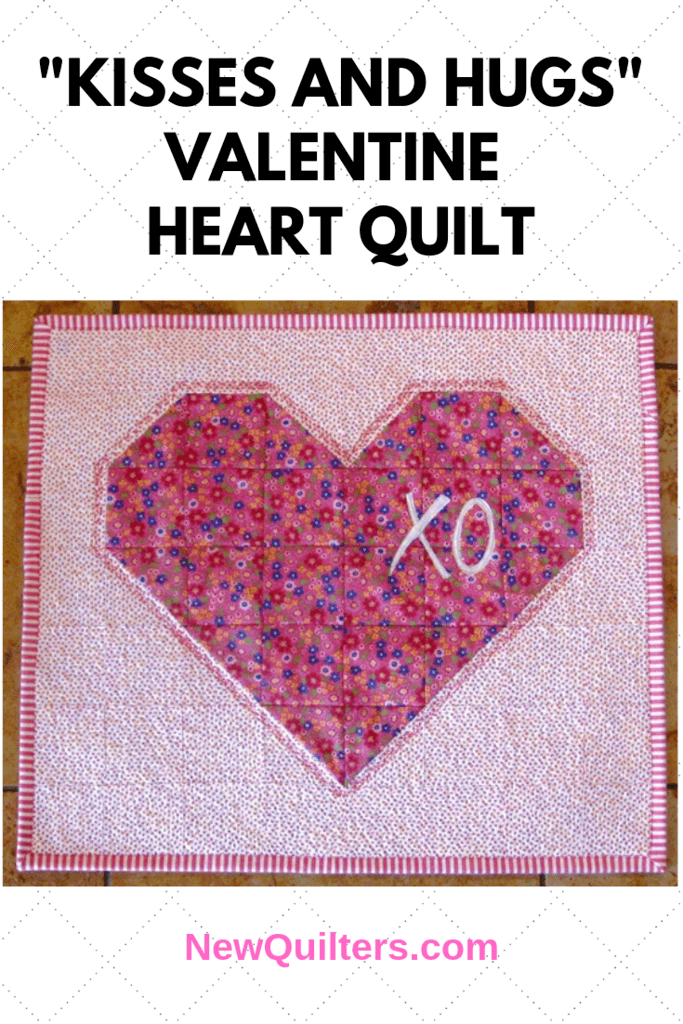 I've made a lot of Christmas wall quilts, but hardly any Valentine's quilts. Time to make some more! Looking for something simple and easy, I found a free heart banner pattern on Freda's Hive, and decided it would be the perfect starting point for my next Valentine's wall quilt.
The original pattern I found consists of two scrappy hearts, a scrappy background, and a couple of borders. It's nice, but I wanted to do something a bit simpler.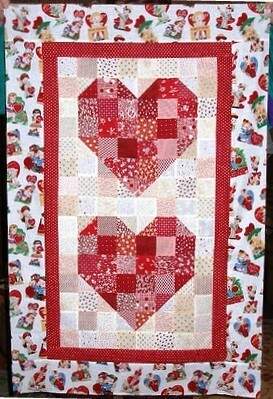 I used my Electric Quilt quilt design software to simplify the pattern. I went from two hearts to one, modified the shape of the heart a bit, and eliminated the borders. With those changes, the finished quilt's dimensions are 24″ wide by 21″ high.
Here's the revised pattern. Each square in the pattern measures 3″ finished, or 3.5″ before sewing.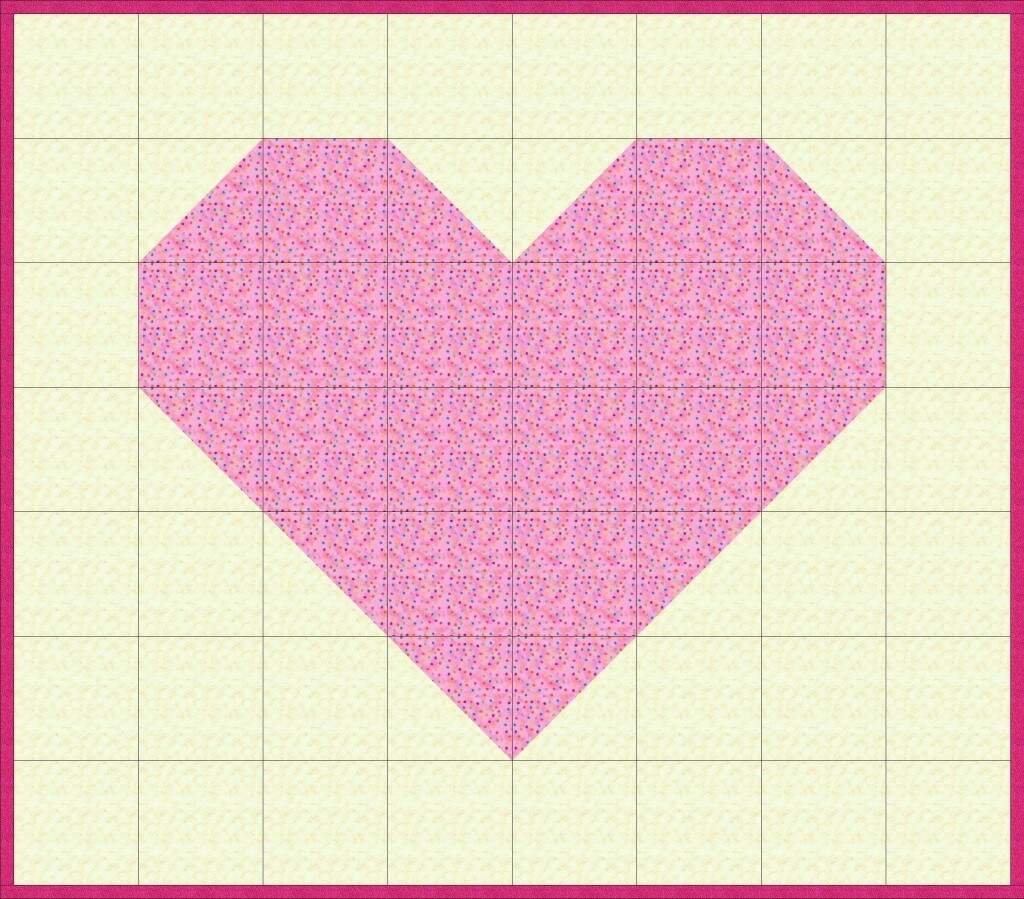 To make the quilt, cut the following pieces:
Fourteen 3-1/2″ pink squares for the heart

Thirty-two 3-1/2″ white squares for the background.

Five 4″ pink squares
Five 4″ white background squares
One piece of background fabric measuring at least 23″ x 26″
One piece of thin batting measuring at least 23″ x 26″
Three strips of binding fabric measuring 2-1/2″ x the full width of the fabric.
You will use the 4″ squares to make ten half-square triangle blocks for the angled parts of the heart. Once you make the triangle blocks, use a square ruler (if possible) to trim them to 3-1/2″ square.
Here's a view of the triangle blocks as I chain pieced them.

Lay out the blocks and sew them together, one row at a time. Here's my top after I joined all the rows:

Baste the quilt sandwich with the quilt sandwich with the backing fabric face down, batting layer on top, and the quilt top on top of the batting, right side up. I spray basted my quilt.
Then stitch the blocks in the ditch to secure the layers. Your quilt should look pretty good at this point, but I thought mine needed a little something more.
What's guaranteed to make a lonely heart happy? Kisses and hugs, of course!
I used scissors to freehand cut an "XO" out of a scrap of white print from my scrap box. You can cut your own letters out of scraps you have lying around. Spray glue or pin your letters to the heart in a place you like and stitch them down. (Another option is to cut your letters out of fabric backed with fusible web and iron them to the quilt top. In that case, you don't need to stitch them down unless you want to.)

I also sewed a decorative floral stitch around my heart in bright pink thread. This wasn't a complete success — my sewing machine is very finicky about thick layers and has a tendency to bunch up the stitches when it crosses seam lines or thicker areas. But what the heck! The stitching looks pretty good from a distance. Here's a detail:

After that, machine quilt the area around the heart, if you like. After that, I stippled the background of my quilt with white polyester Isacord thread.
Add a hanging sleeve or hanging triangles so you can hang the quilt on the wall, then bind your quilt. I used a pink-and-white striped fabric.
And here's the finished quilt:

Making little quilts like this is a great way to practice your quiltmaking technique from beginning to end. I finished this one in just a few hours.
Post first published February 4, 2012. Revised and updated January 2017.