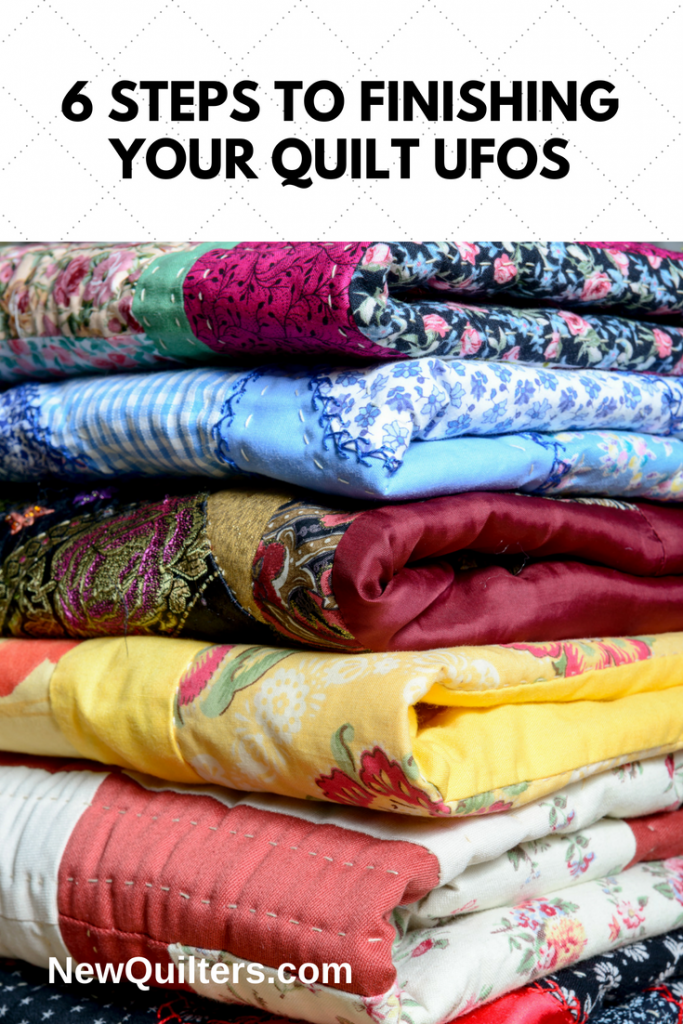 They are the UFOs (Unfinished Objects): unfinished quilts and pieces of quilts that take up physical space in the sewing room and mental space that most busy quilters can ill afford to spare. I have them. You have them. Every quilter has them. They make up a ghostly presence that haunts our sewing rooms.
The first essential in finishing your UFOs is feeling a genuine urgency to get them done. Be honest with yourself about this. Maybe designing, piecing, or appliqué are the things you really love about quilting.
Maybe, deep down inside, the basting, quilting, and binding don't interest you all that much. If that's the case, it might make more sense to find someone else who really loves finishing quilts to complete your UFOs.
You could offer to swap tasks with another quilter who doesn't like piecing, or pick up some extra cash by selling your tops on Ebay to someone who will enjoy finishing them, or donate them to a charity group that will make sure they get to people who need them. If you decide you really want to finish them yourself, move on to the next step.
2. Set Manageable Goals: Choose One or Two UFOs to Finish First
You'll reduce your pile of UFOs much faster if you break down the project of finishing them into a series of achievable goals. Don't try to confront the whole mountain at once; that's a recipe for discouragement.
Instead, pick one or two tops and make finishing them your top priority. Focus only on those tops and don't worry about the rest of your UFO pile until they are 100% complete. Once you've finished your first couple of UFOs, choose the next two tops from your pile and repeat the process.
3. Work 15 Minutes at a Time
One of the great things about quilting is that you can actually make progress by working on your project a few minutes at a time. In fifteen minutes you can sew together a stack of quilt blocks, or cut all the binding strips you'll need for your top, or pin baste a good-sized section of the quilt sandwich. Give yourself permission to take baby steps towards getting your quilt done. Even 15 minutes a day will get you there much faster than standing still!
4. Say No to New Projects
Commit yourself to finishing at least one UFO before you start any new quilting projects. If you're a hopeless project starter and find that goal too ambitious, you can set a goal of finishing one UFO from your pile for each new project you start. The key is to link making progress on your UFO pile to the progress you make on other projects.
5. Get Support from Other Quilters
Quilt guilds often have drop-in sessions where you can bring your UFO and get help with any technical challenges that have prevented you from finishing it. Many quilt shops also offer drop-in "finish-it" sessions. You may find that just having other quilters around you will help you make progress. Online groups such as Stashbuster or Quilting with a Passion also give wonderful, knowledgeable support to any quilter who needs a little extra help to get that UFO completed. Don't be like me and let a quilt that you promised to make for a friend sit around for months or even years because you ran into technical trouble and needed some help to finish.
6. Celebrate Every Quilt You Complete
Take the time to give yourself a pat on the back when you reach the finish line and turn a UFO into a completed quilt. Take a photo of yourself or the recipient with the finished quilt. Write an entry about it in your quilter's journal. Brag about it on a quilting forum. Post some photos on your blog or on Instagram or Facebook. Enjoy your success! Then you'll be ready to move on to the next UFO in your pile. You'll be amazed by how much you can reduce your stack of unfinished tops in just a few months.