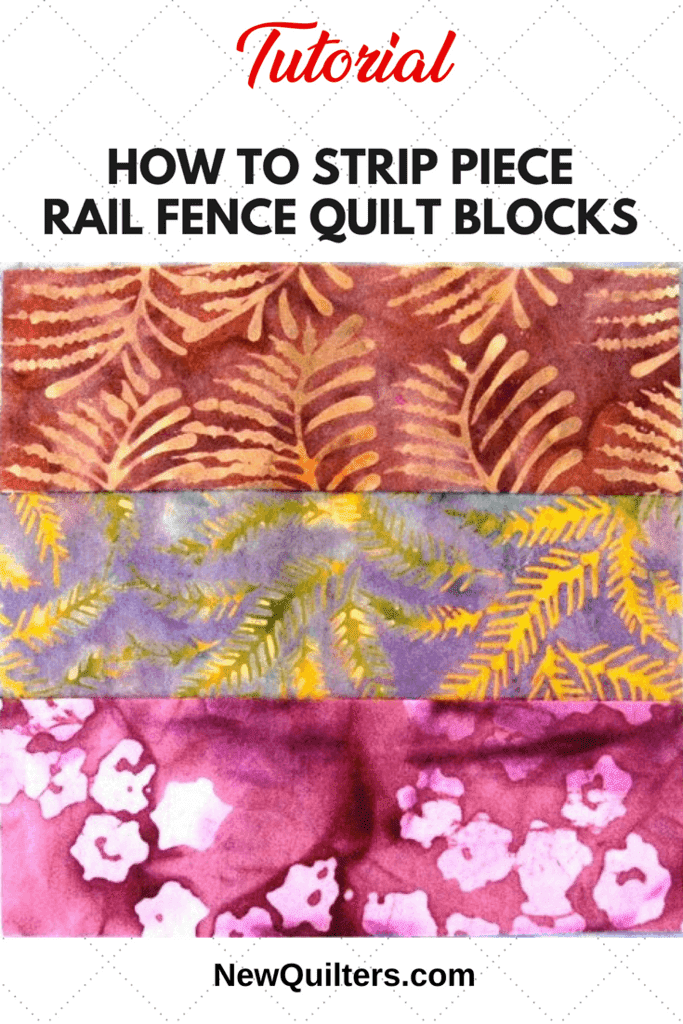 The Rail Fence quilt block is one of my favorites because it is so easy to strip piece and because it shows off a pretty fabric so well.
This post shows you how to make Rail Fence blocks in several sizes and configurations. I usually make 6-1/2″ blocks, but I've also included cutting instructions for 3-1/2″ and 12-1/2″ blocks. You can make your blocks any size, though, by simply cutting wider or narrower fabric strips. Wider strips make a larger block; narrower strips make a smaller block.
Start by deciding how many "rails," or strips, you want in your blocks. Rail Fence blocks can be made with two, three, four, five, or even six strips – it's a matter of taste. The photo at the top of this post shows a block with three strips. The blocks in this quilt by gina pina from Flickr have four strips: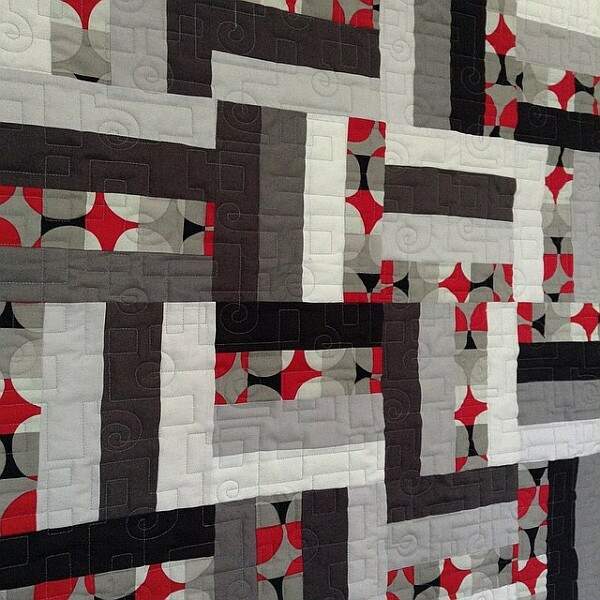 The level of light-dark contrast between the fabrics you choose will have a huge impact on the look of the finished quilt. Picking fabrics with strong contrasts between darks and lights will produce a dramatic quilt, while lower-contrast fabrics will make a quieter, more peaceful-looking quilt.
Cutting the Fabric Strips
After you've chosen the block size and number of rails you want, you'll need to decide how many strips to cut. If each fabric will be used for one rail in the block, cut the same number of strips from each fabric. If one fabric will take up two rails of the block, double the number of strips you cut from that fabric.
When cutting strips for strip piecing, trim off the selvages first, then cut the strips the full width of the fabric.
How Wide to Cut Strips for Rail Fence Blocks

Quilt Block Size
3-1/2″ Finished Size 3

"

6-1/2″ Finished Size 6″
12-1/2″ Finished Size 12″
Two-Rail Block
2-1/4″
3-1/2″
6-1/2″
Three-Rail Block
1-1/2″
2-1/2″
4-1/2″
Four-Rail Block
1-3/8″
1-1/2″
3-1/2″
Once you've assembled a strip set, how many blocks can you cut from the set? Assuming a usable fabric width of 40" after selvages are trimmed off, you can cut the following number of blocks from one strip set:
3 ½" strip set: 11 blocks
6 ½" strip set: 6 blocks
12 ½" strip set: 3 blocks
Step-by-Step Instructions
Follow these instructions to speed piece Rail Fence quilt blocks.
Choose the block size and number of rails you want in your "fence," then look at the table above to see what size fabric strips you need to cut.
Cut the strips for each "rail" in the block.
Stack the strips into sets for sewing.
Lay two strips with their right sides together, like this:
Sew the strips along their long edges, using a scant 1/4″ seam. Learn more about sewing a perfect 1/4″ seam.
Keep sewing strips to the strip set, one at a time, until you have as many strips as you need for a complete block.
If you're sewing several identical strip sets, use chain piecing to speed up the sewing.
Once your strip set has all the strips you need, cross-cut it into smaller sub-units that are the same width as the unfinished block size. If the block size is 6½", cut the strip set into 6½" units. If the block size is 12 ½", cut the sub-units to 12 ½".
Once all your blocks are cut to size, you are ready to sew the blocks together into a quilt top.
Here's one of my favorite rail fence quilts. I made it in two different colors for my book, A Beginner's Guide to Quilting.
Strip piecing makes Rail Fence blocks so easy that you may want to make a stack to keep on hand for last-minute quilting projects. Learn more strip piecing tips for all kinds of strip pieced blocks.