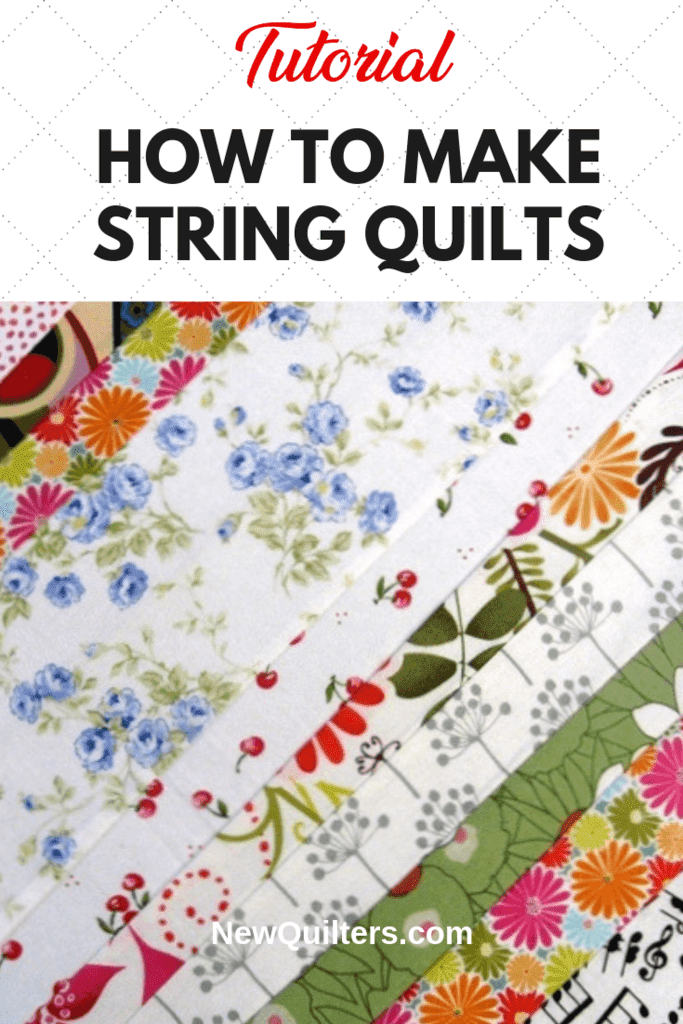 The more time I spend quilting, the bigger my scrap pile grows. The thought of throwing away all that precious fabric makes me break out in a cold sweat, so I keep all but the very smallest scraps.
But what is a quilter to do with all those odd bits and pieces that accumulate as you trim off selvages, square up blocks, and cut out odd shapes?
The answer is easy: Make string quilts!


What is a String Quilt?
"Strings" are all those leftover fabric strips and pieces that float around everyone's sewing room. String quilts are simply quilts made from your longer fabric scraps.
To make a string quilt, you start with a foundation fabric or foundation paper, then use an easy sew-and-flip technique to attach strips and scraps to the foundation until the scraps completely cover the foundation.
That's all there is to it! There's no fussy measuring, no templates to follow, no precision cutting, no pattern to worry about. The license to be imprecise is my favorite part.
Here's a string quilt from essie of Flickr: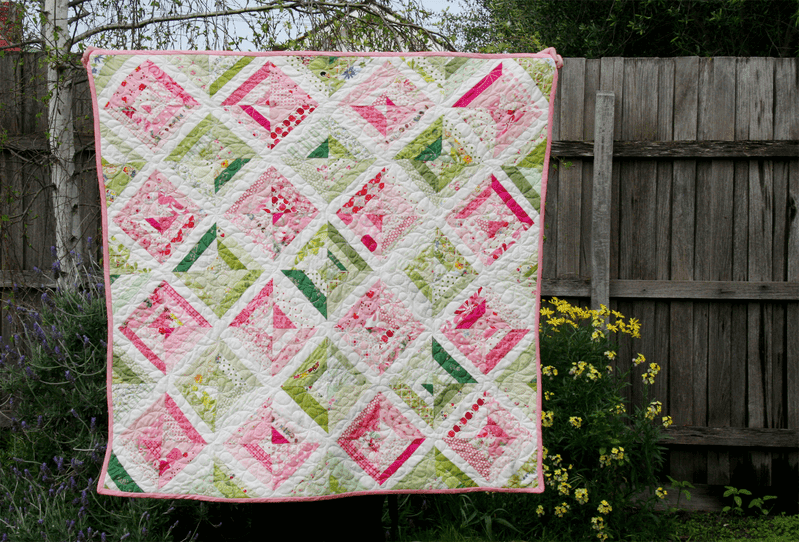 I love this rainbow string quilt made by Jennifer Worthen of Flickr: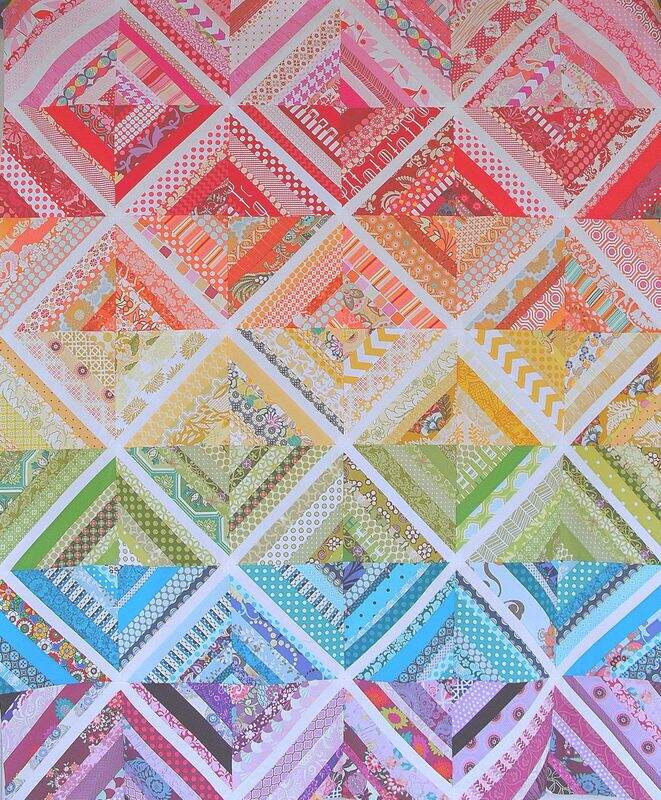 Here's a string rag quilt I just finished recently.

What Kind of String Blocks Can You Make?
String quilt blocks are usually made on a square foundation and look more or less like this: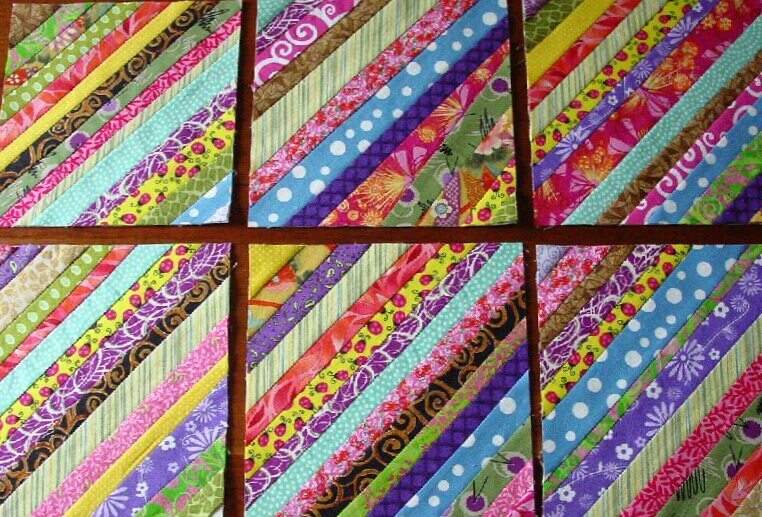 You can also make string quilts on triangular-shaped foundations, although the technique is a little more complicated. Here's one made by Heidi Elliott: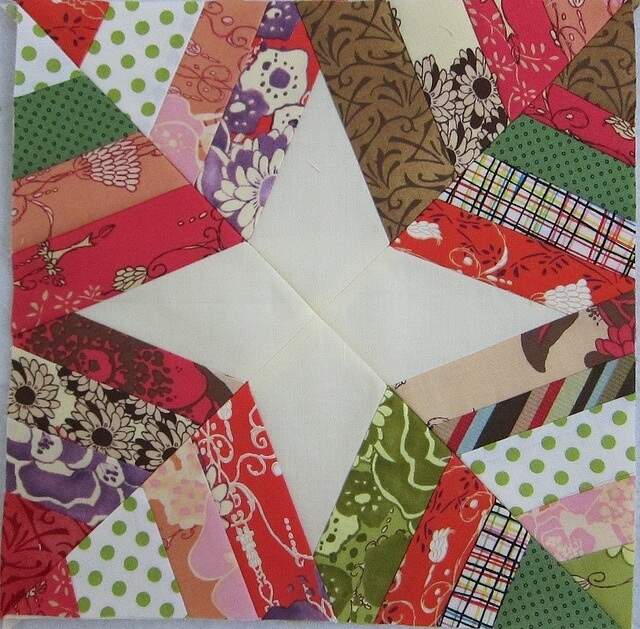 I've also made string borders on long rectangular foundation strips. Here's what one looked like:


In this post, though, I'll show you how to make a square string quilt block with strips arranged on the diagonal.
You can make your blocks any size that works with the scraps you have. The smaller the block, the smaller the strings and scraps you can use. Larger blocks need longer strips to cover the foundation. In general, wider strips look good on larger blocks, and smaller ones look better on smaller blocks.
The most common setting for string quilt blocks combines four blocks into a large diamond shape. If you use large blocks to start with, keep in mind that the completed unit will be twice as wide and twice as tall as the individual blocks. I found this out when I made these big string blocks for a quilt I gave my daughter.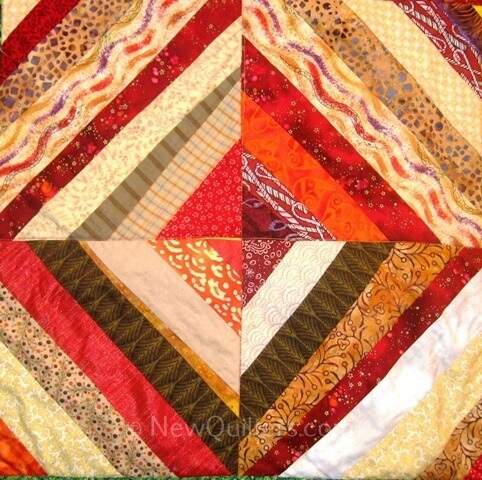 This four-block unit is 17″ x 17″ square! That poses some challenges when it comes to laying out a quilt. Luckily, I ended up using these in a bed quilt.
String Quilt Foundation Options – Fabric, Paper, and More
String quilters use many different types of foundations. Here are some of the options you might try:
Muslin
Quilting fabric in prints or solids. Darker foundation fabric may show through lighter-colored strings.
Copy or printer paper
Commercial foundation paper
Old phone book pages (this one recommended by Bonnie Hunter of Quiltville)
Wax paper deli sheets (also recommended by Bonnie Hunter)
Used fabric softener dryer sheets
Lightweight interfacing
Old bed sheets. This is what I use. Sheets are densely woven and are probably easier to quilt by machine than by hand.
Paper foundations need to be removed from the blocks before you assemble the quilt. Fabric foundations can be left in as part of the quilt. That's one reason why I prefer fabric, although the added foundation layer makes the quilt a bit heavier. Any type of foundation helps stabilize the strings and make them lie flat. Using a foundation also means you don't have to worry about stretching or distorting scraps that were cut on the bias.
Which Fabric Scraps are Useful for String Quilting?
Both small and large scraps can be used to make string blocks. Cut larger pieces into 1" to 2½" strips. The strips don't need to be all the same width, or have perfectly straight edges. Smaller or odd-shaped pieces can be used to fill in the corners of the blocks.
Supply List
Most of what you'll need for string quilting is already in your sewing room.
Pile of fabric strips and scraps from your scrap bin. These can be organized by size or color, or simply pulled out of the pile as they come.
Foundation fabric or paper, cut into squares.
(Optional) pins or fabric glue to hold the block's center strip in place for sewing. I just skip this step.
(Optional) 1"-2" strips of a focus fabric to make "sashing" for the blocks. Unlike the rest of your strings, these strips should be cut neatly so they are all the same width.
Sewing machine. If you're using a paper foundation, set the stitches to a short length for ease of tearing off the paper when the block is finished.
Denim or quilting needle, size 14 or 16. A large needle makes it easier to pierce the foundation.
Neutral colored thread (light grey or beige both work well.)
Rotary cutter.
Cutting ruler for squaring up the blocks.
Step-by-Step Instructions for Sewing String Blocks
Start with your foundation square.
Lay a fabric strip right side up so it stretches diagonally across the foundation from corner to corner, like this. The strip should be long enough to cover the whole length of the square from corner to corner. You can pin or glue the strip in place, but I don't bother.
Place another string right side down on top of the first one, aligning its edge with one edge of the center string. Make sure the new string is also long enough to more than cover the foundation from edge to edge.
Sew the strings to the foundation along the aligned edge, leaving a ¼" seam allowance.
Flip the second string over to show its right side, then finger press or press with a dry iron.
Keep laying on and sewing new strips in the same way until you have covered the foundation block all the way to the right corner.
Then turn the block around and add more strings until you reach the other corner. Here's the block with all the strings added.
Press the block, then use a rotary cutter and ruler to square it up. After squaring, it should look something like this:
That's all there is to it! You are now officially a string quilter. Keep making blocks until you have enough for the quilt you want or until you use up all your scraps. (Like that will ever happen…)
If you like this post, just tap or click the box below to download and save it.